The Haute Route Crans-Montana Race Delivers On Promise
Amateur cyclists taking part in the Haute Route Crans-Montana race this weekend could not have asked for better conditions, thanks to a great solidarity and supervision worthy of professional races
Won by Swissman Guillaume Bourgeois, this race of nearly 200 cyclists from 21 countries marked an excellent start to the Haute Route circuit, with the next race taking place in the Pyrenees from July 6 to 10.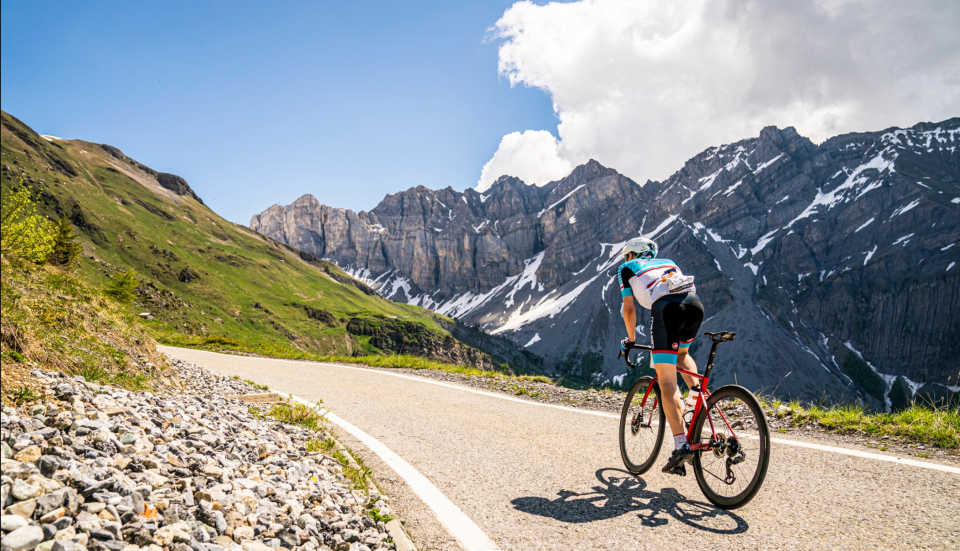 A Challenge Taken On Together
After months without official races, organisers and participants celebrated a moment of satisfaction and joy upon meeting in Crans-Montana. An atmosphere of camaraderie and community continued on the day of the withdrawal of the numbers, which took place, as always, the day before the race. Partners and organisers took extra care to ensure the best conditions for participants, with a workshop held by Mavic, refreshments, an informative briefing, and even a pasta party to maximise energy intake.
The following day, under amazing weather conditions, cyclists faced a tough start with the Sanetsch pass, with a climb of 24.6 km at an average of 7.1%. The 4 climbs on the remaining 2 stages also proved a test of stamina and endurance for the participants who climbed a total of 8100 m of positive elevation gain in three days.
To tackle the challenge, cyclists were able to rely on a service equal to that of professional races, with 5 mechanics, 30 masseurs, 30 safety motorcycles and 8 race cars. Participants were also supported by a show of great solidarity that reigned throughout the event.
"We suffered, but we are happy, because we suffered together, and we had missed it terribly" summarises Alexandre, one of the finishers.
Organisers, celebrating the success of such a positive start to the race, were only too happy to share a glowing first report of the event:
"We are delighted to have been able to organise this magnificent race in such optimal conditions despite these challenging times. The event brought together everything that has made the Haute Route a success for the past 10 years. The playing field was sublime, with exceptional roads and panoramas like the Tsanfleuron glacier or the Grande Dixence dam. The participants seemed really delighted with their experience, and that's what we look for as organisers," said Tristan Cousin, race director of the Haute Route Crans-Montana.
Overall Rankings
General ranking
Guillaume BOURGEOIS (CHE)
Raphaël ADDY (CHE)
Loïc RUFFAUT (FRA)

Women's overall ranking
Corinne WARIDEL (CHE)
Sophie HERZOG (CHE)
Victoria ALPEN (GBR)
Team ranking
RCS 1
FRYDOM
NOMAN 1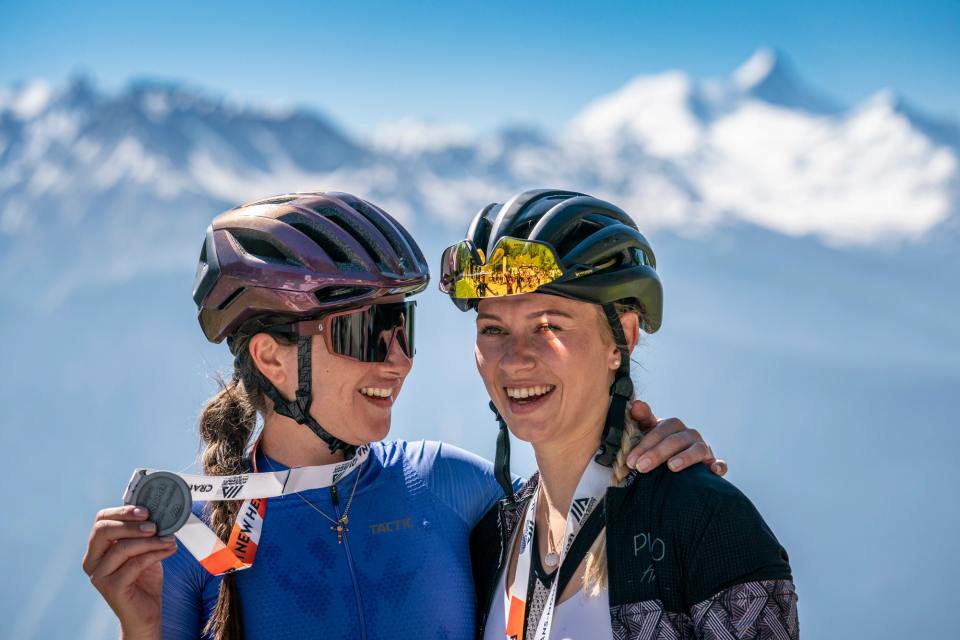 Stage 1 Recap
Starting at the event village, stage 1 was a 96km route with 3,500m of climbing, taking in the climbs of the 1,539m high Anzere and the 1,365m high Ovronnaz climbs before starting the ascent of the jewel in the crown of Swiss cycling, the Col du Sanetsch.
Haute Route have always been firm believers that the best rides are not measured by the number of kilometres, but rather by the number of times you're left breathless, either by incredible scenery or incomparable climbs.
They're grateful that Valais delivered such a stunning day for you to get the most of this special stage. For all of you who travelled from far and wide, we hope Ovronnaz and the mighty Sanetsch lived up to expectation. And for the locals who knew what they were getting into today, we hope you found a way to reach new heights on these legendary climbs. A big congratulations to all riders, for a huge effort on this particularly challenging course.
Stage One Results
MEN'S GENERAL CLASSIFICATION
1 // Guillaume Bourgeois CH 1h57'48
2 // Raphaël Addy CH 1h59'56
3 // Loïc Ruffaut FR 2h3'23
WOMEN'S GENERAL CLASSIFICATION
1 // Corinne Waridel CH 2h58'01
2 // Victoria Alpen GB 2h58'11
3 // Sophie Herzog CH 3h01'12
MIXED TEAM
1 // AlpCycles 7h50'47
2 // Noman 2 7h51'29
3 // RCS 2 7h52'49
MEN'S TEAM
1 // RCS 1 8h36'08
2 // Team Thunder 8h38'17
3 // NOMAN 1 9h01'46
Stage Two Recap
In case you hadn't realised yet, we think Switzerland is a wonderland for cyclists; a concentrate of all the routes a rider could dream up from the depths of their imagination. When we created this course, we wanted to bring all of these possibilities together. Today, riders ticked another big box with the classic climb to the Grande Dixence dam.
Stage 2 was a 112 km that packed in over 3,350m of climbing. Heading out of Crans-Montana, riders enjoyed some faster miles before climbing up the Côte de Saint Martin. Then they prepared to climb the incredible unheard of climb of the Barrage de la Grande Dixence - the biggest dam in Europe and the tallest dam in the world!
It was a big ask after a challenging stage yesterday, summed up nicely by one rider claiming, "it was totally worth the pain". But we knew this incredible landscape would be enough to keep you spinning. A big congratulations to each and every rider who took on this mega course, including the GC leaders putting up a thrilling fight at the front of the pack.
Stage Two Results
STAGE 2 - MEN
1 // Guillaume Bourgeois CH 1h56'58
2 // Raphaël Addy CH 1h58'39
3 // Loïc Ruffaut FR 2h02'21
STAGE 2 - WOMEN
1 // Sophie Herzog CH 2h47'52
2 // Corinne Waridel CH 2h50'12
3// Victoria Alpen GB 2h51'06
STAGE 2 - MIXED TEAM
1 // AlpCycles 7h20'22
2 // Noman 2 7h29'35
3 // RCS 2 7h34'20
STAGE 2 - MEN'S TEAM
1 // Team Frydom 8h14'48
2 // NOMAN 1 8h40'53
3 // Tylos 10h26'21
Stage 3 Recap
There's nothing quite like that Haute Route finish line. The Col de Crans-Montana proved the perfect place for the finish line of a simply unforgettable weekend in the Swiss Alps.

Haute Route were thrilled to be back on the road with riders in such a special location this weekend. In true Haute Route style, riders remarkable grit and determination to conquered some of the toughest climbs in Valais made for an outstanding start to the 2021 Colnago Haute Route Series. The intense battle for both the women and mens GC crown was a real treat to watch.
A huge congratulations to every single rider for your huge efforts over the last three days. haute Route hope you will leave Crans-Montana with some incredible memories that will last a lifetime and that this experience has helped every one of you do things you didn't know were possible.
Stage 3 Results
MEN'S STAGE 3
1 // Guillaume Bourgeois CH 46'11
2 // Raphaël Addy CH 47'57
3 // Loïc Ruffaut FR 49'28
WOMEN'S STAGE 3
1 // Sophie Herzog CH 1h07'04
2 // Corinne Waridel ES 1h07'54
3 // Victoria Alpen UK 1h13'20
MIXED TEAM STAGE 3
1 // AlpCycles 3h02'51
2 // Cycliste.ch 3h04'20
3 // RCS 2 3h06'45
MEN TEAM STAGE 3
1 // RCS 1 3h19'54
2 // Team Frydom 3h19'57
3 // NOMAN 1 3h22'52
Link to full results - https://bit.ly/3cG3ggb
The Haute Route Pyrenees - Next Race On The Calendar
Featuring challenging 3-, 5- and 7-day events in iconic cycling destinations worldwide, the Haute Route is the world's first global series of prestigious multi-day cycling events for amateur riders.
The Haute Route Crans-Montana was the first race on the Haute Route 2021 calendar. Amateur cyclists now have a date from July 6 to 10 for the Haute Route Pyrenees, with 5 stages that will take the riders from Girona to Pau.
The remaining races in the Colnago Haute Route Series:
Haute Route Pyrenees (July 6-10)
Haute Route Alps (August 22-28)
Haute Route Dolomites (August 31 - September 4)
Haute Route Ventoux (October 1-3)
Haute Route Brazil (October 22-24)
Click here for more information on the Haute Route races