Amateur Cyclists To Take On Five-stage Race In Italy's Dolomite Alps
Over the course of five days, the Haute Route Dolomites will see the cyclists take on a strenuous challenge consisting of 451 km, with 13,450 metres of elevation gain, against the beautiful backdrop of the Dolomite Alps
Taking place from 31 August- 4 September 2021, the 230 cyclists will be faced with numerous uphill climbs above 2000 metres of altitude, including the passes of Gavia, Stelvio and Giau.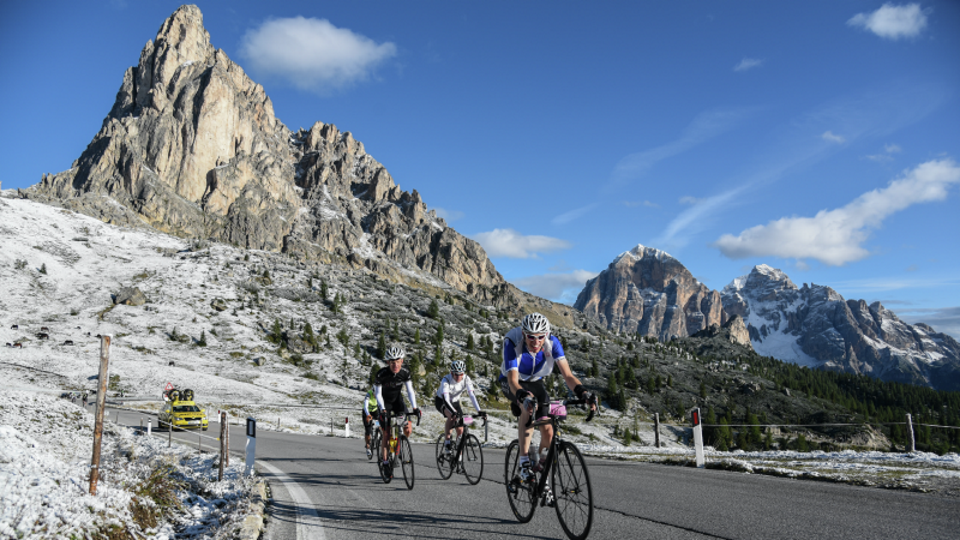 Athletes From The US, The UK And Denmark
The Haute Route is the first global stage race circuit for amateur cyclists. Attracting athletes from all over the world to an event steeped in natural beauty is and has remained the essence of the Haute Route for over a decade. In keeping with this theme, the Haute Route Dolomites traces a sensational route through the jagged rock faces and demanding climbs of the region, and are home to routes that lend themselves particularly well to cycling.
The Haute Route Dolomites has, unsurprisingly, won over the public ever since it was founded in 2013. Since then, the organisation has made a point of renewing the experience each year with a few new touches. In 2021, the race is returning under a new format - now lasting five days - in order to make the most of the incredible location. The challenge will now be greater with 451 km and 13,450 metres of positive altitude difference. They will face a three-stage sprint to the summit, moving afterwards onto the passes of Tre Croci, Gavia and Stelvio, and finally undertaking a final time trial marked out in the uphill climb between Bormio and the Cancano lakes. The athletes - the majority of whom come from Italy, the UK, the US, France, Holland, and Denmark - are getting ready to put themselves to the test. They will be able to, as in every Haute Route race, rely on a superior level of service worthy of professional racing with the support of five mechanics, 30 masseurs, 30 safety motorcycles and 8 race vehicles, which will look after their every need.
"The Haute Route Dolomites 2021 sets off in the Dolomites and ends in Stelvio national park following some of the best routes, featuring uphill climbs and checkpoints that the Haute Route has frequented in recent years, as well as some new additions. The passes of Giau, Valles, Gavia or Stelvio, to name a few, are home to breath-taking views, not forgetting the final time trial to the Cancano lakes, having hosted a stage of Giro Italia 2020. The checkpoints will also be rest stops for the Winter Olympics of 2026 and the European Cycling Championships 2021. Our local partners are delighted to have us in a wonderful programme of events, and the Haute Route is thrilled to be promoting it to athletes from around the world," said Davide Marchegiano, race director.
The Stages
STAGE 1: Cortina D'Ampezzo - Cortina D'Ampezzo (103km - 2900 metres of elevation gain)
STAGE 2: Cortina D'Ampezzo - Cembra (135km - 3000 metres of elevation gain)
STAGE 3: Trento - Passo Gavia (115km - 3500 metres of elevation gain)
STAGE 4: Bormio - Passo Stelvio (83km - 3300 metres of elevation gain)
STAGE 5: Bormio - Laghi di Cancano (15km - 750 metres of elevation gain)