VIDEO: Carbon Wheels dramatically collapse at Paris-Roubaix
Cycling Fans videos shows Wout van Aert and his Jumbo-Visma team mate Christope Laporte's carbon wheels collapse during Sunday's Paris-Roubaix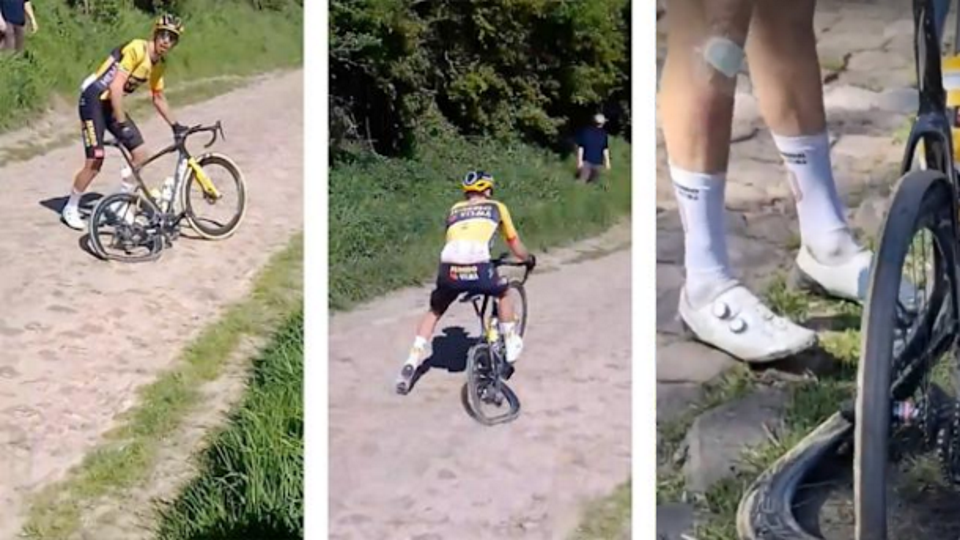 The videos, show Van Aert coming to a stop in the Forest of Arenberg with a collapsed rear wheel. He quickly pulls in and switches bikes with team mate Timo Roosen.
Jumbo-Visma's Shimano Dura-Ace R9100 carbon rear wheels folded under their riders at Sunday's Paris-Roubaix. The wheels were being ridden with flat tyres and showed just how harsh the cobbles can be on expensive equipment.
Jumbo-Visma switched from the latest Shimano Dura-Ace R9200 equipment to the older R9100 groupset and wheels for Paris-Roubaix. The reason for the change isn't overly clear, though the rumour circulating in the start area before the race was that the team favoured the older groupset due to a number of issues with dropped chains.
The speed of the change is very impressive, with Van Aert on his way and rejoining the speeding group immediately. However, Roosen is left waiting for a new bike, which is eventually delivered to him by the team car.
It seems that Van Aert, like his team mate Laporte, suffered a puncture – both on Shimano Dura-Ace R9100 carbon rear wheels – and continued to ride it as far as he could until the wheel collapsed due to the impact of the cobbles.
VIDEO: Wout van Aert 's rear wheel broke completely at Paris Roubaix 2022
And while Wout van Aert still claimed 2nd place at 'Hell of the North', his Jumbo Visma team mate Christophe Laporte saw his ride interrupted by a rear wheel puncture and then the complete collapse of the Shimano Dura-Ace R9100 carbon rear wheel.
The Frenchman, who has looked like a different rider since joining Jumbo Visma from Cofidis, decided to press on and ride his punctured wheel in a bid not to lose time waiting for a change.
However, the sheer speed of the race and the unforgiving pavé soon combined to take their toll on the punctured wheel. It simply disintegrated under Laporte, as this fan's video shows.
The incident occurred on the fourth sector of cobbles at Saint-Python. Laporte was forced to screech to a halt on the collapsed wheel. And with no team car or neutral service in sight, be began jogging down the course with his bike in a desperate effort to limit his losses. Unfortunately his efforts came to nothing and Laporte was the only member of his team not to finish the race.
VIDEO: Christophe Laporte at Paris Roubaix 2022