Israel-Premier Tech's Sep Vanmarcke Wins First-Ever Maryland Cycling Classic Supported by UnitedHealthcare
Nickolas Zukowsky of Human Powered Health comes in Second Followed by Neilson Powless of EF Education-EasyPost in Exciting Sprint Finish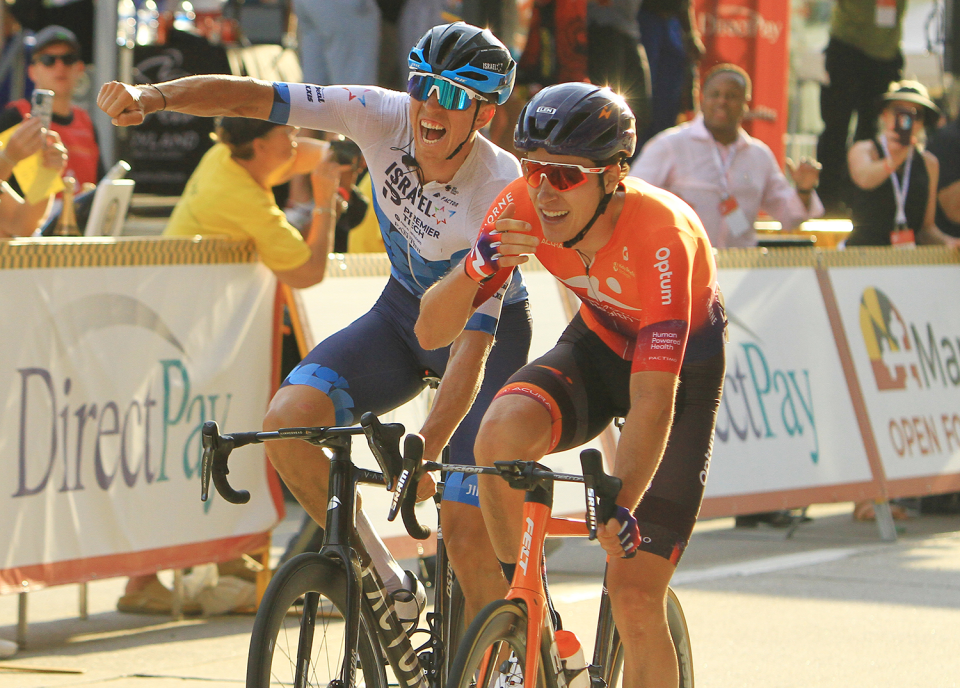 In a last-minute shoot out involving four heavy-hitter world-class riders, Belgian cyclist Sep Vanmarcke of Team Israel-Premier Tech, used his Classics savvy to win the first-ever Maryland Cycling Classic supported by UnitedHealthcare today in Baltimore, Md. America's top-ranked professional road cycling race took riders through a tough, hilly 121.7-mile (196 kilometer) course starting at Kelly Benefits in Sparks, Md. and finishing along East Pratt Street and Market Place in Baltimore's famous Inner Harbor District in front of thousands of cheering fans.
"My main strength is Classics, 'short kickers', technical courses and demanding races," said Vanmarcke. "That's exactly what we got today. I'm used to small circuits in Belgium with a lot of corners, so this race suits me perfectly. Maybe next year we can get even more [turns on the circuit]."
It was clear in the final circuit that one of the four riders in the lead group would take the top step of the podium with lots of jockeying for position in the last lap. EF Education-EasyPost rider Andrea Piccolo (ITA), managed to bridge to the finish to help Neilson Powless (USA), the top American finisher in this year's Tour de France, take the victory, but was outsmarted by Vanmarcke in the last 750-meter straightaway. The Belgian timed his attack perfectly to overtake Nickolas Zukowsky (CAN) of Human Powered Health, who came in second, while Powless of EF Education-EasyPost was nudged into third place.
A group of approximately twenty-five riders got away early, making a big break roughly 10 miles into the race. The riders, including Zukowsky, Quinn Simmons (USA), Powless, Vanmarcke, and Piccolo dominated the breakaway. Despite several chase attempts, including one solo effort by Michael Matthews (AUS) of Team BikeExchange-Jayco, the lead group managed to stay away. The riders took a chance pushing the pace so early, considering the heat, but the break turned out to be the decisive move of the day. The group was eventually whittled to 11, including 10 World Tour riders and Human Powered Health's Zukowsky.
"It was hot today out there and it was really demanding," Vanmarcke added. "After 10 kilometers we got away with 25 riders and this was a really hard race because you couldn't hide. EF speeded it up after 60 or 70k and split it again. We were only left with 12, and one by one everyone was getting tired. I could feel it in the final that I had to be in every break because I knew it was going to split again. I think together with my teammates we played good tactics and I'm super proud to win here in America."
Powless added: "It's been a little over three years since I raced in the States so it's pretty awesome to be back. It's been really nice to have an American event at this level back in the States providing a platform for inspiration for American fans and upcoming future riders, young kids and also teams that don't necessarily always get an opportunity to race against WorldTour riders. It's also a really nice opportunity for them to show themselves."
110 cyclists from 16 teams traversed the unrelenting rolling terrain with few level gradients to relax on a winding outer circuit that routed close to the Pennsylvania state line and featured the historic Sagamore Farms. The upper course was defined by Prettyboy Reservoir with the course ascending and descending around the 80-square-mile body of water. The inner loop around the reservoir featured lush, tree-covered roads with short punchy climbs but nothing overly long, an ideal mix for attacks and breakaway attempts. American Quinn Simmons won the KOM and fell off on the finishing circuits but was a dominate player in the race after following up on a great performance in July's Tour de France.
"It was my first time racing in an American race at this level," said Simmons, 21, from Durango, Colo. "It was an amazing crowd out there and we really wanted to put on a show. It's great to be racing in the states again and hearing your name."
After 75 miles, the riders raced south on Falls Road, the only straight section of the course, into the heart of central Baltimore for a multi-lap circuit finale. In a complete contrast to the roads of Baltimore County, the 7.5-mile city circuit featured 19 turns and a deceivingly tough elevation gain of 234-feet per lap.
Historic and modern Baltimore was showcased to viewers and fans around the world as the four circuit laps routed through the skyscrapers of the Inner Harbor and Harbor East business districts, as well as the neighborhoods of Little Italy, Fells Point, Old Town, Mount Vernon, circling the Greenmount West neighborhood and diverse shops along Broadway. The final 3-kilometers (less than two miles) featured a descent down St. Paul Street onto East Pratt for a flat, fast finish.
VIDEO: Last 10 km of 2022 Maryland Cycling Classic
2022 Maryland Cycling Classic Results
1 VANMARCKE Sep Israel - Premier Tech 4:34:45
2 ZUKOWSKY Nickolas Human Powered Health 0:00
3 POWLESS Neilson EF Education-EasyPost 0:00
4 SKUJINŠ Toms Trek - Segafredo 0:01
5 PICCOLO Andrea EF Education-EasyPost 0:06
6 CORT Magnus EF Education-EasyPost 1:06
7 BIERMANS Jenthe Israel - Premier Tech 1:06
8 SIMMONS Quinn Trek - Segafredo 1:11
9 BALMER Alexandre Team BikeExchange - Jayco 1:11
10 OYOLA Róbigzon Leandro Team Medellin - EPM 1:11
Awards Jerseys
# UnitedHealthcare Race Champion – Sep Vanmarcke (BEL), Israel-Premier Tech
# DirectPay Sprint Points Champion – Jenthe Biermans (BEL), Israel-Premier Tech
# State of Maryland King of the Mountain Champion – Quinn Simmons (USA), Trek-Segafredo
# Kelly Benefits Best Young Rider – Andrea Piccolo (ITA), EF Education-EasyPost
# RxBenefits Most Aggressive Rider – Nickolas Zukowsky (CAN), Human Powered Health
Photos from the race can be found here. All photos are courtesy of Maryland Cycling Classic.
For more information, please visit www.marylandcyclingclassic.us.