Haute Route San Francisco riders enjoyed a day with Jens Voigt
Stage 2 of Haute Route San Francisco was held in conjunction with the Gran Fondo National Series' Jensie Gran Fondo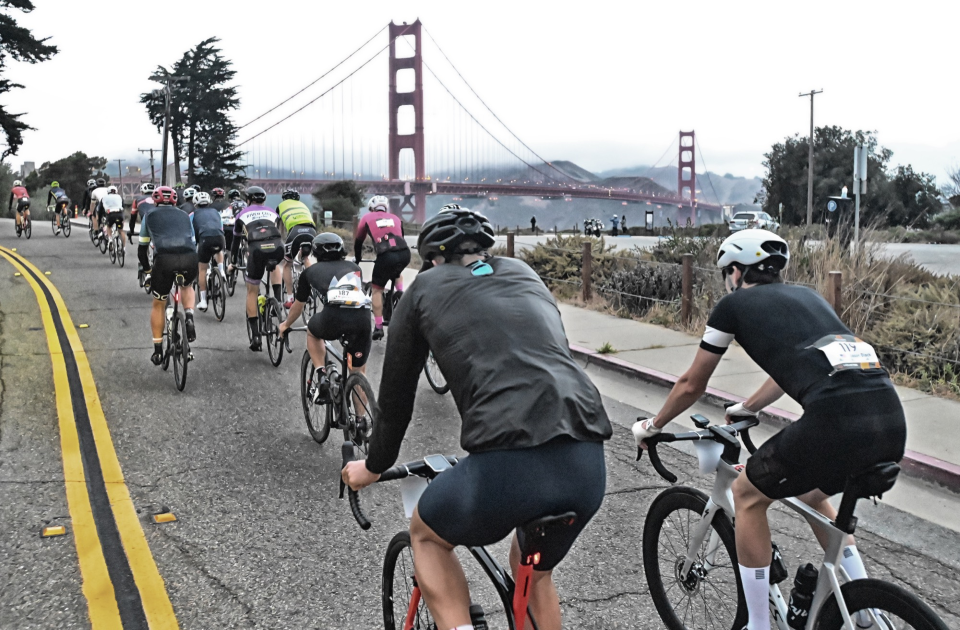 Stage 1 – Golden Gate Bridge – Marin County – Golden Gate Bridge
Parts of the first stage of the 2019 Haute Route San Francisco were enshrouded in mist and fog, and although that meant few views of the Pacific Ocean, it created a unique experience as riders climbed through the redwood forests.
"Stage 1 was a really good representation of Northern California, from the San Francisco cliffs to the Golden Gate Bridge, and then being deep in the redwood forest," said Jeff Mahin. "Coming from Los Angeles, we're used to more desert conditions and barren hillsides, and here it's lush and green. At one point you could see the fog going into the forest, and it was like the mountains were smoking."
Before entering the mist, riders gathered in the Presidio on an overcast morning to ride across the iconic Golden Gate Bridge. Jay Robinson was excited to get started, saying, "I've been looking at doing one of these for a while. It was my 49th birthday a couple weeks ago, and I thought, what better way to celebrate than punishing myself on some climbs. I'm from Edmonton, in Canada, which is very flat, so getting 2000+ meters of climbing would take me a month!"
After crossing the bridge and riding through Sausalito, riders climbed and descended the narrow and twisting Shoreline Highway to reach Muir Beach, and then continued up the Pacific Coast on California Route 1. For David Burke, being around other riders was helpful. "I started out kind of slow, but there's something about a timed section that gets you going. I found a good group, pushed hard, and now I'm ready for another one. Beautiful riding here. I mean you get out of the city pretty quickly, and right on to these beautiful roads with beautiful scenery. It's amazing, and I love the rollers, it's not just straight up or straight down."
Haute Route San Francisco features both Original and Compact courses, and Emma Jane Montiel opted for the Compact for her very first multi-day cycling event. "My friend recommended it. He's done quite a few. I'm new to cycling, coming from a running background, so everything is completely new to me. I'm riding the compact so I can enjoy it. And after the three days, we're going to stay and see the sights in San Francisco!" At the end of Stage 1, Emma was the stage winner in the Women's Compact competition and went into Stage 2 as the General Classification leader as well.
With three timed sections comprising the Original course competition, there was plenty of racing out on course, and plenty of time to ride more socially. "The best thing about Haute Route is that it's chill and competitive. It's whatever you want it to be", commented Marni Harker. "And the people Haute Route attracts are awesome. Everyone's friendly, yet they're all really motivated, so they push you to be your best."
VIDEO: Stage 1 of Haute Route San Francisco

Jens Voigt Joins Haute Route San Francisco Peloton on Windy Stage 2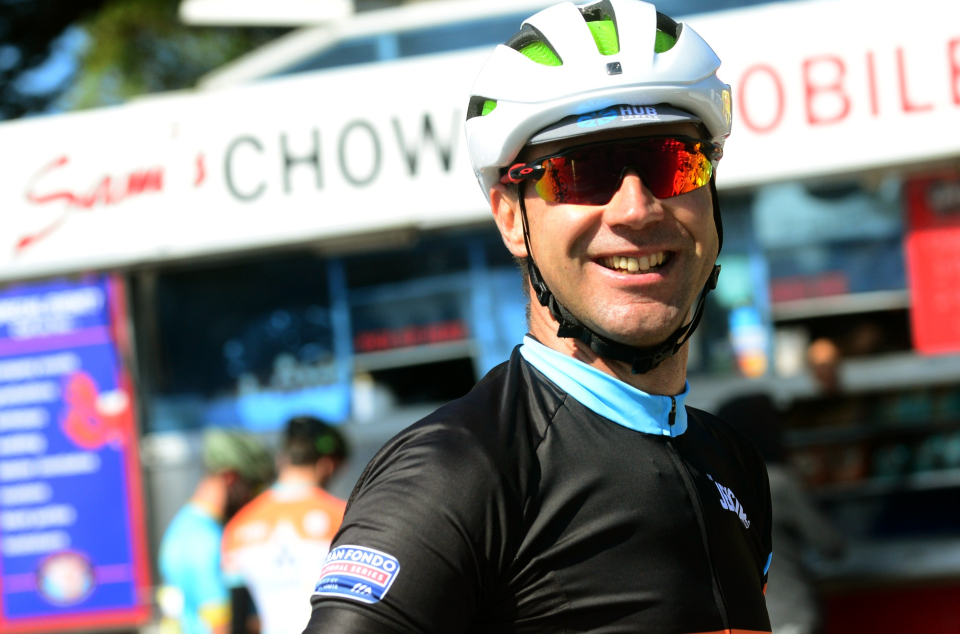 On the north end of Half Moon Bay, California sits the small inlet of Pillar Point Harbor, the seaside start/finish location for Stage 2 of the 2019 Haute Route San Francisco and the Jensie Gran Fondo. Led away from the start by legendary cyclist Jens Voigt, the Haute Route peloton set off to conquer the climbs – and more specifically the wind – on today's stage.
After only a few flat miles riding past the surfers catching early morning waves, the peloton turned inland to wake up their legs on the short and punchy climb up Higgins Canyon. That was just an appetizer, however, for the longer ascent of Tunitas Creek Road.
A narrow and winding road, Tunitas Creek climbs through a dense forest of ancient redwood trees, which only grow along the coast of Northern California and Oregon. Reaching hundreds of feet tall, they provide shelter from the sun and wind under their dense canopy.
"It's pretty amazing", commented Kirk Carlson, Jr., a former pro cyclist for the Bissel and Jelly Belly teams. "You get to ride in a place that a lot of these guys have never been before, and honestly these are the best roads in Northern California."
With 8269 feet (2520m) of elevation gain over 83 miles (133km), today's Original course would be a substantial challenge on its own. Some riders were feeling the added challenge of riding it after yesterday's even longer stage. "This is hard for me. I almost didn't get out of bed this morning, and that first climb today was really tough. I'm doing the Original course. I thought about doing the Compact course, but I came all the way from Phoenix and when I got here I decided to go for it."
On top of all the climbing, the wind was a major factor during Stage 2. Both Original and Compact courses finished with a northerly run along the shore of the Pacific Ocean. Today the typically light onshore breeze ratcheted up to a steady 20-30mph cross-headwind from the left. Teamwork, patience, and careful handling skills all came into play as riders gathered into large groups to share the work and reach the finish.
With both classic road stages behind them, riders relaxed beside Pillar Point Harbor with fresh seafood from Sam's Chowderhouse and live music from Big Mike and the Hartbreakers before returning to downtown San Francisco for the evening.
VIDEO: Stage 2 of Haute Route San Francisco

Angel Island Time Trial Wraped Up Haute Route San Francisco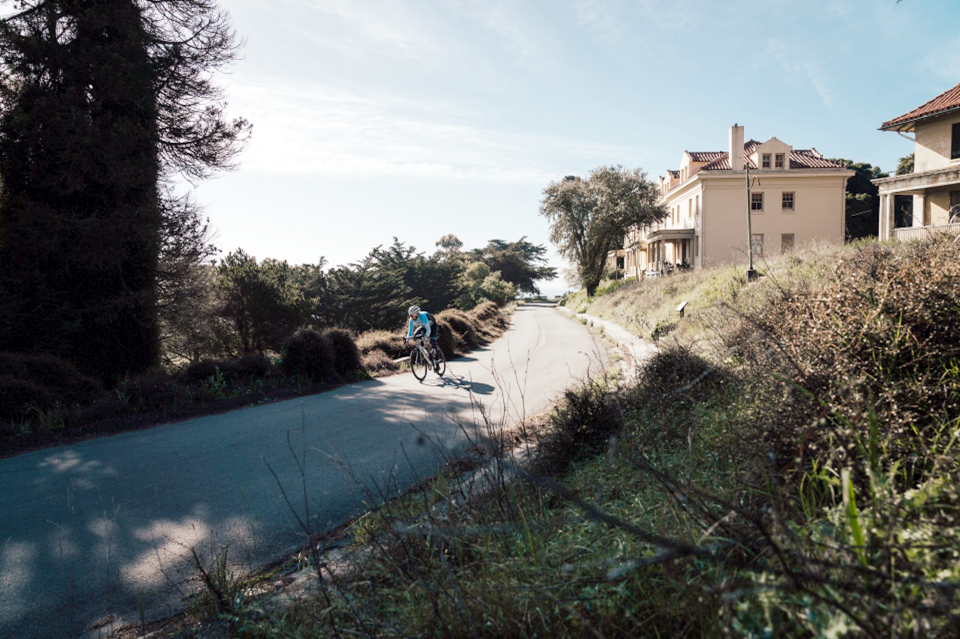 It was an early start for the Haute Route San Francisco peloton on Sunday morning, so everyone could catch the chartered ferry from San Francisco to Angel Island for the Stage 3 time trial. With only 11 seconds separating the top two riders in the Solo Men's Original course competition, the orange leader jersey was still up for grabs.
Angel Island sits near the mouth of San Francisco Bay, which is why it has been used at various times as an immigration station, quarantine, and military base. These days it's a State Park, with nearly five miles (8km) of curving and undulating perimeter road – and no cars.
Kyle Mccoy commented, "It was fantastic, just us out here. The practice lap was fun, and then the time trial was hard. There are some hills out there, and steep ones! But it was so cool to go through the historic military areas and see the views of San Francisco, the Golden Gate Bridge. You'd come around a corner and have another amazing view."
The 15.9-kilometer individual race against the clock consisted of two laps around the historic island, completed before the first public ferry arrived for the morning. Daniel Lincoln set the fastest time of the day at 22:51.73, beating Kirk Carlson, Jr by just 2 seconds! It was enough for Lincoln to win the General Classification with 14 second lead over Carlson. Jeff Mahin rounded out the podium in third place.
In the Women's Solo Original course competition, Isabell King won all three stages and the General Classification, finishing more than seven minutes ahead of Susannah Breen, with Amy Mcclintock on the third step of the podium.
Following the time trial, riders boarded the chartered ferry for a quick tour of San Francisco Bay and the Closing Ceremony. With the sun shining and the Golden Gate Bridge in the background, event announcer Fergus Grant awarded age group and overall winners with their prizes and winner's jerseys.
"That was great," commented Greg Wolf as he waited to board the ferry back to San Francisco. "I loved to be able to ride without having to worry about cars. I did see a deer, which was interesting. The time trial was fast and furious. It was short, so you could go full gas all the way. I've been wanting to do something like the Alps or Pyrenees, and that's a challenge with travel and time off, so when I saw Haute Route events in the States I thought 'this is perfect' because I get my feet wet, see what it's like, get a little taste of it, and it's a lot closer to home."
VIDEO: Stage 3 of Haute Route San Francisco
Next up on the 2019 Haute Route calendar, riders will gather for Haute Route Ventoux in Bedoin, France next weekend, October 4-6. In North America, Haute Route Mexico will be held in Valle de Bravo on October 18-20, and Haute Route will close out the season with Haute Route Qingcheng in China on October 25-27.
2019 Haute Route San Francisco Results
Solo Original Course
SOLO Men's Original Overall: Daniel Lincoln
SOLO Women's Original Overall: Isabel King
SOLO Male U23: Quintin Chiapperino
SOLO Male 24-34: Kirk Carlson
SOLO Male 35-44: Daniel Lincoln
SOLO Male 45-54: Daniel Bugmann
SOLO Male 55-64: Chris Hope
SOLO Female 24-34: Isabel King
SOLO Female 35-44: Susannah Breen
SOLO Female 55-64: Marni Harker
Solo Compact Course
SOLO Men's Compact Overall: Eduardo Costa
SOLO Women's Compact Overall: Emma Jane Montiel
SOLO Male 24-34: Eduardo Costa
SOLO Male 35-44: Reno Junizwan
SOLO Male 45-54: Eric Hodgins
SOLO Male 55-64: Robert Wheeler
SOLO Male 65+: John Bruns
SOLO Female U23: Sabrina Bugmann
SOLO Female 35-44: Emma Jane Montiel
SOLO Female 45-54: Patricia Ledesma Liebana
Duo Competitions
DUO Male Original Overall: Calimex (Juan Jose Cardona Molano and Jaime Carvajal)
DUO Mixed Original Overall: Pom Pom (Simon and Kathy Butt)
DUO Female Compact Overall: MarMic (Micala Gotfredsen and Martina Lerche)
DUO Mixed Compact Overall: Watt Riot (Ian Turnbull and Haley Block)
Full 2019 Haute Route San Francisco Results: https://my2.raceresult.com/134095