2020 Marmotte Gran Fondo Alpes postponed until September due to Coronavirus
Initially scheduled on Sunday 5th of July, the 38th edition of the LEPAPE Marmotte Gran Fondo Alpes will take place on Saturday 5th of September 2020
The decision comes from one conviction to give everyone time so that the LEPAPE Marmotte Granfondo Alpes takes place in the best conditions for all participants by ensuring:
- That they can have the freedom to move and come to France : the Marmotte gathering represents almost 80% of foreigners
- That participants have enough time to train for this challenge taking in mind that the lockdown will continue a few more weeks.
The Marmotte program will remain the same. Indeed, on Thursday 3rd of September, the bravest will do a little warm- up climbing up the legendaries 21 hairpins of the Alpe d'Huez. starting from Bourg d'Oisans and arriving in front of the Palais des Sports of Alpe d'Huez.
To continue, September 4th, the start of the LEPAPE Rando des Marmottes will take place at Bourg d'Oisans. Two stages in two days with a night rest in Valloire. Two days of pure cycling pleasure without any chrono stress so participants can appreciate the Oisans, the Maurienne, the Galibier and of course the Alpe d'Huez. To finish, the Queen race, the LEPAPE Marmotte Granfondo Alpes will be on September 5th. t
The 174km race & 5000 m/d+ does not change. To start, the first goal of the day will be to climb the Col du Glandon (1916m) with some portions over 10%. It will then be necessary to keep going on with the Col du Télégraphe (1561m) and the Col du Galibier (2623m) with a 2000 m/d+ in just 35km. Finally, the 21 laces of the Alpe will mark the last difficult test of the day with an average of 13%. It will be a great pride for finishers to cross the finish line at Alpe d'Huez (1805m).
A total of more than 20,000 visitors are expected in Oisans and Alpe d'Huez. To guarantee everyone's safety, 600 volunters, 70 safety motos and 60 rescuers and doctors are mobilized. In addition, 7 refreshment stations will be available for participants.
Impact On The Oisans Trophy
The Marmotte Alpes and the Vaujany, this last one schedule for the 28th of June, are both part of the Oisans Trophy. Today, no decision has yet been made on a possible date for postponing the Vaujany.
Impact On The Marmotte Series
In order to ensure the coherence of the Marmotte Series, we regret to announce you that the Marmotte Pyrénées (initially scheduled on August 30th ) will be postponed to 2021. Indeed, the organization of these two events one week apart each other is very complicated weather from an organizational or competition point of view.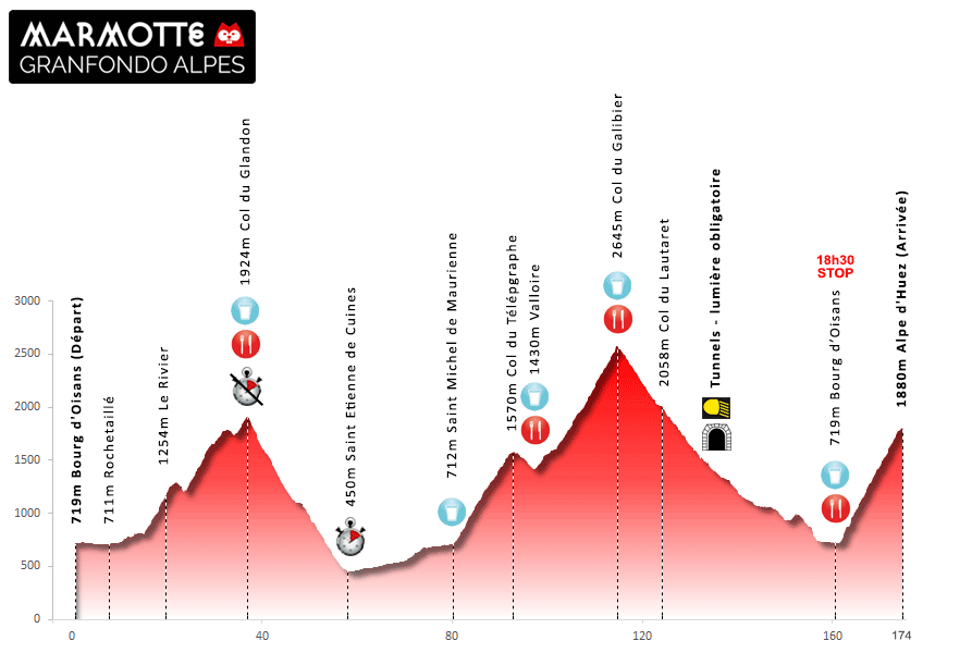 New Schedule
From Thursday 3rd of September, around twenty exhibitors will be present at the LEPAPE Marmotte Alpes village, on the Palais des Sports of Alpe d'Huez.
THUERSDAY 03.09
PALAIS DES SPORTS OF ALPES D'HUEZ
10:00 – 19:00: Opening of the LEPAPE Marmotte village and welcoming of participants
11:00: Awards of the Grimpée LEPAPE Alpe d'Huez
BOURG D'OISANS
08:00: Pick up of LEPAPE Grimpée Alpe d'Huez bip numbers and last minute registrations
09:00: Departure of the LEPAPE Grimpée Alpe d'Huez
FRIDAY 04.09
PALAIS DES SPORTS OF ALPE D'HUEZ
10:00-19:00: Opening of the LEPAPE Marmotte village and welcoming of participants
BOURG D'OISANS
8:00-8:30: Departure of the Rando des Marmottes (Bourg d'Oisans – Valloire)
SATURDAY 05.09
BOURG D'OISANS
Departure of the LEPAPE Granfondo Alpes 06:00-07:00: Pick up of bip numbers 06:00-07:00: Departure control
07:00: Departure 1-1999
07:30: Departure 2000-3999
07:50: Departure 4000 +
VALLOIRE
08:00-08:30: Departure of the Rando des Marmottes (Valloire – Alpe d'Huez)
ALPES D'HUEZ
13:14: Estimated arrival of the first participant of the Granfondo
16:00: Award ceremony
18:15: Closing of the race down at the Alpe d'Huez (Marmotton)
20:15: Arrival of the last participant
REGISTRATIONS: