Haute Route Watopia Countdown is On
The inaugural Haute Route Watopia was the biggest virtual global challenge with over an incredible 70,000 cyclists participating worldwide. Registration for second edition February 26-28 2021, opens early February!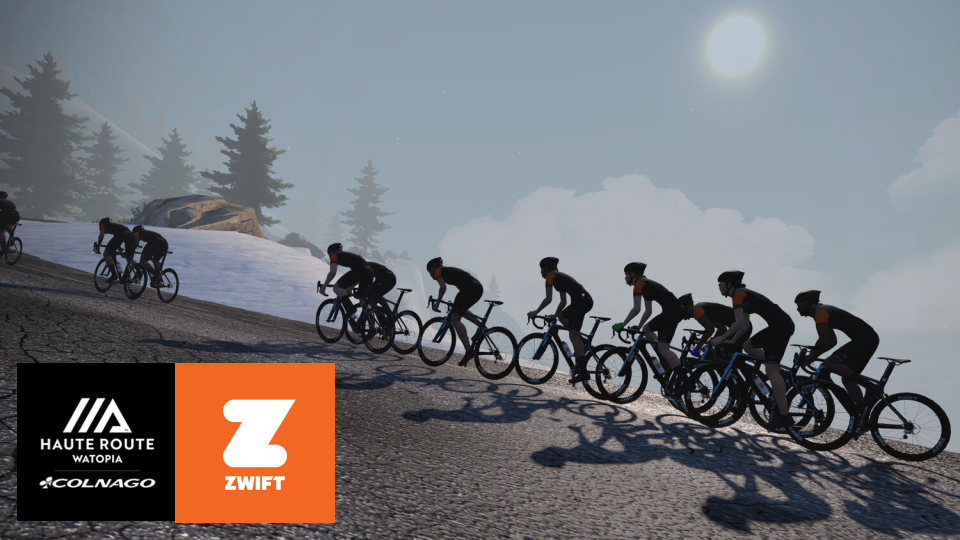 2021 is here and we are counting down the days until our first event on the calendar.
The inaugural Haute Route Watopia was an incredible experience for everyone involved. With almost 70,000 riders joining Haute Route for a tour de force of Zwift's virtual universe, which was bigger than anyone could have imagined.
It was a truly global experience when people needed it the most,
In true Haute Route style, the 2021 Haute Route Watopia will challenge riders to push their limits like never before.
So save the date February 26-28 2021, and get those legs spinning, ready for the toughest virtual showdown yet!
Open to all Zwifters worldwide, this free event will be the most accessible Haute Route to date. And in terms of participation numbers, it will certainly be the largest Haute Route ever! Haute Route Director Julie Royer says, "The virtual world opens up entirely new possibilities never seen before. Haute Route Watopia will allow more people from around the world to experience the thrill of an Haute Route event."
Competitors must complete all three stages on back to back days in order to officially finish.
Each stage will be run across multiple time zones.
There will be no make-up days – stages must be completed back to back!
Three stages, Three days, 150km / 3783m+
Like in 2020, the event will have multiple start times for each stage, making it easy to join, wherever you are in the world. As we get closer to the event, Haute Route will share Zwift's event link so you can choose your stage times in the app or website.
Discover the stage profile's here.
VIDEO: Haute Route Watopia 2020
The first online 3-day race
A 3-day Haute Route event held in the world-renowned at home training game: Zwift. The Haute Route Watopia will challenge you on 3 epic roads: The Mega Pretzel, top of the Epic KOM Reverse and the legendary Quatch Quest. The route covers all three Watopian climbs on Stage 1, the tour of Watopian extremes on Stage 2 and one of the longest and most challenging routes on Zwift to bring the event to a close in style. Be prepared to push yourself as on any Haute Route event, but this time from your living room.
Immerse yourself in the Watopia universe
Challenge yourself over three consecutive days on Watopia, Zwift's virtual volcanic island. Blending the fun of video games with the intensity of serious training, connect to cyclists around the world from your home, day or night, regardless of the weather, and compete against them in the Haute Route Watopia. Each stage will be run across multiple time zones to make Haute Route Watopia a truly global stage event but the three stages must be completed back to back.
Haute Route guaranteed support
The Haute Route is known for its attention to details and professional support before, during and after each event and the Haute Route Watopia will be no exception. In collaboration with our partners, you will get a global classification for the first time on Zwift if you complete the 3 stages. You can also unlock the exclusive Haute Route kit created by Le Col, which will only be available exclusively for this event. In addition, you will live a true Haute Route experience prior to the event by receiving the riders' roadbook and a complete training workout programme to help you perform at your best.
The perfect way to train for your next Haute Route adventure
Finding time to train for an Haute Route event can be challenging, but the Haute Route Watopia is the perfect solution to help you to get faster and stronger. Workouts, pre-event social rides, a challenging multi-day event, you will have everything you need to prepare yourself for your next Haute Route adventure. Haute Route Watopia can be a way to add some fun to your indoor training or a first step into the Haute Route experience.