Belgian's dominate podium at this year's sold-out Mallorca 312
This year's Mallorca 312 had an impressive list of former pro cyclists at the start line including Miguel Indurain, Ivan Basso, Alberto Contador and Sean Kelly on the island of Mallorca in Spain along with 8,000 amateur cyclists from around the world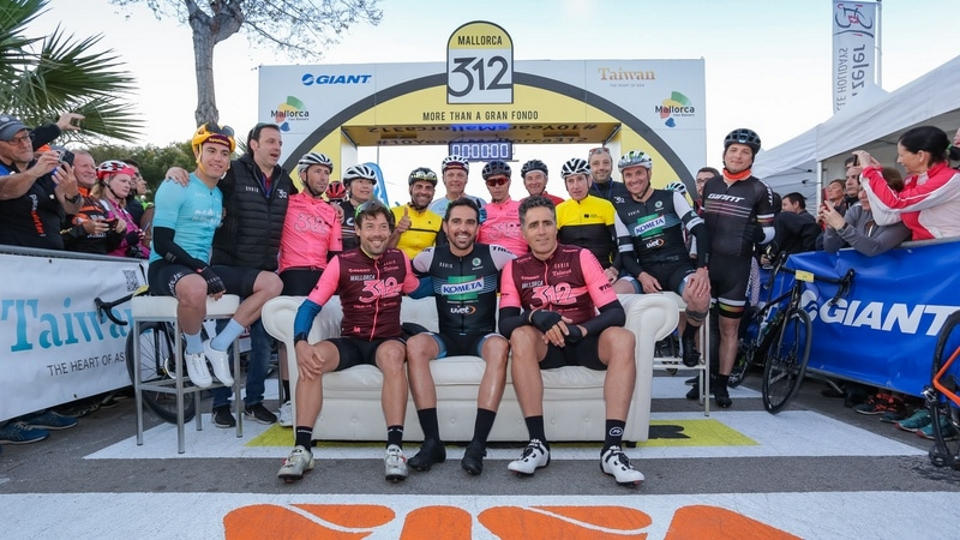 The twelfth edition of Mallorca 312 in Mallorca, Spain, featured the participation of 8,000 cyclists, 1,000 of whom were female riders. Riders took in the heights of the Serra de Tramuntana and the north of the island.
Ivan Basso, wearing bib number 312, led out the race next to Alberto Contador, Miguel Indurain, Sean Kelly, Joseba Beloki and the CEO of Supersapiens, Phil Southerland and local cyclist Toni Tauler.
Participants pedalled through Mallorca completing distances of either 167km, 225km or 312km.
Honoree Ivan Basso said "I wanted to enjoy the road and the atmosphere that exists in the 312. It is amazing to ride with so many people and see how they cheer for the first and last participants," added the double winner of the Giro d'Italia.
Former Irish cyclist Sean Kelly, who wore the bib number 312 during the 2015 edition and rode the island once again, along with 8,000 amateur cyclists. Kelly, known as the King of the Classics, is not the only former pro to return in this edition.
The event organising team noted those on the start line have won the Tour de France seven times, with six Giro d'italia and three Vuelta a España wins in addition to countless victories and five great classics, World Championships and Olympic medals.
Belgians Dominate 312km Podium
On the 312 km course, Olivier Godfroid was fastest in a time of 9h 1m 10s ahead of Job Sueters in second and Patrick Reissig in third.
Belgian Olivier Godfreud added the prestigious Mallorca 312 to his honors list last weekend. The Belgian was first with second place for Belgian Job Sueters. Godfreud rode 312 kilometers at an average of 34.7 kilometers per hour, 100 km of them on his own!
Olivier Godfreud said afterwards, "Evan Basso handed me the trophy and said I did a great job. That's the best compliment I can get, I thought my race was over, before the top of the Puig Major I jammed my chain. I was dropped from the front group, but I stayed calm and gave it everything to get back to the front."
Godfreud, a footballer for many years, now dreams of winning the Gran Fondo Marmotte, with the finish line located at the top of Alpe d'Huez after 100 miles and over 4,000m of climbing, "Together with Mallorca 312, the Marmotte appeals to my imagination. Granfondos makes people dream and you have to dream big!"
Belgian Bart Scholes who placed 82nd said afterwards "Initially I climbed alongside five-time Tour de France champion Miguel Indurin, and yes he's still climbing in the big ring! 57 year old Miguel Indurin finished in 42nd place.
Five-time winner of the Tour de France, Miguel Indurain, said "The race was amazing, as always. The great atmosphere, unique landscapes and everything else makes it difficult to find in any other Gran Fondo like this one."
Photo: Ivan Basso awarded Olivier Godfreud his winners trophy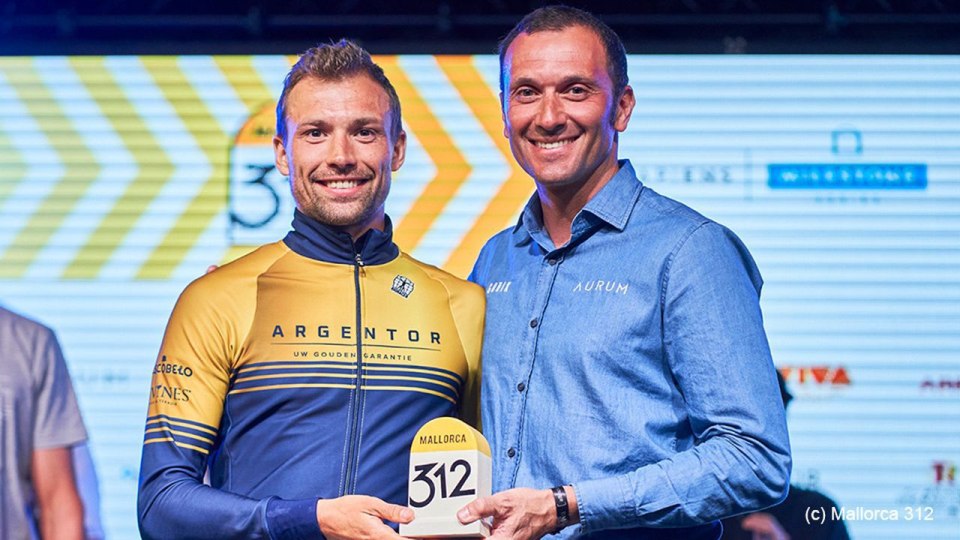 For the women, Joke Wijk won in a time of 10h 35m 55s ahead of another belgian Syvia Hermans in second and Yvonne Margraf in third.
Link to 2022 Mallorca 312km results: https://live.copernico.cloud/races/mallorca-312-17557/results
225km Podium
On the 225 km course, Sebastian Fritz with first with a time of 6h 38m 31s ahead of Pere Amengual in second and last year's 225km champion Dominic Aigner in third.
For the women, Nikki Alberts claimed victory again after winning the title last year in a time of 7h 59m 57s ahead of Jessica Anand in second and Val Ravenhill in third.
Link to 2022 Mallorca 225km results: https://live.copernico.cloud/races/mallorca-312-17557/results
167km Podium
On the 167 km course, Anton Albrecht was fastest in a time of 4h 37m 27s ahead of Wojciech Szczepanik in second and Jaume Moncadas Cladera in third.
For the women, Lydia Boylan was fastest in a time of 5h 10m 25s ahead of Sandra Hohl in second and Elisabeth Floren in third.
Link to 2022 Mallorca 167km results: https://live.copernico.cloud/races/mallorca-312-27059/results
Next year's edition of the event has been confirmed for April 29, 2023.
Ivan Basso rode the 167km course and said, "I enjoyed it so much, it was a blast! The atmosphere was amazing!"
VIDEO: 2022 Mallorca 312 Review by Cyclespeed Tours