VIDEO: Cyclist crashes into Black Bear in North Vancouver
Kevin Milner had a nasty shock while riding through the Seymour Demonstration Forest trail in North Vancouver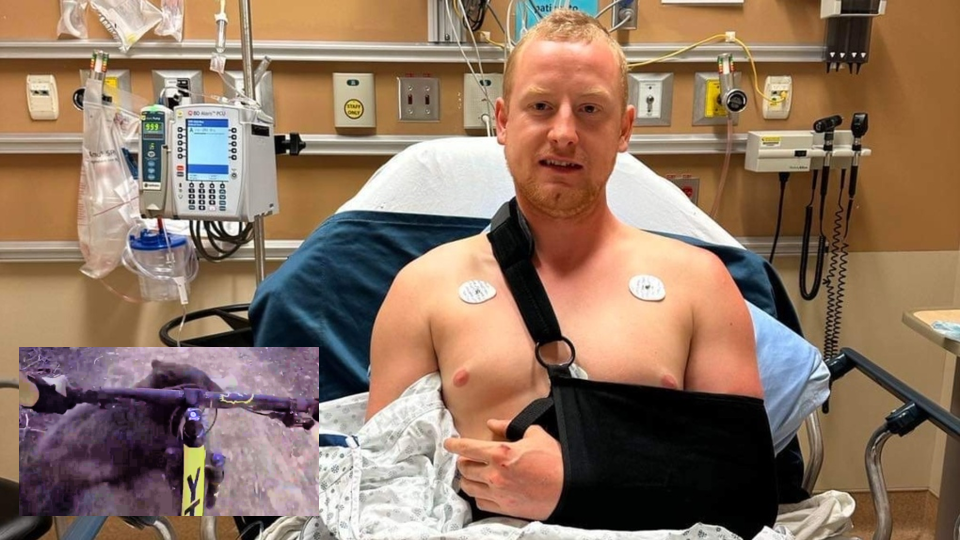 A Vancouver cyclist was riding the Seymour Demonstration Forest trail in North Vancouver when he shockingly crashed into a Black Bear.
"There are a lot of deer in there, and I thought maybe one day I will hit a deer, right? But never thought it would be a bear," Milner said to the media. "I just smacked right into him, and I went flying over top of him."
He had just come around a bend when he saw the huge bear and hit the deck. He lay on the trail in pain for several minutes. Finally, another cyclist, Sam, who was on an ebike, came up and asked him if he was OK.
"He asked me what happened. I was obviously in a lot of pain, and I told him, 'I just hit a bear.' And he was like, 'Where's the bear? Where's the bear?' He was concerned about the bear. I said, 'I don't know, he ran off, but you have to call 911, I need an ambulance,'" Milner said.
As the other cyclist waited with Milner, 30, two other women who had passed by went to try and find a cell signal to call 911. Then, however, the plot thickened. The bear came back 10-15 minutes later.
"He's kind of looking over at us and sniffing the air, kind of curious and pacing around, he's not really sure if he's going to come forward or come back, he just seemed really curious. And started yelling at the bear to scare him off. And after that, I got a huge kick of adrenaline," Milner said.
It was at this point Milner thought he should run away. The two cyclists swapped bikes so an injured Milner could have an easier bike back to the parking lot.
However, Sam couldn't ride his Specialized Tarmac SL5 2018 as it was completely unrideable. Milner said he actually passed the two women who had set off to call the hospital and made it to the parking lot.
Milner finally got to Lions Gate Hospital wher he was now famous annd everyone in the hospital kept coming up to him to tell him the story, "They were asking me, 'Were you the guy? Were you the guy that hit the bear?' And I said, 'Yeah, that was me,'" he said.
Unfortunately, Milner broke a shoulder blade, had nasty bruises, and road rash.
As far as the bear, it seems like he was fine and just brushed off the ecounter.
VIDEO: Bear collides with cyclist in North Vancouver