2023 Cheaha Challenge CENTURY is AGAIN the qualifier for the UCI Gran Fondo World Championship and the UCI Time Trial World Championship!

We are thrilled that we have again been chosen to host a USA Qualifier for the 2023 UCI Gran Fondo and Time Trial World Championship. Participants of the Century ride and/or Time Trial on May 20 and 21, 2023 will earn qualification to enter the World Championship if they place 1st, 2nd, or 3rd in their respective age group and/or if they are in the top 25% of their age group.
The Cheaha Challenge Time Trial is a flat and fast 12 mile point-to-point course all on the Chief Ladiga paved rails-to-trail. Start is at Eubanks Welcome Center in Piedmont, Alabama and finishes at Pete Mathews Coliseum at Jacksonville State University, Jacksonville, Alabama.
The 30th Annual Cheaha Challenge Gran Fondo Century & ULTRA ride begins and ends in Jacksonville, AL. The challenge of this ride is that the participants encounter more than 9,714 feet of cumulative climbing for the century ride, and more than 13,492 feet over 126 miles for the ULTRA (for experienced riders only). Shorter route options have much less climbing. The Cheaha Challenge/ULTRA is famous for being extremely well organized and supported by local volunteers and businesses.
The course is out-and-back and takes cyclists over Cheaha Mountain, Alabama's highest point at 2,407 feet, and home of Cheaha State Park. Given that the route is out-and-back, cyclists also have a lot FAST downhill! Most of the 100 mile route takes riders through the Talladega National Forest by way of the Talladega Scenic Drive, affording breathtaking vistas of the beautiful mountains and valleys in this foothills region.The ULTRA portion is for experienced riders only, and encompasses all major climbs in our area: Chinnabee Recreation Area (hardest Cat 2 climb in the State), Mount Cheaha, Bain's Gap, Cottaquilla, and Chimney Peak.
Chip timing allows us to crown a "King/Queen of the Mountain" (KOM/QOM) rider on the famously steep "3 Mile Climb" leading to the top of Alabama at Cheaha State Park, and allows us to post accurate timing.  Also for the ULTRA, we have a KOM/QOM from Chinnabee Recreation Area to the Top of Alabama inside Cheaha State Park.There will be third a KOM/QOM on the ULTRA course on the route up Chimney Peak (1.6 miles), that includes a 22% grade.  Yes, THREE KOM/QOMs!
CHIEF LADIGA CRUISE Ride - Looking for a little bit less of a Challenge? Or do you have family or friends looking for something to do while you're out riding the Challenge?
Check out the Chief Ladiga Cruise, a kinder/gentler ride of 12, 25 or 50 (to the state line) miles (or less, if you want) on The Ladiga Trail, with three rest stop locations on the route. Enjoy this paved bike path through north Alabama's countryside with Dugger Mountain as the backdrop. (Start time is 8 a.m., 30 minutes after the 7:30 a.m. start of the Challenge.)
CUSTOM MERCHANDISE: The Cheaha Challenge Gran Fondo Century & ULTRA (And Chief Ladiga Cruise rides have some of the coolest merchandise at any event. Custom jerseys/bibs/shorts. But don't miss the pre-order deadline: Feb. 13, 2023.
ULTRA FINISHERS receive a coveted Finishers T-Shirt and are allowed to order the coveted ULTRA FINISHER JERSEY the day after the event. All ULTRA registrants who don't finish, have their FINISHER T-Shirt burned and the ashes mailed to them post-event. If you don't earn it, we will burn it.
BIKEXPO: This year's expo will exhibit a mixture of cycling merchandise, services, vendors, etc. And since it takes place on Saturday, May 20th, too, you will have the ultimate exposure as cyclists compete in the Time Trial and others arrive to pick up packets/.merchandise for the Sunday events. Interested in more info, contact Drew Nelson: CCGFvendors@neaba.net
TEAM VILLAGE: Have a team? All teams/clubs are invited to set up a "base" in our Team Village, located along the finisher chute. For more details or to sign up, contact: Drew Nelson GGCFvendors@neaba.net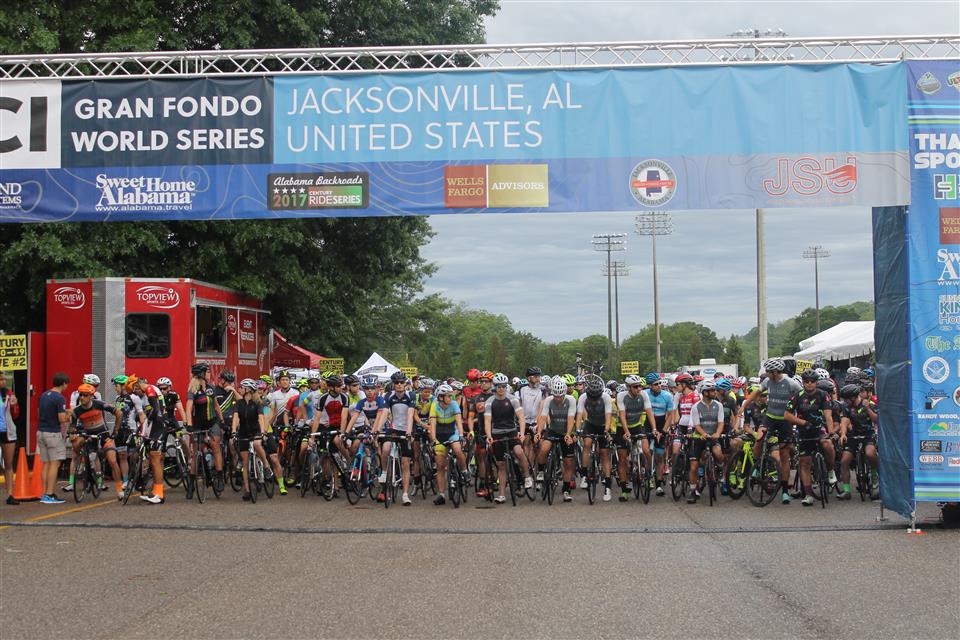 For all riders:
30th Anniversary Celebration!
Goody Bags - drawstring backpacks stuffed full of goodies and info, compliments of Sunny King Automotive
Pre-ride breakfast at ride site
Pre-ride devotion - (7:00 am)
Post-ride party - complete with buffet, beverages, finisher gifts, bands and more! Free for registered riders ($10 discounted fee for non-riders)
Fully stocked Rest Stops - Depending on the distance chosen, Challenge and ULTRA riders have access up to 17 Rest Stops. (The Chief Ladiga Cruise has access to 5 Rest Stops.)
Law enforcement support
Medical support
SAG and technical support
On-course communication
Official custom bibs
Professional Timing - Top View Sports
Option to order custom event jerseys (Hincapie Sports)
Custom ride t-shirts
Bragging rights and special shirts for ULTRA finishers only! And custom ULTRA FINISHER jerseys, only finishers can order.
Finisher medal for Cheaha Challenge Century and ULTRA riders, and Cruise; Winner Medals for Challenge and ULTRA
Finisher gifts - Custom Cycling Cap compliments of Highland Health Systems
Massage Therapy: TBA
Hot showers at the finish