The large-scale version of Phil's Cookie Fondo needs one more year to bake, so we're launching Phil's Cookie Camp, a high-end experience limited to our biggest enthusiasts and VIPS. Three days and two nights at a classy hotel in westlake village, with gourmet food, wine tasting, and celebrity spotting at mid-ride cafe stops by the beach. 
Phil's Malibu Camp offers riders 18mi - 55mi rides in Malibu with incredible views, easy shorter route options, guided by Phil Gaimon and other ride leaders to support all ability levels. Or skip the ride entirely and relax by the pool with a cookie.
About Cookie Camp
Three days of riding and two nights at a luxurious hotel in Westlake Village, with gourmet food, wine tasting, and celebrity spotting at mid-ride coffee stops by the beach in Malibu
Register NOW!
Lock In Your Spot Now! Our Luxury Malibu Cycling Camp Will Be Capped At 100 Riders To Ensure Personal Attention. 
Sign Up Today! Entries Are Limited!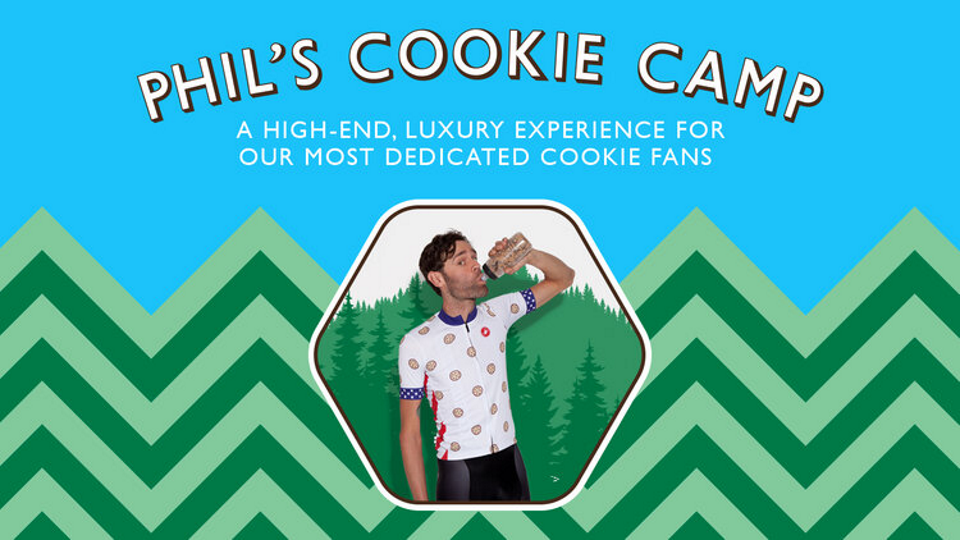 3 Amazing Days of cycling and fun in Malibu/Westlake Village, CA
2 Nights at Hyatt Regency Westlake Village (Fri, Nov 12 + Sat, Nov 13)
Pre-Ride & Post Ride Meals+Drinks w/ Nightly Entertainment Recommendations
Various route options guided by ride leaders w/ mechanical support.
Exclusive Cookie Camp Swag Bag from Phil's Cookie Fondo & Partner Brands
Breakfast - Enjoy pre-ride pastries, coffee & assorted fruits before a day in the Malibu Canyons
Guided Rides with Celebrities including Phil Gaimon
Post-ride Meal - Provided at the finish
Wine Tasting - Relaxation & wine tasting at a Malibu Vineyard with a luxurious picnic setting & snacks.
Cookie Campers will be treated daily with amazing post-ride meals, drinks, and of course cookies.