Giordana Cycling sponsors the Bookwalter Binge Gran Fondo
Giordana will bring their passion for cycling clothing to the Bookwalter Binge Gran Fondo for the first time in 2019. Based in Charlotte NC and Italy, Giordana has produced technically advanced cycling apparel in Italy for more than 40 years.
(Asheville, NC – July 31, 2019) – Velo Girl Rides® is proud to announce the partnership with the Bookwalter Binge Gran Fondo and Giordana Cycling for event jerseys and prizes.
As the official apparel sponsor of the Mitchelton SCOTT UCI World professional cycling team, Giordana Cycling provides all team members, including Brent Bookwalter, with team clothing. They developed their FR-C Pro core collection through work with professional athletes like Brent.
"We are delighted to support Brent in his charitable work with The Binge, and it's also special that Giordana's U.S. operations are located in North Carolina," said Giordana Andretta of Giordana Cycling, "It's a natural partnership and a fantastic event that we're excited to be a part of."
Brent Bookwalter has worn Giordana Cycling kits since he joined the Mitchelton SCOTT professional cycling team in January 2019. "With all the hours that I spend on the bike, the clothing that I ride in is one of my most important pieces of equipment. Whether it's the grim cold and wet of the winter season or the blazing heat of summer conditions, Giordana has gear that keeps me comfortable and fast throughout the year." said Brent Bookwalter, co-founder of the Binge. "From the eVent fabric in rain gear to the warmth of their G-Shield winter pieces, to the super slippery road and TT suits that act as a second skin, Giordana has me covered in every way. This provides the luxury not only to be comfortable and look good, but also to give a competitive advantage through fit and function of technically advanced fabrics and construction."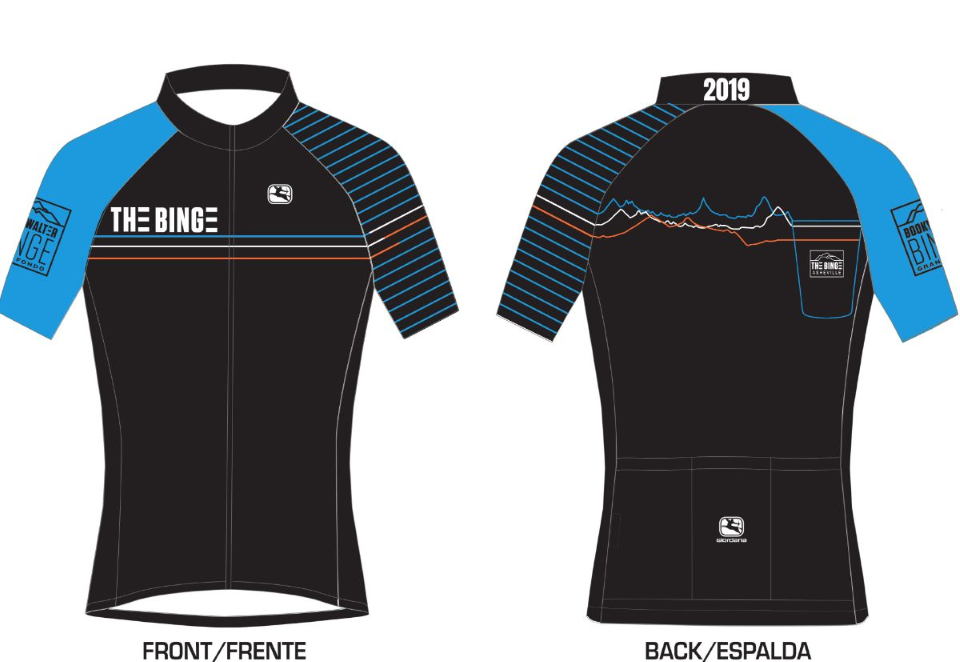 One man and one woman will win a FREE Binge Jersey!
TWO lucky names will be drawn from the list of registered riders to select winners.
Deets about Binge Jerseys
Pre-ordered Binge Jerseys were shipped last week (if you haven't received yours yet, email Jen@VeloGirlRides.com
Already registered, but didn't buy a jersey? Having second thoughts? You can return to the registration process to buy your jersey...just scroll down to see the jersey size options listed to make your selection.
Wanna learn more about the jersey construction, sizes, etc...visit the Binge Jersey page.
Background
The Bookwalter Binge is a challenging Gran Fondo, studded with racing on timed segments of tough climbs. Participants ride alongside female and male pro cyclists as they celebrate the end of their season racing all over the world and the country. Riders, volunteers and sponsors celebrate the finish at the Binge Bash, a party and fundraiser held on the campus of Warren Wilson College.
A charity fundraising event, the Binge is held on the last Saturday every October in Asheville, North Carolina. Funds raised by the event are deployed to protect the environment through land conservation, a cause that is important to Brent and Jamie Bookwalter. The cornerstone non-profit partner is Southern Appalachian Highlands Conservancy, an organization that conserves unique plant and animal habitat, clean water, farmland, scenic beauty, and places for people to enjoy outdoor recreation in the mountains of Tennessee and North Carolina. First responders and other non-profit organizations receive funding from The Binge as well.
To Register
Registration is on pace to sell out before October 26, 2019 and space is limited to 350 riders. Participants may register online.
For more information, visit BookwalterBinge.com