Join Brent & Jamie Bookwalter and friends at the Bookwalter Binge Gran Fondo
As the pro cycling season winds down, members of the pro peloton are making their travel plans to join the Binge - so far, the list includes George Hincapie, Michael Sayers, Jonny Clarke, JP Murphy, Larry Warbasse and, of course, Brent Bookwalter
Brent & Jamie Bookwalter will soon leave Girona to return to Asheville for a few months to spend with friends and family...but first, they plan to Binge and you can join them.
The Bookwalter Binge Gran Fondo will be held on October 28, 2017 in Asheville NC.
The Bookwalter Binge Gran Fondo offers three challenging routes to choose from. Ride with your friends along with pro cyclists past & present. Three timed sections allow you to mix it up with a little racing along the route. Finish with a great meal at Pisgah Brewing--one of the oldest craft brewers in Asheville.
The fourth annual Binge, Oct. 28, brings some of cycling's heavyweights, including now-retired 17-time Tour de France veteran George Hincapie, of Greenville, South Carolina; Michael Sayers, team director of BMC Racing in the Tour and USA National team director during the last two Olympics; and Asheville pros Jonny Clarke with Team UnitedHealthcare and John Murphy with Team Holowesko|Citadel p/b Hincapie Sportswear.
A slew of others will include Larry Warbasse, reigning U.S. National Road Race champion; Thomas Revard, reigning U23 criterium champion; pro riders Mary Zider and Andrea Smith; with Colavita Admin, Ty Magner and TJ Eisenhart.
And of course, Brent Bookwalter. The Asheville resident, four-time Tour de France veteran with BMC Racing and 2016 Rio Summer Games Olympian will ride in the event he started with his wife, Jamie Bookwalter, also a former professional cyclist.
Asheville, autumn colors, craft beers, PRO riders past & present. What's not to love?

For more information, please visit: bookwalterbinge.com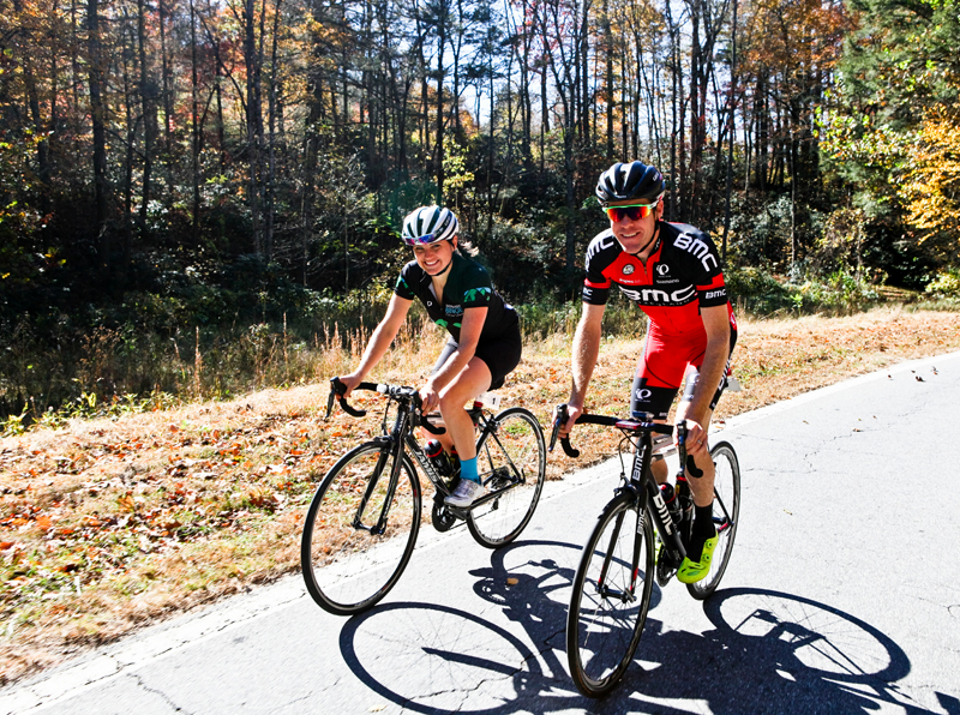 New Look Jersey for Bookwalter Binge Gran Fondo
New look, with bold stripes that catch the eye and a design that is clean and elegant
The 2017 Bookwalter Binge Gran Fondo Jersey has a new look!
Each of the three routes gets equal billing — the Gran, the Medio and the Piccolo. And they've included the stats for each route, as well as the 5 major climbs. These routes are challenging (they know you wouldn't want it any other way) so we're highlighting the experience.
The Bookwalter Binge has partnered with Hincapie Sportswear and this is their most popular custom jersey style, Velocity. Of course we offer both the men's and women's fit so you don't have to compromise with a "unisex" feel. And this year we're also offering The Binge jersey in kids sizes. The kids jersey will have the same design on the Axis style.
Speaking of fit, know that the jersey has a close fit with lots of stretch in the fabric. Those who prefer a looser fit will want to choose a larger size. More details about fabric & fit can be found here: Women | Men | Kids
New For This Year
Order your jersey on or before October 1, 2017 and it will be shipped directly to you. Orders placed after October 1, 2017, will be available for pick-up at the event.
Consider ordering now, so that you have it to wear on your rides this summer, and on the big day. Show your friends what you're doing on October 28.
You can order your jersey via registration process: