Over 9,200 riders from 48 countries gearing up for 52nd edition of Nove Colli
The Godfather of Granfondo, the Nove Colli is getting closer and Cesenatico is getting ready to welcome an internation invasion of cyclists for the scenic start at dawn on Sunday, May 21st. Miguel Indurain, Enervit Ambassador will be ready to ride!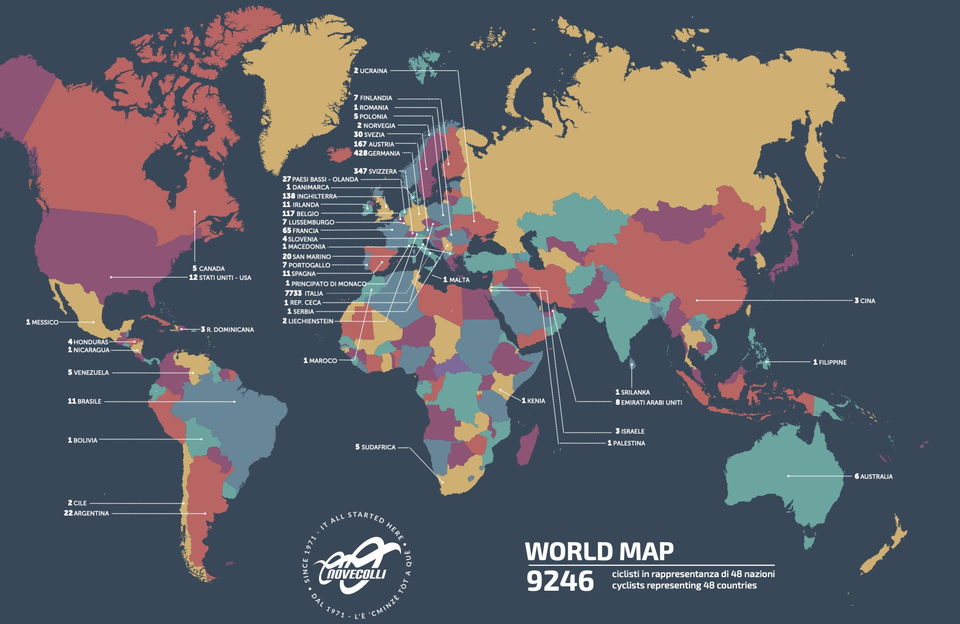 There are 9,246 registered riders ready to pin their bib on their backs, with 1,513 athletes coming from abroad. The percentage of foreigners is up again 16.3%, continuing to grow since 2008, a sign that the Nove Colli has returned to being one of the most international events post-pandemic.
The leading nation (outside of Italy) is as usual Germany with 428 registered participants, followed by Switzerland with 347, then Austria with 167, United Kingdom with 138, Belgium with 117, France with 65, Sweden with 30, the Netherlands with 27 and Argentina with 22.
There will be 12 American cyclists along with many more nations that will plant their flag in Cesenatico with one participant from Nicaragua, the Philippines, Kenya, Bolivia, Sri Lanka, China, and even Palestine.
In 2022 Laura Simenic (TEAM DE ROSA SANTINI) finished in 6:26:23 to claim the women's Nove Colli title and Swiss rider Loic Ruffaut (SWISS CYCLING) put on a dominating ride to win the 51st edition of the Granfondo Nove Colli, the original and oldest gran fondo in the world, with a finishing time of 05:42:23 on the 205km route along the Italian Adriatic coast.
After the announcement of Beppe Saronni's participation, another star arrives in Cesenatico: it is Miguel Indurain, Enervit Ambassador, who on Sunday 21 May is ready to attach his bib to race the Nove Colli for the first time.

The Spanish champion will tackle the 200km course and is undoubtedly the most successful cyclist in history to take part in the Granfondo: 2 Giri d'Italia, 5 Tour de France in a row, world time trial gold in 1995 in Duitama, Olympic time trial gold in Atlanta 1996 and a career that made the history of modern cycling.
Indurain's participation is also a sentimental one, as he has always reiterated that he is very attached to the memory of Marco Pantani and that he will arrive in Cesenatico for the first time. It was 1994 and a young Marco Pantani was presenting himself to the world at the Tour de France while Miguelon was already one of the sport's greats. It has been a long time, but it doesn't seem like a day has passed.
For more information, please visit: https://www.novecolli.it