52nd Nove Colli Race postponed due to Serious Flooding
Given the emergency tragically affecting the entire Romagna region, the Granfondo has been rescheduled for September 24, 2023 with two dead and hundreds forced to evacuate their homes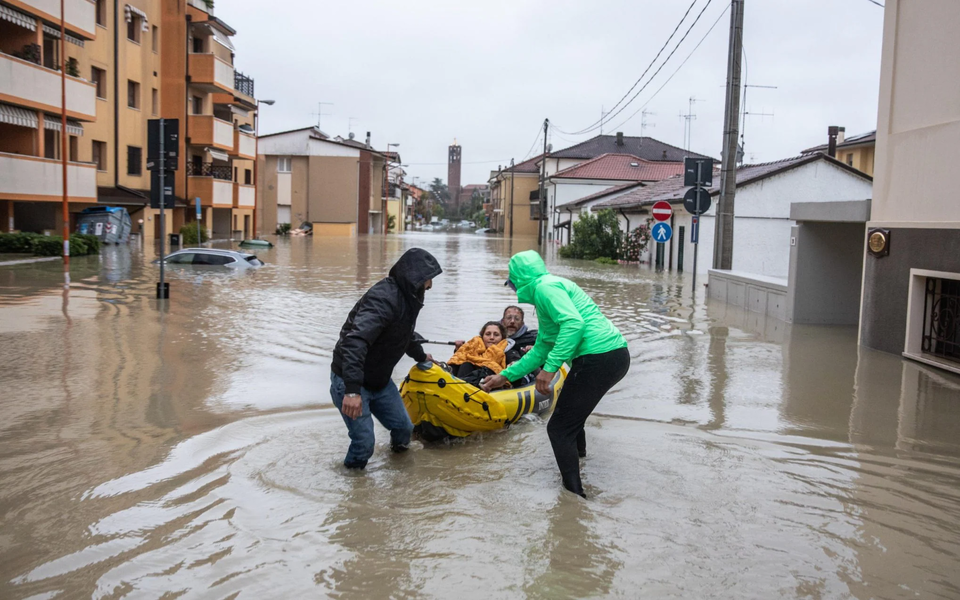 The organizers of the Nove Colli race have been forced to postpone the event to September 24th following the wave of bad weather affecting the entire Romagna region. It has been officially cancelled due to severe flooding in the region, with organisers accepting it would be irresponsible to hold such a big event while local community and emergency services are stretched.
The Emilia Romagna region was already hit by severe weather two weeks ago, which caused two fatalities and forced hundreds to evacuate their homes. Recent reports from Sky Italia state the death toll has risen to five.
This weekend's Emilia Romagna Grand Prix has been officially cancelled due to severe flooding in the region.
"Twenty-four municipalities are flooded, all the rivers in Emilia Romagna have unfortunately overflowed," said the Minister of Civil Protection Nello Musumeci.
"The average rainfall is 200 millimetres in 36 hours, but in some areas it has reached 500 millimetres. If you take into account that in one year the rainfall in that region is 1,000 millimetres, you will realise the power that the rainfall has had in the last 36 hours."
"The Nove Colli is a celebration," explains Andrea Agostini, President of Fausto Coppi, "But at this moment, there are no moral, structural, or practical conditions to celebrate anything. We are experiencing dramatic days with the images from Cesena, Cesenatico, and the entire hilly area that have affected us deeply. This morning we woke up and immediately understood that the Nove Colli race on Sunday cannot take place."
"Our first thoughts go to all the volunteers, members of the Civil Protection, and law enforcement who ensure the smooth running of the race. It is not feasible to divert resources from the region at this time, as it would neither be possible nor responsible. Furthermore, we do not consider it appropriate to hold the Granfondo for safety reasons, as we cannot assess the condition of the affected road sections. Lastly, there is the moral aspect, and we do not deem it appropriate to celebrate during such a difficult period for everyone. We are certain that the entire Romagna region will rise again, and when it does, the Nove Colli will be ready to represent a day of leisure and joy for all."
Fundraising for Emilia Romagna
The Emilia-Romagna Region has decided to start a fundraiser to support our territory.
Anyone can pay a contribution using these bank details:
Iban: IT69G0200802435000104428964
Reason: "EMILIA-ROMAGNA FLOOD"
To donate from abroad, Bic Swift code: UNCRITM1OM0
The current account is held in the name of the Agency for Territorial Security and Civil Protection of Emilia-Romagna.
Over 9,200 riders from 48 countries were gearing up for 52nd edition of Nove Colli
There are 9,246 registered riders ready to pin their bib on their backs, with 1,513 athletes coming from abroad. The percentage of foreigners is up again 16.3%, continuing to grow since 2008, a sign that the Nove Colli has returned to being one of the most international events post-pandemic.
The leading nation (outside of Italy) is as usual Germany with 428 registered participants, followed by Switzerland with 347, then Austria with 167, United Kingdom with 138, Belgium with 117, France with 65, Sweden with 30, the Netherlands with 27 and Argentina with 22.
There will be 12 American cyclists along with many more nations that will plant their flag in Cesenatico with one participant from Nicaragua, the Philippines, Kenya, Bolivia, Sri Lanka, China, and even Palestine.
In 2022 Laura Simenic (TEAM DE ROSA SANTINI) finished in 6:26:23 to claim the women's Nove Colli title and Swiss rider Loic Ruffaut (SWISS CYCLING) put on a dominating ride to win the 51st edition of the Granfondo Nove Colli, the original and oldest gran fondo in the world, with a finishing time of 05:42:23 on the 205km route along the Italian Adriatic coast.
After the announcement of Beppe Saronni's participation, another star arrives in Cesenatico: it is Miguel Indurain, Enervit Ambassador, who on Sunday 21 May is ready to attach his bib to race the Nove Colli for the first time.

The Spanish champion will tackle the 200km course and is undoubtedly the most successful cyclist in history to take part in the Granfondo: 2 Giri d'Italia, 5 Tour de France in a row, world time trial gold in 1995 in Duitama, Olympic time trial gold in Atlanta 1996 and a career that made the history of modern cycling.
Indurain's participation is also a sentimental one, as he has always reiterated that he is very attached to the memory of Marco Pantani and that he will arrive in Cesenatico for the first time. It was 1994 and a young Marco Pantani was presenting himself to the world at the Tour de France while Miguelon was already one of the sport's greats. It has been a long time, but it doesn't seem like a day has passed.
For more information, please visit: https://www.novecolli.it