The 50th Edition of the Nove Colli granfondo will take place on May 23, 2021. Although everything was ready, a painful, but inevitable decision was made by the organizing committee due to the COVID-19 virus that has spread around the world.
All registration fees will remain valid and the cyclists at the moment they don't have to do anything. The organization will inform about the next steps on the official channels.
At the end of this summer, "On the roads of the Nove Colli" will debut.
The goal of Fausto Coppi Cesenatico is to organize its first cycle tour with a vintage flavor. We want to savor the taste of pedaling together without a stopwatch, in perfect 80s style.
The event could bring thousands of cyclists, even poorly prepared, to the roads with the sole desire of spending time together on their bicycles, and with the hope that it will mark a new start for everyone and everything.The Gran Fondo Nove Colli  is one of Italy's most famous cycling events and with over 12,000 riders predicted in 2019 it's one of the most popular too. Nove Colli is Italian for Nine Hills and a quick glance at the route profile below confirms why.
The stunning scenery as you climb through Italian hills before descending back down the Adriatic coast is one of many reasons why cyclists who love to travel should add the Nove Colli to the 'to do' list. Add in a splash of Italian wine, great food and a seaside resort steeped in the history of Marco Pantani, Fausto Coppi and four decades of hosting Gran Fondo's and the Giro d'Italia and you have the recipe for a classic Italian Gran Fondo. The event dates back to 1971 when 17 riders took part.
205 km, 3840 M
A race that tests any athlete, even the most prepared, but which undoubtedly offers unforgettable emotions
Length: 205 km
Maximum height: 791 m
Ascent including slight slopes: 89 km
Downhill: 77km
Flat: 39km
Max slope: 18%
130 km, 1871 M
A race that tests any athlete, even the most prepared, but which undoubtedly gives unforgettable emotions
Length: 130 km
Maximum height: 536 m
Uphill: 50 km
Downhill: 46 km
Flat: 34 km
Max slope: 18%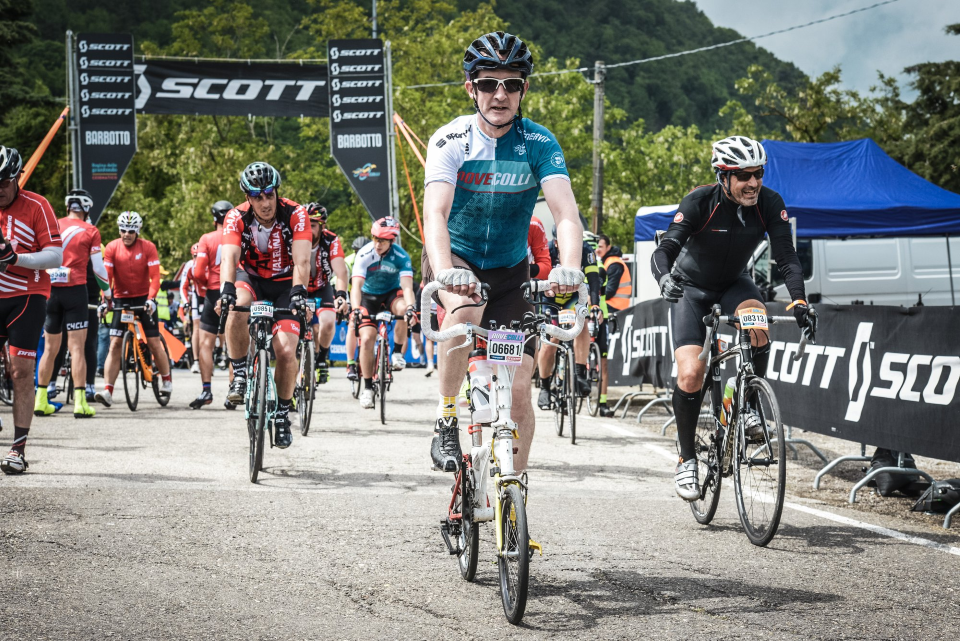 Participationfee includes:
'Nove Colli' gadget, pasta party at arrival area (accessible only if wearing the wristband pass), mechanical and medical assistance, radio aid, 8 different food and refreshment stops along the 205 km route and 4 along the 131 km route, showers and large bike park at the finish line only
accessible if you have both race numbers (personal and on bike), a souvenir, personalis
ed certificate downloadable from Internet www.novecolli.it
Nove Colli Village –Ciclo&Vento Expo, Piazza Andrea Costa (next to the skyscraper of Cesenatico)