The epic and "Challengingly Beautiful" fundraiser ride is back for 2022!  The Sequoia will be open registration on February 1st, 4 months in advance of the June 5th event date.  This year we are providing 3 very well supported routes, a finish line meal and party and a Voler Jersey is included with each registration!
This epic 100.8 mile journey has an impressive 10,000 ft of gain with two longer climbs and numerous "shorter" ones!  But fear not, you'll enjoy miles of redwood forested climbs and descents, vast ridge top vistas, cool creek-side canyons and bucolic coastal agricultural lands.  This route provides what many are calling "cycling perfection" with two amazing and generously supported Rest Stops and the quiet coastal towns of Loma Mar,  Pescadero and San Gregorio.  You'll ascend the stunning sunrise climb up Page Mill Rd, then descend on W. Alpine into miles of redwoods before the first stop at mile 23.  You'll then take a scenic tour down to Hwy One then north past Pigeon Pt. Lighthouse, back into Pescadero and all of Stage Rd.  The next rest stop is at the iconic Bike Hut , just before the he famous ascent of Tunitas Creek Rd.  The 100 milers have two "bail-out" options to test your tenacity and resolve, and we'll have our "Fun Finish" with ice-cold chocolate milk, vendors, music and a hearty meal at our shaded site at Foothill College to complete your amazing day! 
The next option is the challenging route is The Sequoia 68.  This amazing route boast some spectacular views, but with fewer miles on Hwy One, but all the amazing climbs and descents.  Register opens after Feb 1st. 
The "Short Option" is The Sequoia 57, with a bit less climbing, the full rest stop about half-way, and a water stop about 12 miles from the finish and a slightly easier route back to the finish line!
There are strict rider limits for each route, so register early to assure your spot, and each registration includes a high-quality Jersey by Voler!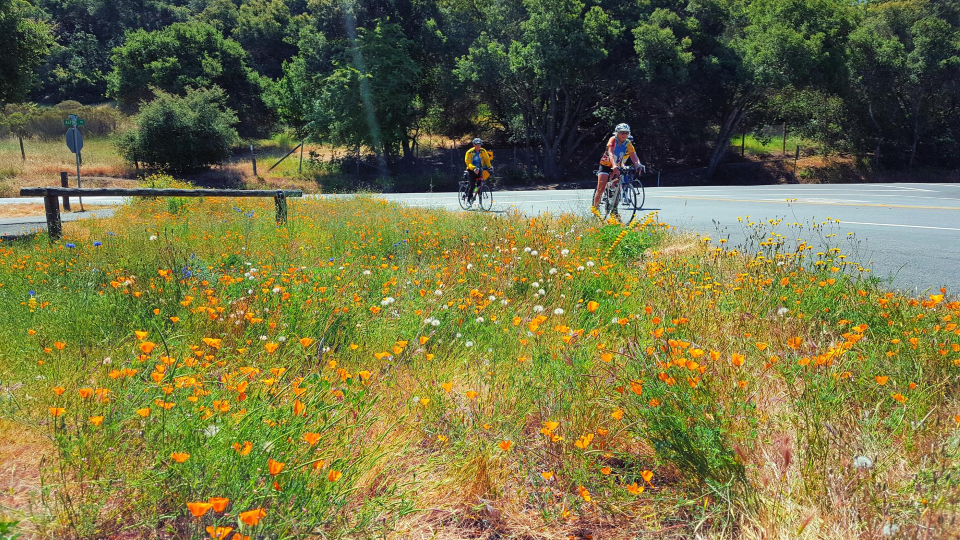 On route support, maps/cue sheets, RouteArrows route marking, two full rest stops, one water stop, finish line meal, stunning scenery with amazing vistas, stellar support and very quiet roads.
At Bicycle Outfitters bike shop on Saturday June 4th from noon until 7pm. @ 963 Fremont Ave, Los Altos, Ca 94024
Day-Of at the Start @ Foothill College, Lot 1c, after 5:30 am on Sunday