11 "Must-Ride" US Gran Fondo's for 2016
2016 sees the world focus on reducing its carbon emissions, sustainability and health. So naturally, cycling gains a further boost as a means of travel, staying fit and enjoying sport. So whether it's to improve your fitness, stay healthly, or as an environmental choice - taking up cycling could be one of the best decisions you ever make.
Here's our selection of some great Gran Fondos, taking place across the United States - from April until November 2016.
So why not make it your resolution to ride one?
You won't regret it!
Campagnolo Gran Fondo San Diego
April 9 & 10th 2016 - San Diego, California
Early season Italian epic, which supports American military personnel
A Gran Fondo is supposed to make an every day rider feel like a fully supported professional racer, and the Campagnolo Gran Fondo San Diego does so with true Italian panache. Founded in 2009, the event is now in its eighth consecutive year and the Italian bicycle component manufacturer Campagnolo has been its title sponsor since 2013.
Riders line up under the iconic "Little Italy" sign in downtown San Diego, where professional announcers call up cycling celebrities and an impressive train of Ferraris leads out the peloton. World-class Campy mechanics provide on-course assistance and the event culminates with finisher's medals, free massage, and a four-course Italian feast.
San Diego, dubbed 'America's Finest City', is a world-renowned cycling destination, and home to mountains, beaches, deserts, and lakes. The Campagnolo Gran Fondo, one of the longest running Gran Fondos in America, showcases both its natural and urban wonders.
San Diego shares Italy's temperate Mediterranean climate, and riders can look forward to pedaling in ideal temperatures between 60 and 70 degrees Fahrenheit on event day. While the ride grows in popularity each year, it maintains a charming, friendly, and intimate personality.
The routing options of the Campagnolo Gran Fondo San Diego offer something for everyone. A 20mi Fun Fondo brings riders along San Diego's picturesque Big Bay. The 32-mile Piccolo Fondo adds more challenge, heading inland for 900' of climbing. Hardier riders will enjoy the 56mi Medio Fondo with 1,500' of climbing, and the Gran Fondo route, at 105 miles, includes 5,000' of climbing and a timed King/Queen of the Mountains competition.
Funding in part by the San Diego Tourism marketing District Corporation with city of San Diego Tourism marketing District Assessment Funds
The Campagnolo Gran Fondo San Diego is proud to support Challenged Athletes Foundation's® (CAF) Operation Rebound® .
Challenged Athletes Foundation's® (CAF) Operation Rebound® program is the premier sports and fitness program for American military personnel, veterans and first responders with permanent physical disabilities.
Registration is now open.
Click here for more details on the 2016 Campagnolo Gran Fondo San Diego and how to register.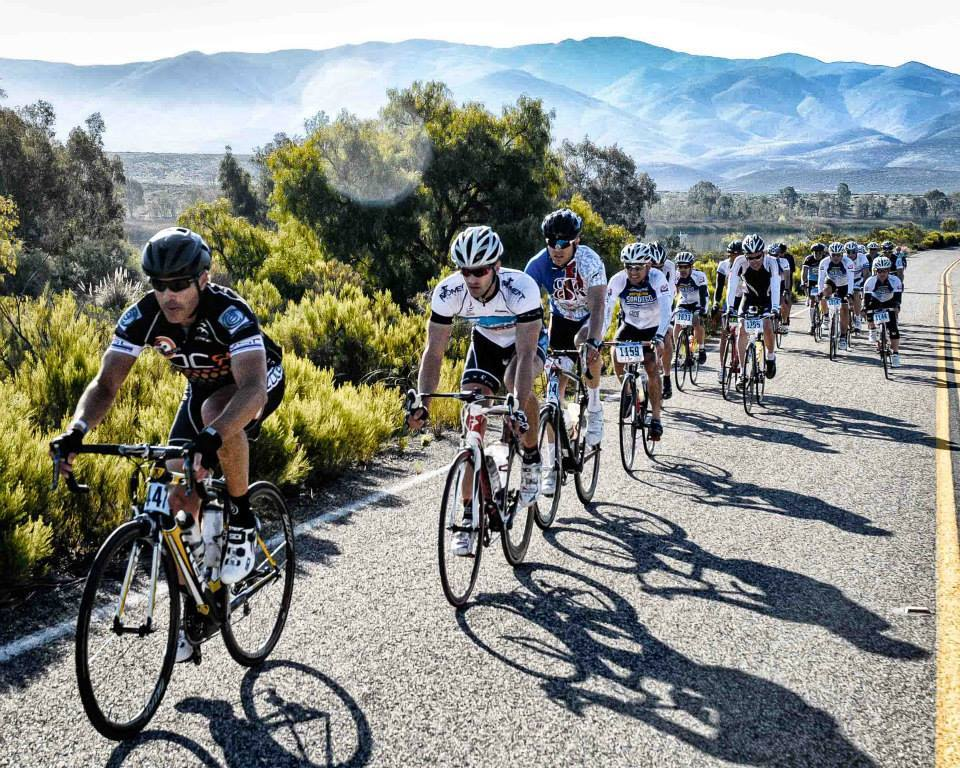 Tour of Battenkill Open Gran Fondo
May 21st 2016 - Cambridge, New York
America's Queen of the Classics
Since it began over 10 years ago, the Tour of Battenkill, originally called the Battenkill-Roubaix in upstate New York - has skyrocketed. The Tour of Battenkill's steep punchy climbs are legendary in shattering fields of riders, both amateurs and Pro's alike. With approximately 3,000 starters across 38 races in recent years, it probably is America's largest single day races.
The Tour of Battenkill Gran Fondo allows amateur cyclists to experience the professional course of 68 miles of rolling terrain on both dirt and paved roads as they travel through the world famous Battenkill Valley. Set in early spring, the race starts and finishes in the scenic village of Cambridge, New York and courses through covered bridges, family farms, and rural villages along the many challenging back country roads that traverse Southern Washington County, New York.
The course features rolling countryside, covered bridges, and direct passes through several small villages. There are many challenging climbs - total climbing is 4029 feet - with a maximum gradient of 17%. 39/25 gearing is recommended. 68 miles, 4029 ft elevation gain, 8 dirt sections of 14 miles.
For racers and non-racers, the Tour of the Battenkill Open is a mass-start, gran fondo-style event.
"While the Pro/Am race participation remains popular, the Gran Fondo participation is doubling each year, with nearly 500 in 2015. We expect that trend to continue for 2016 and beyond" said Dieter Drake, President, Anthem Sports.
If you want to get fit and experience the ride before May, look out for the Battenkill Spring Preview Ride on April 23rd too.
Registration is open.
Click here for more details on the 2016 Tour of Battenkill Open Gran Fondo and how to register.

Vermont Gran Fondo
June 4th 2016 - Middlebury, Vermont
Third edition features two new climbs, multiple covered bridges, country stores, new routes and a new after party. Reputed to be the Toughest Gran Fondo in the North East.
The climbing will be no less challenging, the views every bit as breathtaking, and the post-ride party kicked up a notch. The third Vermont Gran Fondo, set for Saturday, June 4, 2016, promises several new twists on a familiar and popular theme. After two editions that challenged cyclists from all over the world, as well as a 2012 Olympian, with the daunting "LAMB" ride—the Lincoln, Appalachian, Middlebury and Brandon gaps in succession—the Green Mountain State's premier cycling event will mix things up this summer.
Repaving on Routes 125 and 73 will reduce sections of the Middlebury and Brandon gaps to gravel, so organizers have paired Roxbury Gap and Moretown Mountain with the Appalachian and Lincoln gaps. All told, the 2016 Gran Fondo route will make for 105 miles and more than 10,000 feet of climbing—yet again, a quadruple-gap century ride. And the course's final ascent will take cyclists up the eastern slope of Lincoln Gap, with 24% grade that's purported to be the steepest paved mile in the U.S.
"We have too much respect for the Vermont Gran Fondo's many friends and their finely-tuned equipment to ask them to bike over rugged surfaces," says event director Sue Hoxie. "So we decided to make a virtue of necessity and give riders a chance to scale two new Green Mountain summits. And they'll still be ascending Lincoln Gap. Indeed, for Gran riders, a full day of cycling will culminate in that legendary climb."
To accentuate the Vermont vibe, the Gran Fondo route will lead riders through five covered bridges (in Waitsfield, Warren and Northfield). The new 2016 loop also features many country stores along the route (in Starksboro, Lincoln, Warren, Waitsfield and Northfield) to supplement the usual well-stocked rest stops (atop the App and Lincoln gaps). Roughly 10% of the Gran route will cover iconic Vermont dirt roads, which are hard-packed and easily navigable. After two years with the start and finish at the Middlebury College Snow Bowl in Hancock and the après-ride party at New Haven's Lincoln Peak Vineyard, further change is in store. This year the event will begin and end at the Woodchuck Cider House in Middlebury, with the post-ride festival taking place from 3 to 9 p.m. just a short, flat pedal down Exchange Street, on the Green in downtown Middlebury. There cyclists can listen to two live bands and enjoy free admission to both Foodaroo, with its array of popular food trucks, and the Midd Summer Fest, with tastings of adult beverages.
The Medio Fondo will be essentially unchanged from 2015, with 6,800 feet of climbing over 64 miles, including the Appalachian and Lincoln gaps. Piccolo riders will follow a route entirely within Addison County, home to what Yankee magazine has called the best road cycling in New England, covering 43 miles and rising 3,700 feet as they go from Middlebury to Bristol and Lincoln, then back again.
Registration is open.
Click here for more details on the 2016 Vermont Gran Fondo and how to register.

MSU Gran Fondo
June 25th 2016 - Grand Rapids, Michigan
Cycle and join the fight against Skin cancer
In its fourth year, the MSU Gran Fondo has drawn 5,000 riders from across the globe to its scenic Michigan course and has raised nearly $500,000 for Michigan State University College of Human Medicine's skin cancer awareness, prevention and research. The "rolling party" on June 25 takes cyclists from downtown Grand Rapids to the Lake Michigan shoreline, experiencing West Michigan's picturesque terrain and superfood stops along the ride.
Cyclists of all ages and abilities can join as individuals or teams on the 12, 25, 40 or 80-mile routes. The non-competitive ride includes electronic timing, ride results and SAG support. Fundraisers can earn a commemorative jersey, cycling gear and other prizes. All riders return to downtown Grand Rapids for a Finish Line Festival with live music, gourmet food, craft brews and wines.
MSU Gran Fondo is an opportunity to join the fight against skin cancer and provide hope for more than 70,000 people in the U.S. expected to be diagnosed this year. Every dollar raised goes directly to research new therapies to treat skin cancer and improve the lives of those battling it.
Registration opens February 1st 2016.
Click here for more details on the 2016 MSU Gran Fondo.

Farm to Fork Gran Fondo
June 26th 2016 - Warwick, New York
Love cycling? Love Food? Love Farming? We guarentee you'll enjoy this new series of rides for 2016!
Farm to Fork Fondo - Hudson Valley 2015, was the first event of the popular boutique Farm to Fork Fondo series that in 2016 also includes stops in Vermont, Pennsylvania Dutch Country and Maine. In 2016 Farm to Fork Fondo - Hudson Valley returns to a new venue Pennings Farm with greater capacity, an expanded post-ride expo, free hard cider from the farm for all finishers, new featured farms and more.
All events in the 2016 Farm to Fork Fondo series include: mass starts led by the women of the Colavita | Bianchi Professional Cycling Team; available all-inclusive weekend VIP packages; gourmet catered pre and post-ride meals featuring ingredients sourced from the farms along the routes; deluxe aid stations at working farms with treats from the farm; more than $10,000 in raffle prizes including Bianchi bicycle giveaways; outstanding production quality with on-course moto, vehicle and police support; and much more.
"We received a tremendous response from our 2015 Farm to Fork Fondo series," said Wrenegade Sports founder and former professional cyclist Tyler Wren. "Participants raved about our unique combinations of challenging routes, beautiful scenery, gourmet farm fresh food, visits to local farms, friendly professional cyclists and family activities. So we've been working hard to expand the series in 2016 to increase our capacity and to include events in more iconic farmland throughout the Eastern United States."
Registration is open for the whole series.

The Vermont Challenge & Gran Fondo
August 11th-14th 2016 - Manchester, Vermont
Only mountain top Gran Fondo finish, east of the Continental Divide
The Vermont Challenge, Vermont premier multi-day ride, offers you 4 glorious days of riding through picturesque countrysides, covered bridges, river valleys and historic villages of southern and central Vermont for 1/4 of the price of packaged tours. Join hundreds of riders from across the U.S. & Canada. Choose from 3 daily routes for all abilities. Fully supported, plus farm to table lunches, a kick-off dinner, handsome jersey, tech-t, water bottle and so much more.
Choose any combination from 4-days to just 1. Consider riding all four days for the best experience.
The Vermont Challenge is the only bicycle Challenge that tours Southern and Central Vermont and draws upon the creative energy of local businesses and people of Vermont, key ski resorts, restaurants and farms in each local community that it visits.
Offering shorter tamer routes so your friends, significant others and club members who ride at 12 mph or faster can join in all the fun! That also means you can stay in the same hotel for the duration of the tour. You'll have access to your cars for the multitude of activities you can enjoy on your own each afternoon. In addition, we'll be creating a Bicycling Festival in conjunction with the title Sponsor Stratton Mountain on Saturday 15th at Stratton's village.
On Saturday the highlight of the ride that day will be winding up a four-mile climb to Stratton Mountain Resort for the only mountain resort-top Gran Fondo finish east of the Continental Divide.
While they offer the 1-day Gran Fondo, the beauty of the Vermont Challenge is the multi-day options. This separates them from other 1-day only events. You can ride 4-days meet riders from across the U.S. and Canada (22 states last year) at a fraction of a packaged-tour price but with all the benefits and goodies including a Jersey and full lunches, support, etc.
Registration is open.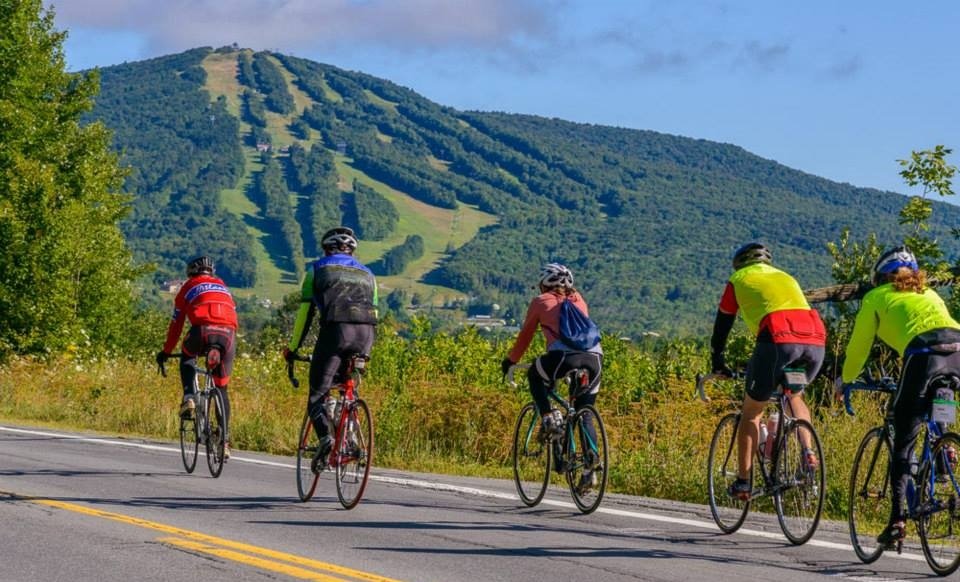 Giro di San Diego Gran Fondo
September 10 & 11th, 2016 - Solana Beach, California
Southern California meets Italy at the Giro di San Diego Gran Fondo, a celebration of cycling, food, and San Diego's North Coast.
Founded in 2012 and now in it's 5th year, the Giro di San Diego is a perfect event for families. There's literally something for everyone, with five different cycling events, including mountain bike courses of 10 and 30 miles and three road riding options: 38, 65, and 105 miles.
The event caters primarily to casual riders, but offers VIP entry to professional racers in both disciplines. The 105-mile "Gran Fondo" route is the only local event to feature a timed climb up the South Grade of Mount Palomar. Often compared to France's Alpe d'Huez, Palomar is a fabled climb, summiting at 5,240', which has been featured twice in the Tour of California bicycle race.
Lastly, over the entire weekend of the Giro di San Diego, a Bike and Fitness Expo with the ambience of a Southern California street fair is held in Solana Beach's Fletcher Cove area, just steps from the Pacific Ocean.
Registration is now open.
Click here for full details on the 2016 Giro di San Diego Gran Fondo and how to register.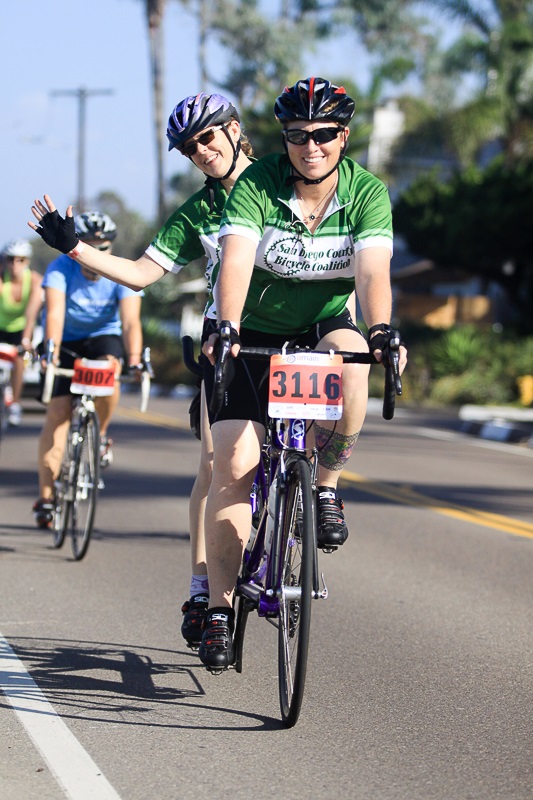 Challenge Fondo
September 10th - Durham, California
Classic Californian Gran Fondo that enables access for ALL athletes, alongside
The Challenge Gran Fondo 100, Medio Fondo 65, Breve Fondo 50 offer riders mass-start, timed events, traveling a tough hilly course on mostly lightly-traveled back-roads, with just a few major intersections. The NEW Veloce Fondo 30 offers a mass-start, timed event on a mostly flat course with one small hill. You'll be motivated by the thought of crossing the finish line! The Piccolo 20 is a more leisurely flat ride through the orchards and farms south of Chico. It offers a relaxed starting time window, and it is not a timed event.
The Challenge Fondo enables access for ALL athletes! In addition to the usual road bike options mentioned below, there will be ride and race events for paracyclists including visually impaired, hearing impaired, hand-cyclists, recumbent riders and adaptive road bike riders. Concurrently, Ability First Sports is hosting the 5 mile and 20 mile fun rides and parking lot demo - adaptive cycling equipment provided!

Last year our 'Celebrity Spokesman' Bobby McMullen inspired riders as he raced the Fondo and immediately after rode alongside the Ability First 20 milers.
Registration opens 15th April 2016
Click here for more details on the 2016 Challenge Fondo.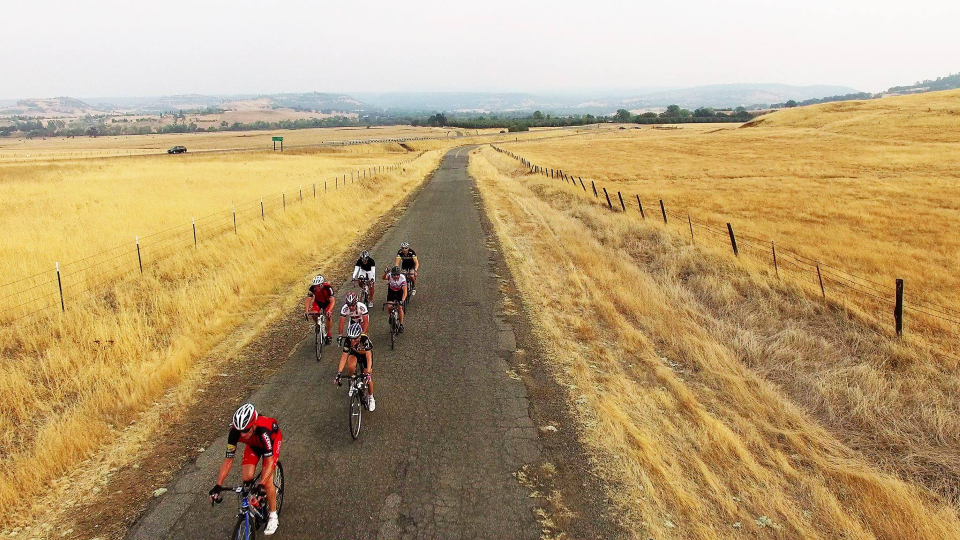 Gran Fondo NJ
September 11th 2016 - Morristown, New Jersey
Gran Fondo NJ is the first Cycling Event to Earn Gold Certification from the Council for Responsible Sport for its implementation of Sustainability practices and has raised over $750,000 for charities
The Gran Fondo NJ 2016 offers four challenging routes of 107, 62, 42 and 18 miles, with timed hill climbs on the Gran, Medio and Piccolo routes. The 63-mile Medio Fondo route was selected by the editors of Bicycling Magazine as one of "The 50 Best Rides in America." All routes begin and end in historic Morristown, New Jersey. For the 4th year in a row, in our post-rider survey over 97% of our riders said they would recommend the event to a friend.
You'll feel like pro finishing the ride in our finish line chute, and welcomed by our encourging volunteers. Relax and recover at our Post Ride Food Festival and Expo and re-live the excitement and challenges of the day with other participants as we celebrate the awards for KoM, QoM and Team winners in front of the Podium Stage and Banner.

Gran Fondo NJ started in 2011 as the brainchild of Marty Epstein, owner of Marty's Reliable Cycle. The goals of the event were quite simple: Create a very challenging cycling event targeted at all levels of cyclists; Introduce the Gran Fondo experience to New Jersey and surrounding areas, and; Give back to the community while doing so. The event features some of the nicest cycling in the Unites States and provides a well crafted balance of competition and fun. Only the toughest climbs on the routes are timed so participants can relax and enjoy the majority of the day, yet still challenge themselves to achieve a new "Personal Best."
In its first 5 years, the event and its participants (fundraising is optional) have raised over $750,000 for local and national charities. Gran Fondo NJ has seen consistent year-over-year growth (just over 1,000 participants in 2011 growing 2,200 in 2015) and is rated extremely highly by those who experience it. For the past 4 years in its post-ride survey, roughly 40% of participants have consistently rated it "The best one-day cycling event ever." and over 90% rated it 8 of 10 or higher. Whether it is the Mass Start with over 2,000 cyclists, the Seeing Eye dogs and puppies who greet you at the first rest stop, police controlled intersections along a well marked route, the surprise foods at the six Rest Stops, or the seemingly endless climbs, finishing Gran Fondo NJ is sure to provide its riders with some amazing cycling memories.
A new distance for 2016 – the Migrane (between the Medio and the Gran) 75 miles, 3 timed climbs, 6,000' of climbing and 4 rest stops.
Be sure to watch the 2015 highlights video, this will give you insight into an amazing event.
The Gran Fondo NJ has been Rated #1 Top US Gran Fondo for 2016, by Gran Fondo Guide. Please look out for our "Top 10" US Gran Fondos for 2016 coming out soon.
Registration is now open.
Click here for more details on the 2016 Gran Fondo NJ and how to register.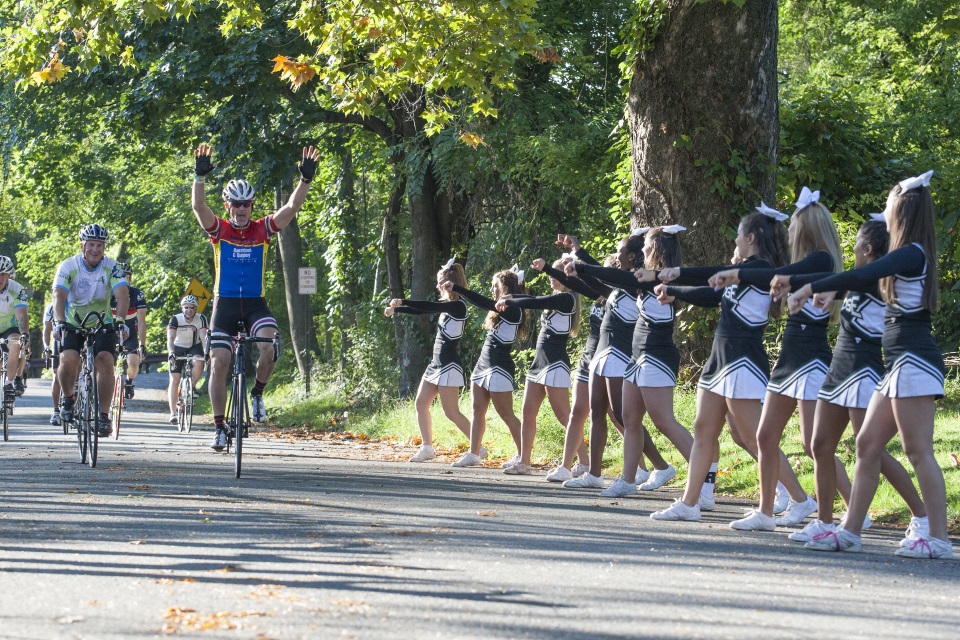 Rollfast Gran Fondo
September 18th 2016 - Carmel, Indiana
Creating a Legacy - Third edition of Indiana's first and fastest Gran Fondo
Rollfast's vision is building a happier and healthier world through cycling. Matt and Chris Tanner founded the Rollfast Gran Fondo in 2013 with the objective of sharing their passion for riding bikes in arguably one of the prettiest landscapes in the Mid-West. The Rollfast Gran Fondo has three ride options to suit all skill levels and features a start/finish venue at the beautiful Carmel City Center, home of Trek "Legend" dealer, The Bike Line.
The Rollfast Gran Fondo is Indiana's first and only Gran Fondo and one of the fastest non-competitive century rides in the country, being completed in an astonishing 3h 52m in 2015. The Rollfast Gran Fondo is creating a cycling legacy in Carmel, Indiana. Over 16% of riders travel from out of state to participate in this well regarded and established event, which is likely to increase further this year.
3 of the most well known professional cyclists in the world are known to regularly ride this event every September.

Bob Roll is also confirmed for 2016. He'll be at the Platinum Party the night before the Gran Fondo. It's limited to 35 guests and sold out in hours last year.
Last year's event sold out in record time - more places are available - but you'll need to register early to secure a spot.
Registration is open.
Click here for more details on the 2016 Rollfast Gran Fondo and how to register.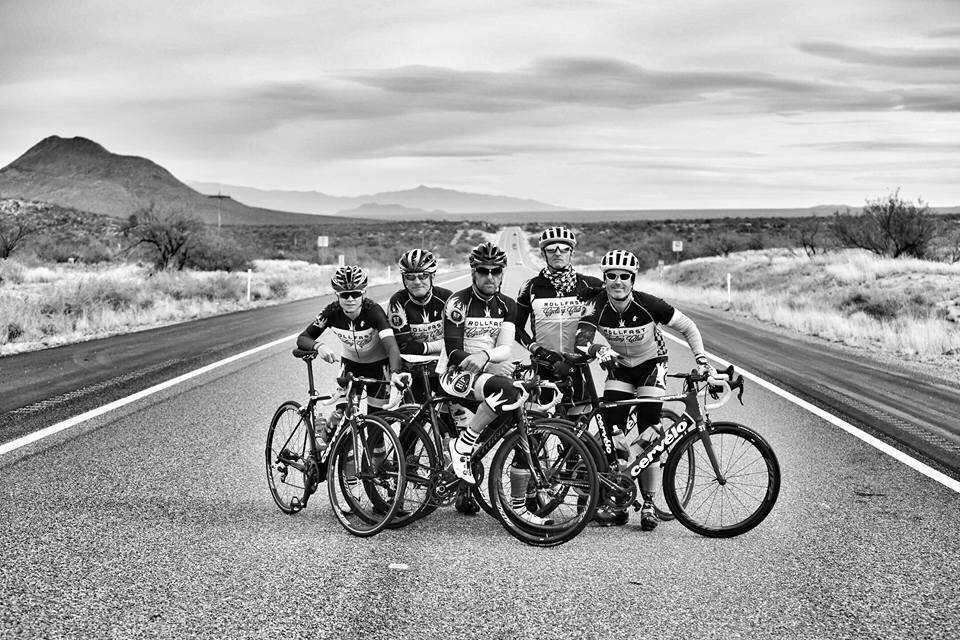 GFNY Cozumel
November 13th 2016 - Cozumel Island, Mexico
Third edition of the first ever Gran Fondo in Paradise takes no prisoners in the Mayan winds
Ok, so not mainland USA, but easy to get too, the GFNY Cozumel was formed with one main objective, which was to combine a true sports inspired destination and dream lover's paradise all in one. There have been many sports events on this Mexican Caribbean paradise but never a Gran Fondo. The idea started three years ago when two passionate cycling enthusiasts and business entrepreneurs, Shaun Gad and Miguel Gonzalez decided to reach out to the famous Gran Fondo NY brand to see if they would be interested in bringing there event out of the states and into Cozumel, Mexico. Uli and Lidia Fluhme CEO and Co-Founders of Gran Fondo NY inc quickly responded and within weeks plans and logistics meetings were being developed for the first ever Gran Fondo in Paradise. "The idea was to develop a race unlike anything cyclists were used to and to give everyone that participated the feeling of being a pro for a day", recalls Shaun. "GFNY Cozumel offers the best of both worlds, a challenging fully closed course in the Mexican Caribbean island of Cozumel and a dream destination for you to relax and enjoy with your family and friends".
The first GFNY Cozumel took place in 2014 and was a sold out field of 1,100 riders. By Nov 2015 an amazing 1,800 riders from more than 40 countries flew in to enjoy in this unique Gran Fondo and to ride in picture perfect weather. One of the things that truly impressed all the riders is how welcoming the locals are and how the island came out to embrace the riders as they rode by. The views you see on the major climbs of the Tour de France of all the fans yelling and cheering was the exact same image that participants received while racing on the GFNY Cozumel route.
The GFNY Cozumel route starts right across the street from the Mexican Caribbean ocean at the city hall. Expect a full show at the start line from Mariachi, DJ's, Helicopters, Navy solutes, and Media and press from all over the world. The course follows the perimeter of the island on fully closed roads that include a newly paved two-lane seaside cycling path, and two out-and-back side trips to the island's major golf course and its airport. At several places around the course, spectators, musicians, the largest Mexican flag in the country add to the festive atmosphere of the event.
The granfondo distance is two laps (160 kilometer/100 miles) and the mediofondo is one lap (80 kms/50 miles).
This event brings challenges that are unique to the sport of granfondo and are no less daunting than the steep climbs and tricky descents of some other granfondo events. Riders will need to overcome the relentless tropical sun and the constant Caribbean trade winds to be successful in this event.
The power of the sun can be disguised by the cooling sea breezes, but will, nevertheless, require riders to apply sunscreen generously and to hydrate almost constantly. Aid stations are dotted around the course with everything riders will need from fresh rice cakes to Hammer Nutrition gels and bars. Plus of course a large selection of in season fruits.
The Mayan Winds, which make Cozumel popular with sailors and sail boarders, will be best conquered by riders who are proficient in paceline and echelon drafting. While terrain in many granfondos favours climbers and lighter riders at the expense of heavier riders, strong and sturdy rouleurs will prosper here and will find their rear wheels popular ground for the sparrows.
GFNY Cozumel has many plans for the future that will only add to the fun and excitement including live video streaming around the course, aid stations with more advanced and fun ways to hydrate (we are keeping this a secret till we launch the new concept) plus more ways to recover in our recovery areas. You will see many new ideas that have never been used before in gran fondo but still keeping with the mindset to make everyone feel like a pro for a day. The next date for GFNY Cozumel is November 13, 2016 and spots are already filling up fast. Expect to see over 2500 riders all competing for big prizes from our sponsors and to wear the famous winners jerseys and medal on the podium.
Registration is open.
Click here for more details on the 2016 Gran Fondo Cozumel and how to register.
More Gran Fondo's
We hope you enjoyed our list of recommended Gran Fondo rides in the US in 2016.
For details of hundreds of Gran Fondos across the USA, Canada and Europe, please visit our 2016 US Gran Fondo calendar.
Look out for more of our guides coming soon. See you out on the road!