2021 Gravel Ride Calendar with thousands of events Worldwide
The 2021 gravel cycling season starts in 14 days at the Adios Mofo Gravel Ride in the USA on January 2nd, the Glorious Gravel: Salisbury Plains in the UK on January 9th and the Normandicat Offroad in France on January 9th. 2021 Gravel Ride Calendar with over 600 events worldwide!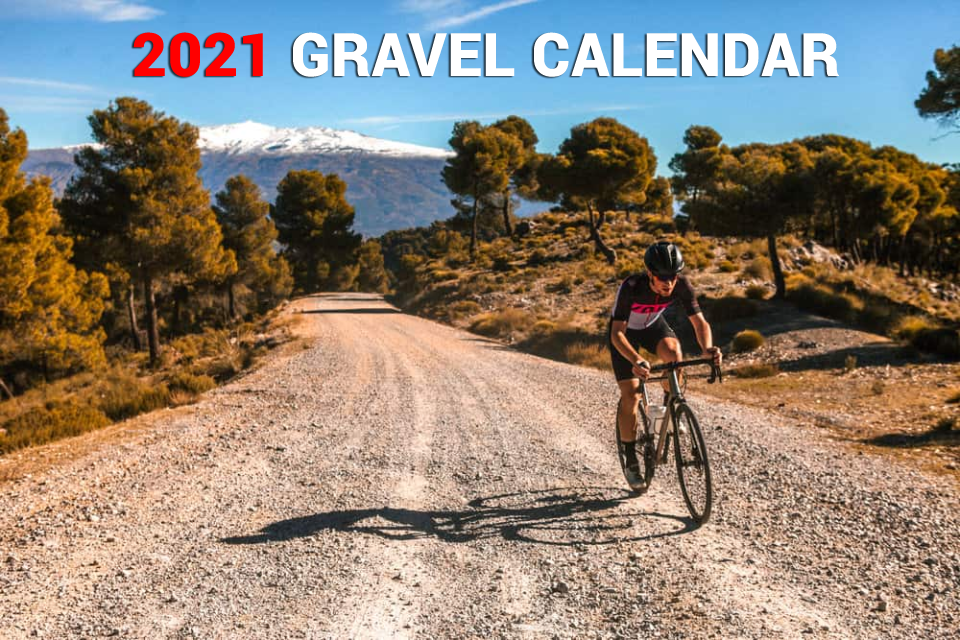 2021 Gravel Ride Season Starts Soon
The 2021 gravel cycling season starts in 14 days at the Adios Mofo Gravel Ride in the USA on January 2nd, the Glorious Gravel: Salisbury Plains in the UK on January 9th and the Normandicat Offroad in France on January 9th.
Our worldwide Gravel Ride calendars have over 600 events.
We have the original, largest, complete, most accurate and up-to-date cycling event calendars in the world with over 2,500 events in over 80 countries worldwide
What is a Gravel Ride?
Imagine pedaling over jagged marbles, or if it rains, through chunky peanut butter. In some places, gravel roads are like rutted, bone-jarring washboards. Think of the worst piece of asphalt you've ever ridden.
There are a handful of Gravel Rides that have shaped this new genre of cycling, invented in the U.S. Midwest over 10 years ago - and is now rapidly spreading globally.
One of the most obvious indicators of the new genre's rapid growth is the success of the Garmin's Unbound Gravel (dirty Kanza), which kicked off in 2006 with just 34 riders. 10 years later its now the "Worlds Premier Endurance Gravel Road Race" in the Midwest U.S. along with the likes of Trans Iowa and the Almanzo 100. Dirty Kanza sells out every year in less than 3 hours.
Although some may think riding in the gently rolling prairie terrain of Kansas doesn't sound tough, adding in 200 miles of potentially brutal headwinds and paralyzing amounts of mud make the Kanza the premier challenge of all gravel fondo events. The winner typically finishes in just under 13 hours, with some taking nearly an entire day. Dirty Kanza also offers a more reasonable Half Pint event, only a mere 100 miles in length.
That these roads are unforgiving is the draw for gravel grinders: There's no traffic to compete with. There are 1.4 million miles of unpaved roads in the U.S., most just empty ribbons winding through remote areas. Over the past few years, gravel racers have begun appropriating them as a gritty new cycling frontier where there are no rules and no bureaucratic barriers (arranging for road closures, insurance, water stations, medics) to announcing a 60, 100, or even 300 mile rides.
Perhaps the greatest appeal is the adventure inherent in riding 100 or more miles – and not for prize money but for pride. Because most gravel rides are unsupported, you're on your own dealing with heatstroke, hypothermia, broken bones, or broken bikes. As one "grinder" puts it, there's none of that "happy bullshit with team cars and stuff."
Gravel rides are the fastest growing genre in cycling, Europe has seen a massive explosion!
Bike Choice
The wide range of bike choice is part of the reason why gravel events are growing so quickly, as they bridge the gap between two distinctly different types of riders – the roadie and the mountain biker. Road riders are attracted to it because of the fitness and required tactical know-how, while mountain bikers look forward to ripping down miles of high-speed dirt roads with plenty of surprise corners. And no matter which side of the camp you associate with, the adventure and personal achievement element is something everybody values.
For events with fast sections of dirt and pavement mixed with long ascents and somewhat technical downhills, proper bike selection is important. Everything from early 1980s steel cyclocross bikes to lightweight, carbon fiber full-suspension mountain bikes with 1.8" semi-slick tires have been used. But based on the fastest finishers, it was apparent the best tool for the job was a lightweight cyclocross bike with hydraulic disc brakes and tubeless 35-40mm tires with knobby tread.
In recent years the Bike Industry has caught up with the formation of the genre and bikes are now categorized as Endurance Bikes, Adventure Bikes or Gravel Bikes.
If your plan is to just finish, set a comfortable pace right from the beginning and don't let anyone try and coax you out of it. Riding steady at a pace you know you can maintain will get you to the finish line. For those in search of podium glory, energy conservation is the name of the game. Draft as much as possible, spin as much as possible and of course, eat and drink even when you're not hungry or thirsty.
Oh, and don't forget – gravel grinding is supposed to be fun, so don't take it too seriously.
Ready for your first gravel grinder?
2021 Gravel Ride Calendars
Gravel Grinders are one of the fastest growing genre's of cycling with events rapidly spreading globally.
2020 European Gravel Ride Calendar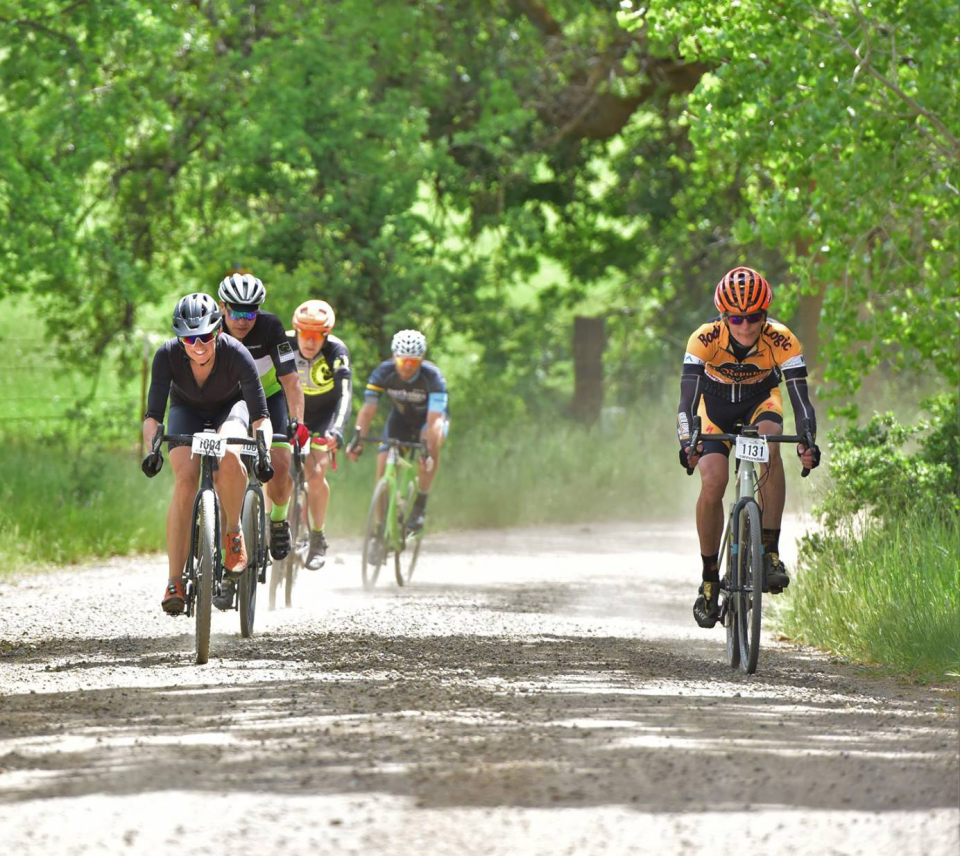 2021 Gran Fondo Calendars
Gran Fondo is an Italian term which loosely translates to "Big Ride". Gran Fondo's are mass participation cycling events that have enjoyed incredible popularity in Europe for decades and have become popular in North America, Asia, Australia and increasingly, worldwide.
2021 North American Gran Fondo Calendar

2021 USA Gran Fondo Calendar

2021 Canada Gran Fondo Calendar
2021 European Gran Fondo Calendar
2021 UK Gran Fondo and Sportive Calendar
2021 Oceania Gran Fondo Calendar
2021 South America Gran Fondo Calendar
2021 Africa Gran Fondo Calendar
2021 Middle East Gran Fondo Calendar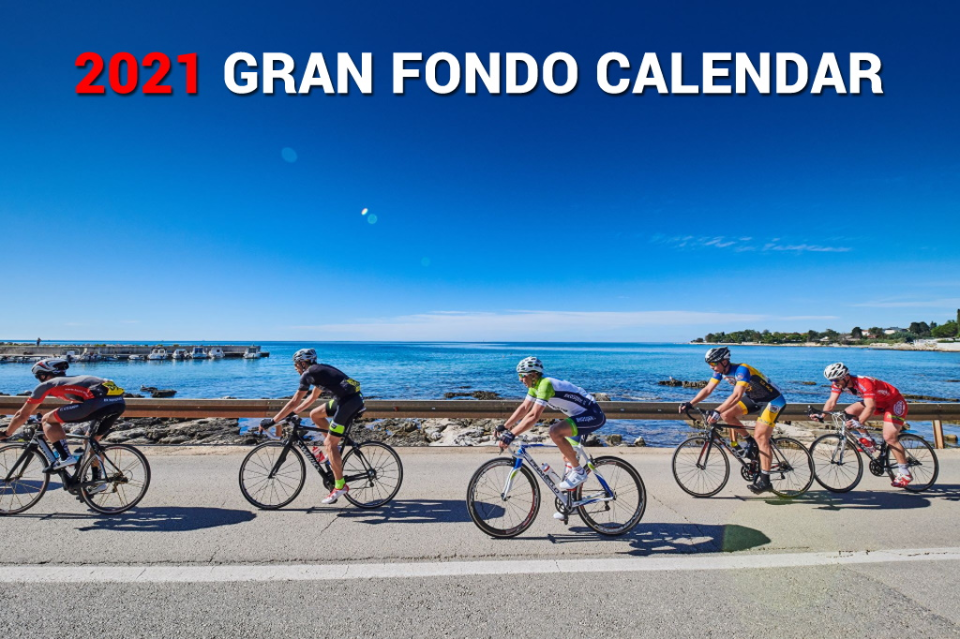 2021 USA Century Rides Calendar
Century Rides have traditionally been the backbone of road cycling, supported and sponsored by local cycling clubs across the country. A century ride is of course 100 miles in distance, but most events support different distances, for all abilities.
2021 U.S. Century Rides Calendar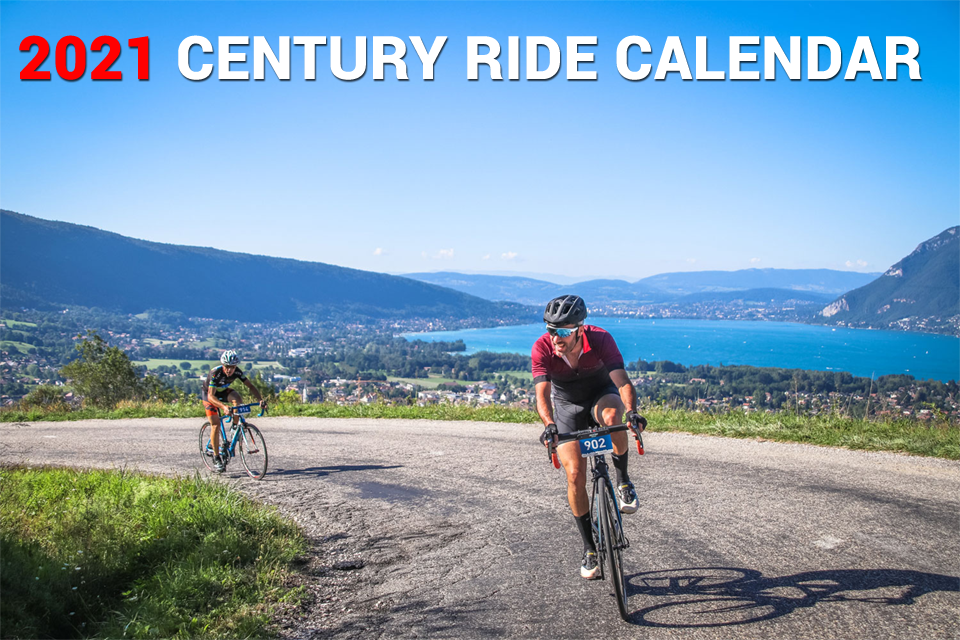 2021 WorldTour Pro Cycling Calendar
Join us throughout 2021 as we provide daily live coverage for the whole of the 2021 World Tour.
2020 WorldTour Pro Cycling Calendar