Top 13 Most Popular Gran Fondos Globally in 2020
Despite Coronavirus, the appetite and demand for challenging events that are well organized in stunning destinations continues to grow. Here's our run down of the top 13 most popular events on Gran Fondo Guide in 2020
Last March, after consultation with a number of events and organisations, we decided to cancel our 2020 Top Gran Fondo Awards as a mark of respect to the cycling community.
This proved to be the right decision with events like RBC Gran Fondo Whistler (North America's Premier cycling event) cancelled, to name just one, of the many top events that couldn't take place due to Coronavirus.
We are hoping the awards will return in 2022 after the Vaccines have been rolled out globally, and we start to return back to "a new normal".
Scroll down to reveal the top 13 most popular events globally in 2020!
About Gran Fondo Guide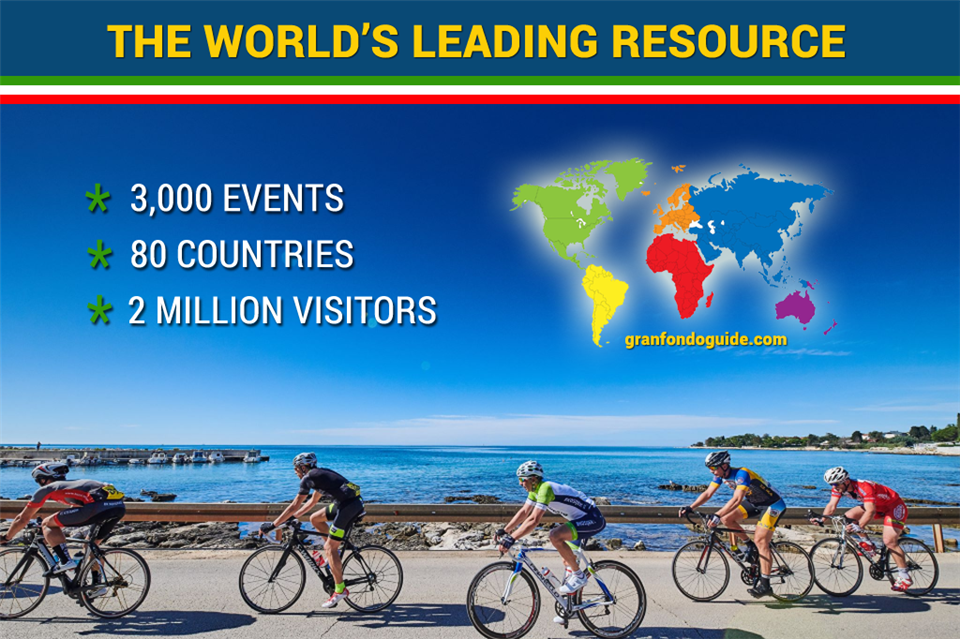 #13 Gran Fondo Florida
Part of the Colnago Gran Fondo National Series, it isn't surprising the interest in this early Spring American Fondo is so high, of course a major draw is the warmer weather in the sunshine state.
Scheduled to take place March 21st 2021, this fondo allows hundreds of cyclists enjoy one three courses 35, 55, 100 miles with some challenging timed sections and one of the best raffles on the planet!
San Antonio is small town in central Florida, surrounded by picturesque horse farms and orange groves. The quiet roads are great for cycling and it's conveniently located one hour north of Tampa and 90 minutes west of Orlando.
Arguably the "easiest" event of the Colnago Gran Fondo National Series based on total elevation gain, but with nonstop rolling hills it's the hardest Gran Fondo in Florida and rewards riders who can work well in groups.
For more information, please visit: granfondonationalseries.com/gran-fondo-florida
This event is currently featured on Gran Fondo Guide
#12 UCI World Championships Banjaluka, Bosnia-Herzegovina
The 2021 UCI Gran Fondo and Time Trial World Championships will take place in Banja Luka (Bosnia-Herzegovina) September 1st to 5th, 2021.
Participants can look forward to a 22 km flat time trial in the city centre, a team relay and a 155 km Gran Fondo or 96 km Medio Fondo, both of which will take place on hilly roads. Riders will already be able to test the courses during the qualification event organised on May 8th and 9th 2021.
If you finish in the top three or in the top 20% of your age group in any of the 2021 qualifying events, you will qualify for the 2021 UCI Gran Fondo World Championships and a shot at the World Champions Rainbow Jersey!
2020 UCI Qualifiers will be automatically invited to register in advance.
For more information regarding the UCI Gran Fondo World Championships, please go to: ucigranfondoworldseries.com.
Declaration: This event is currently featured on Gran Fondo Guide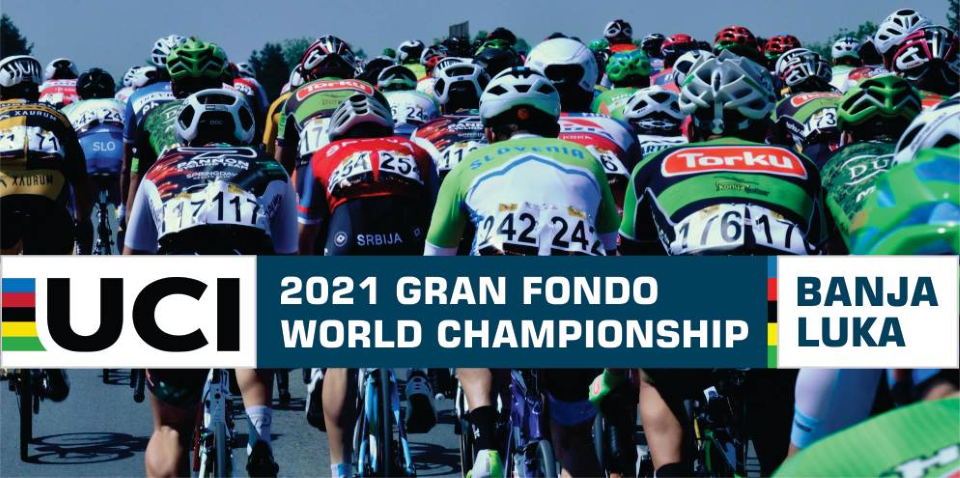 #11 Le Tour des Stations, Switzerland
The Tour des Stations is an seriously tough sporting challenge in the mountainous Valais region of the Swiss Alps.
Indeed, the Ultrafondo course offers 8,848m of climibing, the same altitude of the highest peak in the world.
The organizers of Tour des Stations wanted to offer a mythical challenge to its riders. Its participants will be able to tackle the difference in altitude of Mount Everest in a single day, over 242km.
Choose other distances of 220km, 130km or 50km and the corresponding altitude differences of 7,400m, 4,500m or 2,200m. The courses feature hors categorie climbs like the mythical Croix-de-Cœur, topping out at 2,174 metres with the last six kilometres on gravel.
The routes cross the enchanting landscapes of Valais, from the vineyards to the high mountains, natural pastures, small authentic villages and internationally recognized resorts.
The event aims to anchor itself as the ultimate Gran Fondo cycling race in Switzerland, like the Marmotte Alpes in France and the Maratona dles Dolomites in Italy.
This is one of the hardest Gran Fondo's on the planet and is for experienced cyclists only!
The 4th edition of the Tour des Stations is scheduled for Saturday August 7 between Le Châble and Verbier,registration is now open at tourdesstations.ch
Nearly 1,500 people have already registered, including a third on the Ultrafondo route and its 8,848m of elevation gain.
Declaration: This event was previously featured on Gran Fondo Guide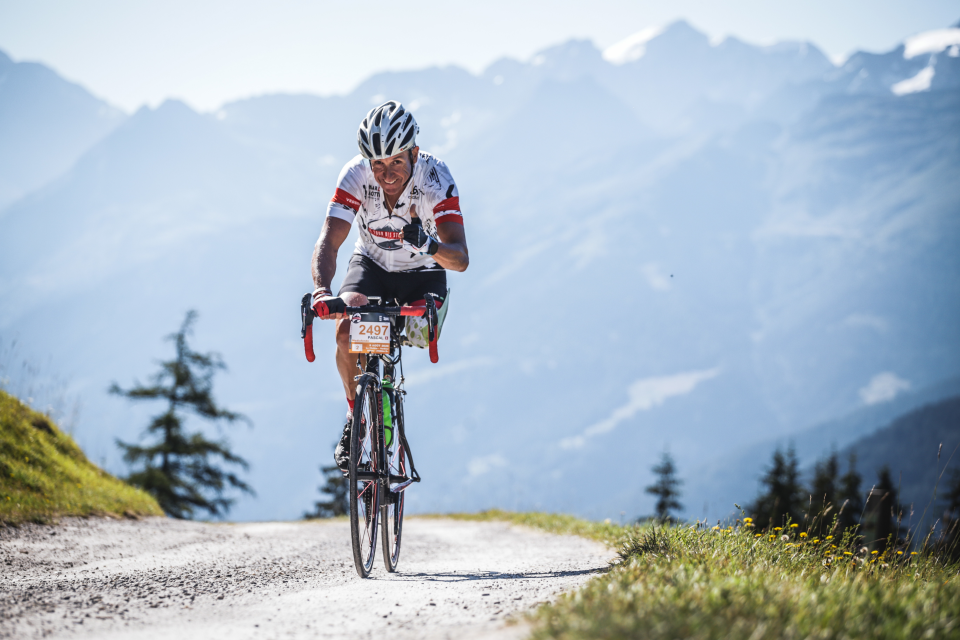 #10 GFNY Cozumel, Mexico
This is a ride that you will never forget through the breath taking island of Cozumel off the coast of Mexico.
The Gran Fondo will take you all the way around the island, as you enjoy the spectacular views as you ride through 30 miles of coastline roads which stretch along the tempting turquoise ocean, as you push yourself through the islands challenging winds.
This will be a truly challenging and competetive race with some amazing athletes ready to conquer the island as the Mayans did 3,000 years ago.
Go and see why Cozumel has become a top destination for many of the world most ambitious athletes.
GFNY Cozumel is part of the global GFNY Championship series to make sure your event is an authentic Gran Fondo with Mexican flare and tacos afterwards, of course!
The next edition is scheduled for November 7th 2021, for more information please visit: gfnycozumel.com
Declaration: The inaugural event was heavily featured on Gran Fondo Guide
#9 Mallorca 312, Spain
The Mallorca 312 is one of the largest International cycling events with over 8,000 riders participating annually.
The 11th edition in 2020 was unfortunately canceled due to Coronavirus, the next editon is currently scheduled to take place on April 24th 2021.
The Gran Fondo distance covers 194 miles (312 km), through the most amazing landscapes on the Balearic Island, one of the longest cycling events held in Spain.
If you think you're capable of something special or need a new challenge, and you like the sea and the mountains and want to discover one of the most spectacular cycling friendly islands in the Mediterranean, then this is for you.
You can compete to finish first or you can just enjoy the atmosphere and scenery.
There is a choice of two other courses you can take part in, the 225km Medio Fondo, with more than 3,800 meters of climbing and approx. 10 hours to achieve it.
Also there is 167km Piccolo Fondo, a short but a demanding route with more than 2,500 meters of climbing and approx. 9 hours to achieve it.
The event is now in its nineth year, and continues to grows in popularity.
To help riders get round, there is a 'Green Dot Group' of local riders who set a steady speed in order to finish inside the allocated time.
For more information please visit: milestoneseries.cc/event/mallorca-312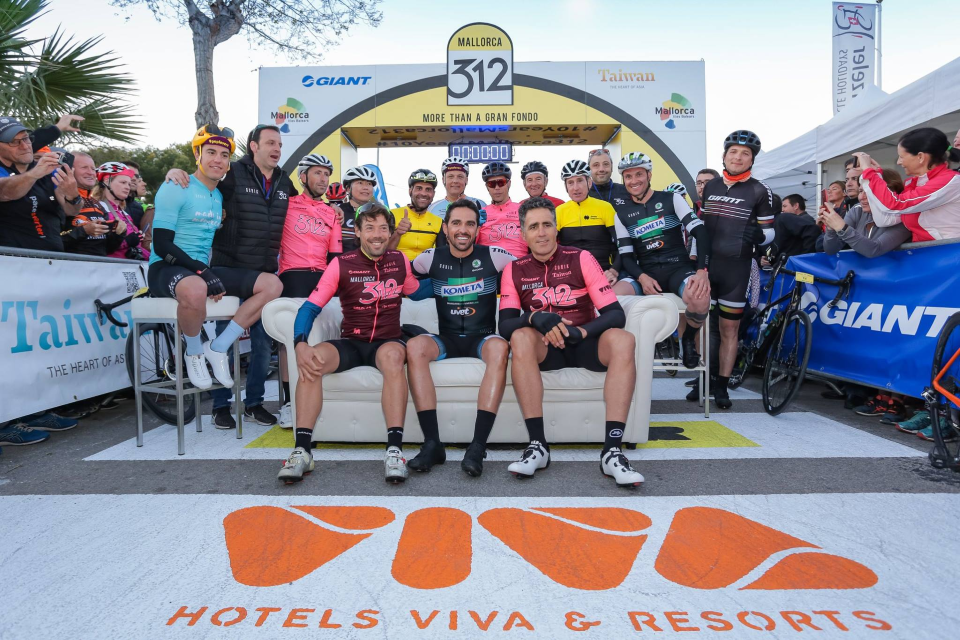 #8 The Picarde Baie de Somme Gran Fondo, France
The Somme Bay is the most beautiful Bay in the world.
Enjoy the beaches and numerous walking trails and cross the golden sand banks with a tour guide at low tide.
The bay is one of France's important stopover sites for migratory birds, where settling alongside the harbour seals and salt-meadow sheep, wigeon, shelducks, curlews and oyster catchers come to find shelter and food.
The wind can blow hard at the Bay of the Somme, but that is no bother, its lots of fun! The course takes you along the coast, after which you will be guided inland, alongside lakes and historic battlefields towards the finish in the small town of Eaucourt sur Somme.
Started by the famous journalist Henri Sannier and current mayor of Eaucourt-sur-Somme, the ride attracts both French and International participants.
It is with great regret that we announce that La Picarde Baie de Somme will not be organized in 2021, instead there will be a 57 km virtual ride.
For more information,please visit: picardebaiedesomme.com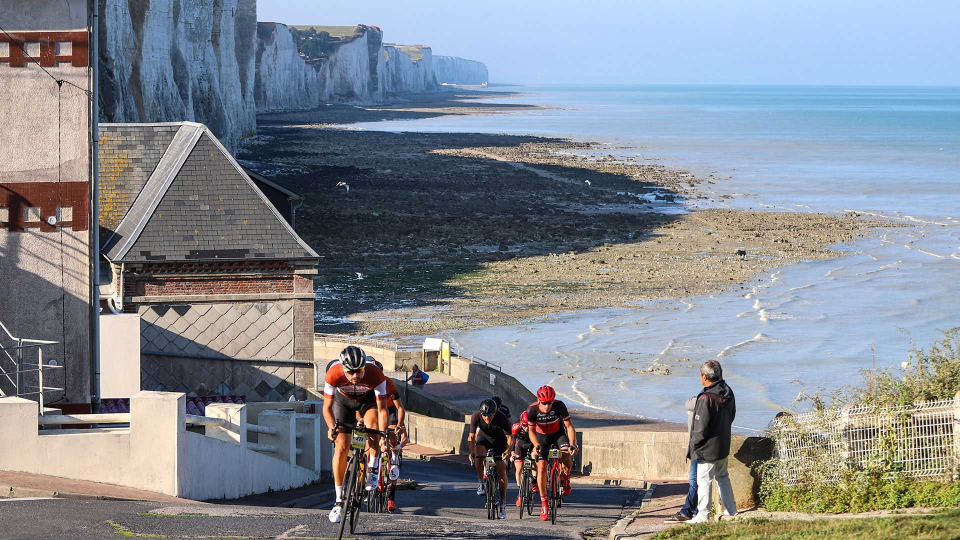 #7 Cyclotour du Léman, Switzerland & France
Cyclotour du Léman is the biggest and most popular bike tour around Lake Léman, across 2 countries (Switzerland and France), and this year offers 3 starts (Lausanne, Geneva, Evian) and 4 distances (176km, 112km, 55km and 64km e-bike).
It takes cyclists on a beautiful route around Lake Léman that winds through vineyards and apple orchards against a backdrop of a shimmering lake and towering mountains.
It is amongst the most beautiful cycling events in the world with well over 3,000 cyclists taking part annually.
Last year the Cyclotour du Léman made its bike tour accessible to everyone, of all ages and backgrounds, continuing to evolve for bigger public demand.
Entry includes the official jersey which must be worn, electronic timing, boat transfer (there or back), refreshments along the route and medical and mechanical assistance.
Don't miss one the most beautiful cycling events in the world, with one of the most beautiful panoramas in Europe!
The next edition is currently scheduled for May 30th 2021, for more information please visit: cyclotour.ch
Declaration: This event is featured on Gran Fondo Guide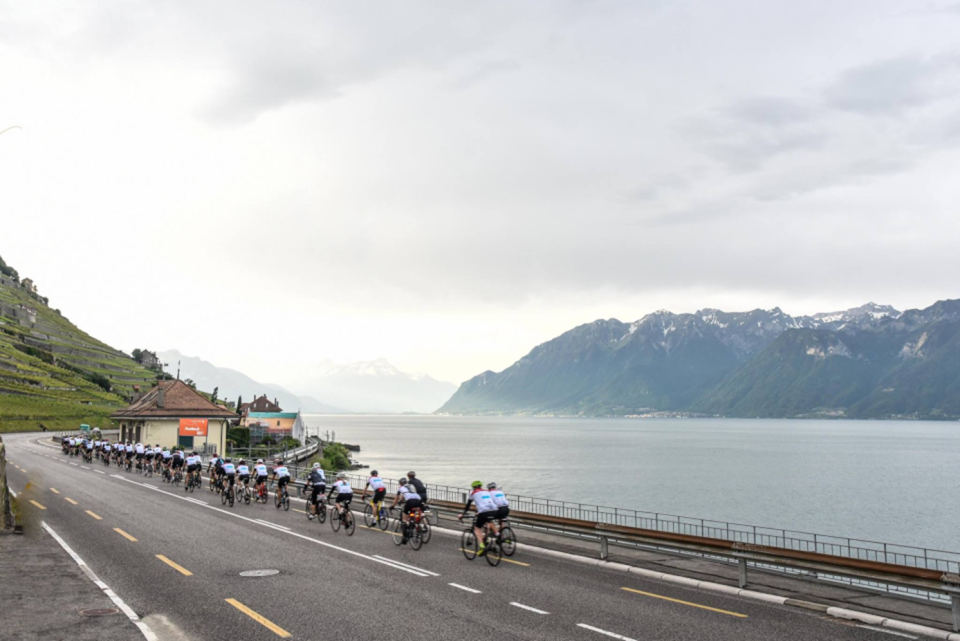 #6
Dirty Dozen Bicycle Ride, Pennsylvania

Started in 1983, the Dirty Dozen showcases Pittsburgh's steepest and toughest hills in one ride, often in freezing cold, wet and windy conditions.

With 13 severe climbs ranging from 18 to 37% over more than 50 miles, the rules state you have to ride up every hill using your own power without stopping or crashing, with continuous forward motion up the hill.

You can go back down to the bottom and try as many times as you like!

This is one of the craziest bike rides out there and attracts thousands of spectators!

The next edition is currently scheduled for October 23rd 2021, no firm details just yet, for more information please visit: dannychew.com/ddinfo.html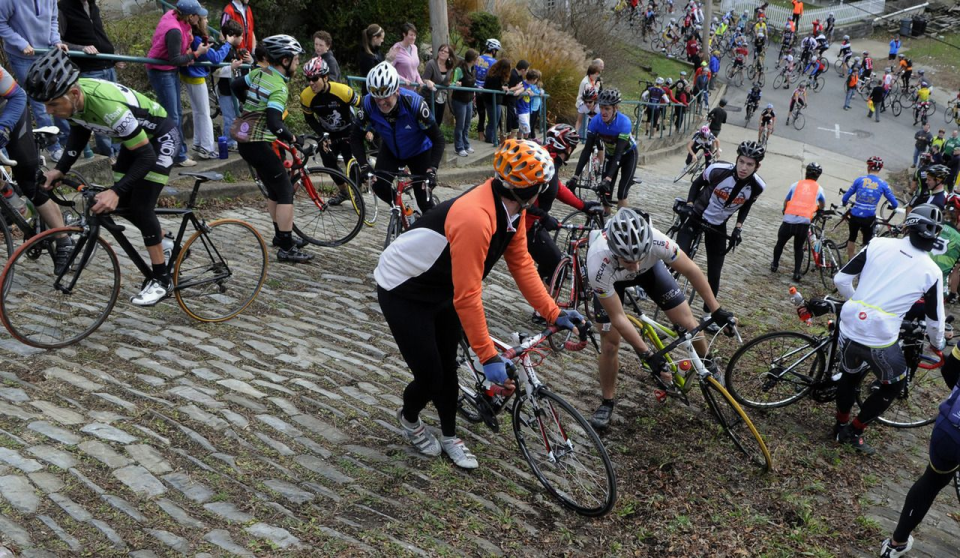 #5
Cyprus Gran Fondo

Another early season winter warmer, Spring is when Cyprus is at its best. A cool breeze, a bright-but-not-hot sun, green grass, wild flowers, a light drizzle – it is paradise out there.

The Cyprus Gran Fondo is a 3-day road cycling event, which is among the biggest cycling events, part of the 2021 UCI Gran Fondo World Series for cyclists ranging from pros to beginners.

The event is scheduled to take place in the last weekend of April 2021 for the eighth consecutive year and provides the perfect opportunity for recreational riders to qualify for the 2021 UCI Gran Fondo Worlds Championships. All participants of Cyprus Gran Fondo will have the opportunity to qualify.

Starting on the Mediterranean coast, you will climb some of the most beautiful mountains on the island and pass through traditional and rustic villages, enjoy the Cyprus weather and nature, before returning back to some of the best hotels in Paphos to enjoy your time off-the-bike.

The mission is to bring passionate cyclists together, professional and amateurs alike to have fun in a relaxing and comfortable atmosphere.

For those who wish to prepare and train for Cyprus Gran Fondo 2021, the organizers have revised the refund policy to make it even more flexible! You can register and be sure that your money will not be lost due to any unforeseen reason.

The next edition is currently scheduled for April 23rd - 25th 2021, for more information please visit: activatecyprus.com/granfondocyprus

Declaration: The inaugural event was previously featured on Gran Fondo Guide
#4
Lepape Marmotte Gran Fondo Alps, France

The Lepape Marmotte Gran Fondo Alps is a an ultimate European Bucket List ride in the French Alps.

Every cyclist has come across fascinating stories from cyclists of all nationalities tackling the four legendary climbs used in the Tour de France.

On the first Saturday of Julycyclists line up for what has become an International renouned cycling event. After the Tour de France the Marmotte Granfondo Alps is the most important cycling event of summer in France.

The organisation limits the number cyclists to 7,500. The vast majority of participants come from all over the world, over 88% or 6,600 international cyclists.

La Marmotte features three HC (Haute Category) climbs over its 174km route and has a total of 5,180 metres of climbing, making it one of the toughest courses of any Gran Fondo in the world.

Participants of the Marmotte Granfondo Alps spend hours on their bike training to be able to finish on the legendary climb of Alpe d'Huez, whilst conquering 21 hairpins bends.

It demands courage, dedication and determination to even attempt this challenge across Glandon, Télégraphe, Galibier and Alpe d'Huez.

Whether they aim for a certain time or just to be able to finish, every participant leaves Alpe d'Huez with a satisfying feeling knowing they have conquered this challenge.

The fastest riders can complete it in around 5 hours 45 minutes and the slowest, taking anything up to 14 hours.

There's a lot of training and preparation required to complete this challenge, especially if you haven't ridden in the high cols of the Alps, Dolomites or Pyrenees.

The next edition is currently scheduled for June 27th 2021, for more information please visit: lepapemarmottegranfondoalpes.com
#3
Bianchi Rock Cobbler, California

The Rock Cobbler is a stupidly hard ride bordering on a race. It was conceived by Mad Men…on barstools in the dark hours of the night…passionate and driven to showcase roads, trails and a VERY challenging route not yet ridden, not yet tamed. It is 85-100ish miles consisting of county asphalt roads, trails, private land, a river, a creek and a brewery.

The Pebbler is 50ish miles and roughly 4,000 feet of elevation. As is tradition the final routes are announced the week of the event. Both are very hard but very fun, in a very Bakersfield Way.

The final route, stats and profile will be revealed to those who have registered. This "secret route" is now tradition and adds to the excitement.

The rides are designed for a cross/gravel bike, a mountain bike will work. Don't be stupid and bring a road bike.

You might do pushups, throw water balloons, laugh, cry, suck your thumb, meet Tacoman, ride thru a church and or swim… but you WILL hike with your bike and enjoy cussing us. More than once. It's a day full of challenges.

There are no categories, but they award the first male and female finisher of each ride with an extra special prize. When you finish (if you finish) you will know WHY it's called the Rock Cobbler!

In 2018, the race actually went through someone's house, yep this is the craziest ride on the planet!

The next edition has been pushed forward to April 10th 2021, for more information please visit: rockcobbler.com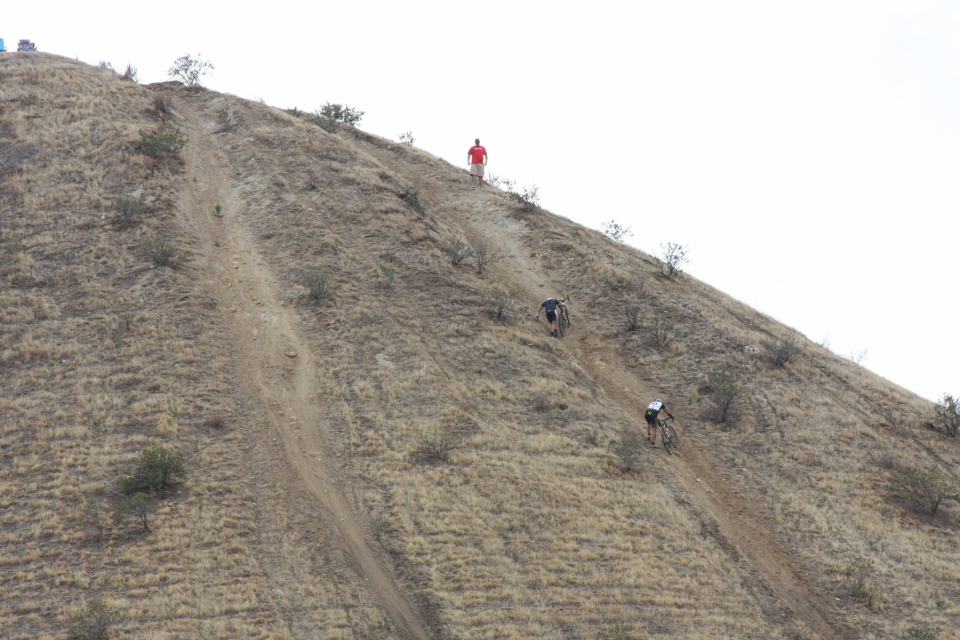 #2
Broadmoor Pikes Peak Hill Climb, Colorado

The Pikes Peak Cycling Hill Climb is the ultimate test for cyclists as the participants compete on the same 20km course that the automobiles and motorcycles use in the Pikes Peak International Hill Climb every summer.

There is a timed non-competitive Gran Fondo event. The course is 12.42 miles (20km) with a 4,725ft elevation gain.

At an elevation of 14,115', Pikes Peak - America's Mountain, is one of Colorado's 54 fourteeners, mountains that rise more than 14,000 feet (4,267.2 m) above sea level, and the highest summit of the southern Front Range of the Rocky Mountains of North America.

The mountain is named in honor of American explorer Zebulon Pike and is a designated National Historic Landmark.

All riders who make it to the summit within the time limit receive a Summiteer medal!

The next edition is scheduled for August 7th 2021, for more information please visit: PikesPeakCyclingHillClimb.org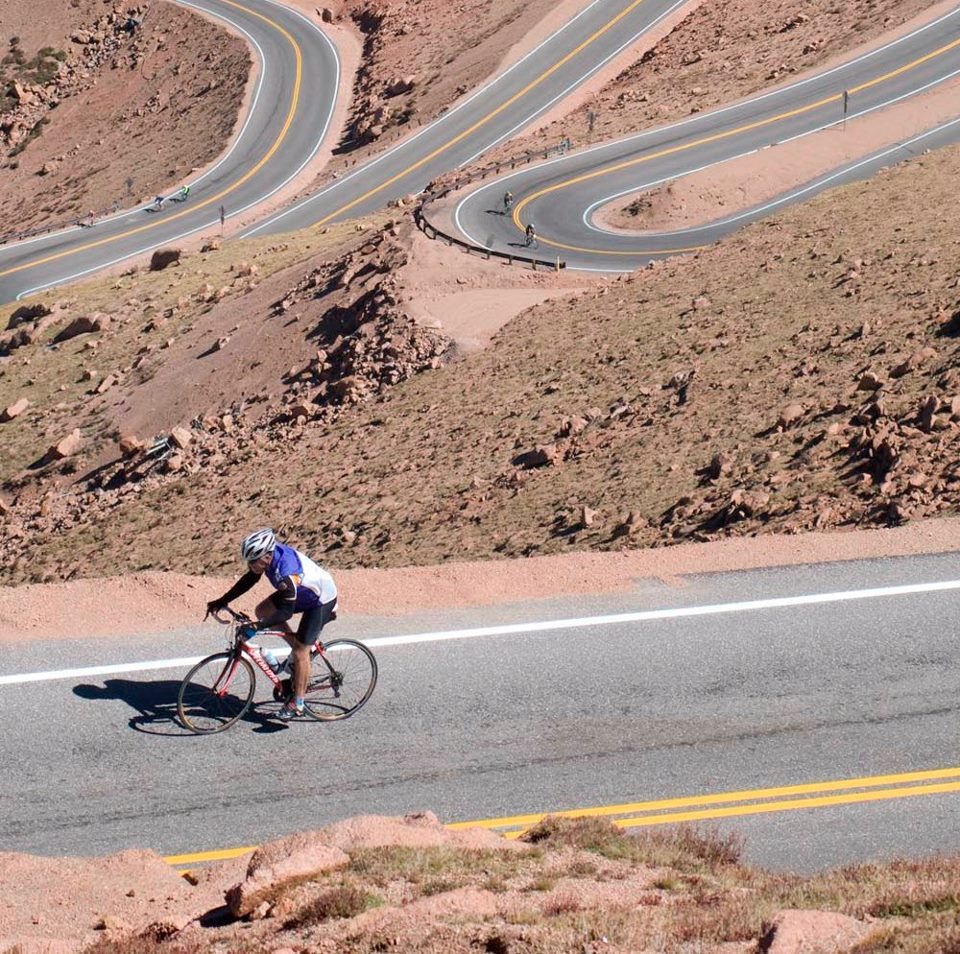 #1
Canyon Belgian Waffle Ride, California

The Canyon Belgian Waffle Ride is widely recognised as America's Premier "Spring Classic".

The most unique cycling event in the country, the Canyon Belgian Waffle Ride, is back for its ninth edition of pedaling perversity.

Created as an extremely challenging cycling event in the spirit of the great one-day spring classics of Belgium, the Canyon Belgian Waffle Ride (BWR) will return to North County San Diego on May 2, 2021.

The full BWR course is around 144 miles, with 11,000 ft. of vertical climbing including 18 dirt sections, many affectionately known as "Bergs". Extreme suffering over sinuous, bone grinding roads fraught with arduous climbs, mud, chocking dust, leg-numbing sleet or heat and winds.

The event also has a Wafer ride of around 66 miles, 14 dirt sections and 6,500 feet of climbing.

The ride sells out way in advance to over 1,000 riders.

The Canyon Belgian Waffle Ride is a one-day cycling fête nestled in the shadow of the area's tallest peak, the famous Double Peak, which will cause serious pain near the end of the two-wheeled march of death that's become known as the Hell of the North (County).

The hulking, primping, one-trick ponies who have made their reputations on the slender tendril of numerous lead-out men will find in the BWR a multifaceted, ugly, technical, tactical, grinding, pounding, relentless, spirit- sapping, muscle-cramping beatdown in the finest tradition of long road races. Lead-out not needed.

Yes, there is dirt, gravel, sand, water crossings, hills, wind and pain. Just the way everyone likes it!

Declaration: This obscure event was featured on Gran Fondo Guide way back in 2016 - the rest is history ...