Mammoth Gran Fondo celebrates its 25th Anniversary
September 8, 2018 - Mammoth Lakes, California
Over 75% of the route is on closed roads, making it a truly authentic Italian Gran Fondo in the heart of California. To celebrate it's 25th Anniversary, kids aged 18 and under, ride for FREE!
Chosen as a "top-ten" bike ride by Bicycling Magazine for its "jaw-dropping vistas", the Mammoth Gran Fondo is situated to the south east of Yosemite National Park and takes riders along the east side of the High Sierra with views of the Sierra Nevada Range, Mono Lake and the White Mountains.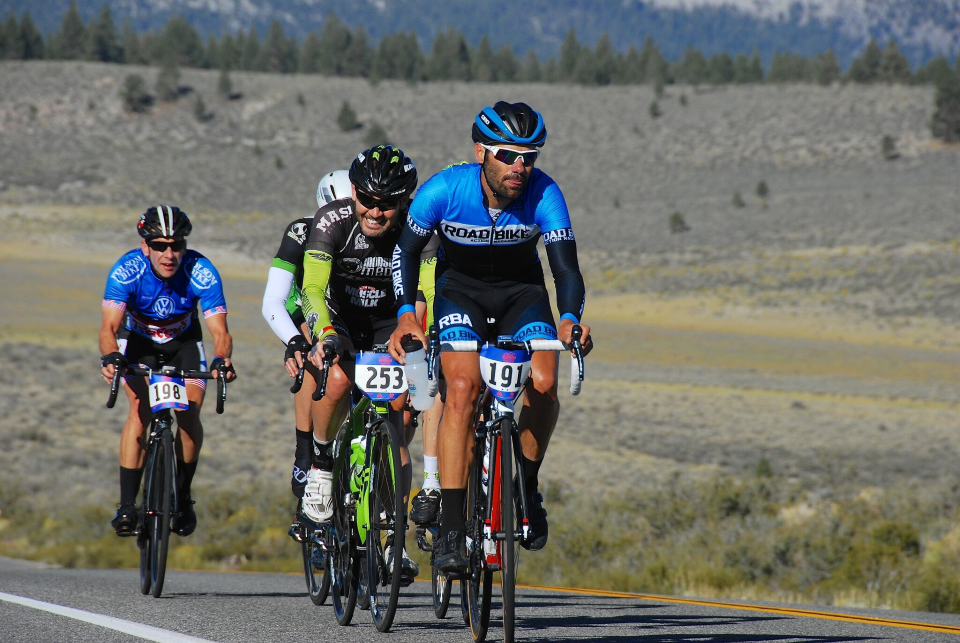 The Gran Fondo is only "one of a handful of amateur cycling events" in North America that is able to "close the roads" for the duration of the event, including the internationally acclaimed Gran Fondo New York and RBC GranFondo Whistler. In fact, Gran Fondo distance riders (101 miles) will enjoy 75 miles of closed roads, with only one stoplight - unheard of in U.S. Amateur cycling!
It's not just elite riders that make the annual pilgrimage to Mammoth Lakes, with the Medio Fondo (70 miles) and Piccolo Fondo (42 miles) courses making the weekend inclusive for cyclists of all abilities.
Originally named the Mammoth Fall Century, the event has fully transitioned to an authentic Italian Gran Fondo.In true North American Gran Fondo format there is a Strava based KOM/QOM competition and the event is also timed from start to finish too.
There's no shortage of family-friendly activities to do in the area, including family favorites such as the top of Mammoth Mountain on a Gondola and a trip to Devil's Postpile to name a few.
With true "Italian Panache", participants will enjoy a post-ride celebration with food, entertainment and music in the Village at Mammoth!
You can take away free photos from the Fondo as a memento of your achievements, as well as a Signature pair of Mammoth Gran Fondo Socks and Finisher's Tech T-Shirt!
>>> Getting the most out of the Mammoth Gran Fondo by Neil Shirley <<<
Mammoth Mountain is California's highest four-season resort and a cyclist's playground. Located just 300 miles east of San Francisco, with 300 days of sunshine annually, the Eastern Sierra offers infinite cycling possibilities, with quiet roads and breath-taking scenic beauty all year long.
Through 13,000 foot mountain peaks, past ancient volcanic craters, alongside an ancient alkaline sea and bubbling geothermal hot springs there's no other ride like it in the USA.
The Six feed stations with full SAG/ tech provide the level of support you'd expect of a world-class ride and the after party with "recovery beverages" of all flavors is a tradition in its own rite, helping revellers forget some of the pain that 6,643 feet of total climbing at elevation will inflict!
Group/Club Discounts are welcome and e-Bike's are encouraged for the event!
For more information and to register now, please visit www.mammothgranfondo.com
For full information about Mammoth Mountain, visit www.mammothresorts.com/resorts/mammoth-mountain
The California Pass Challenge is back for 2018!
Take the challenge this summer and ride two of California's most spectacular bike rides - The Tour de Big Bear and Mammoth Gran Fondo!
The 2018 California Pass Challenge requires participation in the Tour de Big Bear on August 4th and Mammoth Gran Fondo on September 8th. Participants who conquer both rides will receive a signature rider t-shirt, unlimited Sierra Nevada Beer at the post ride party, unique race plate and a GREAT DISCOUNT on both rides - click here to register.