The Tour De Big Bear and The Mammoth Gran Fondo Partner For The California Pass Challenge
Take the challenge this summer and ride two of California's most spectacular bike rides – The Tour de Big Bear & Mammoth Gran Fondo!
Registration Closes August 1st @ 11:59pm PST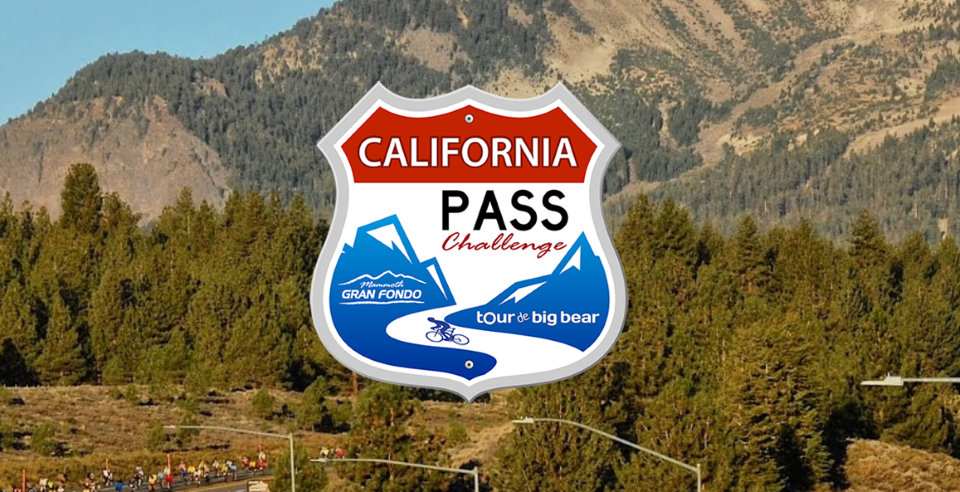 The 2019 California Pass Challenge requires participation in the Tour de Big Bear on August 3rd and Mammoth Gran Fondo on September 7th. Participants who conquer both rides will receive a signature award and unique race plates.
Riders may choose from the following options:

• Short Distances: Tour de Big Bear 50 Mile Option & Mammoth Gran Fondo 42 Mile Option
• 70 Mile Option: Tour de Big Bear 70 Miles & Mammoth Gran Fondo 70 Mile
• 70 Mile/102 Mile Option: Tour de Big Bear 70 Miles & Mammoth Gran Fondo 102 Mile
• 100 Mile Option: Tour de Big Bear 107 Mile & Mammoth Gran Fondo 102 Mile
Tour De Big Bear – Saturday, August 3rd
Escape the summer heat and join us in beautiful Big Bear Lake, California for the Tenth Anniversary of the Tour de Big Bear presented by the W!N Group of Big Bear! Enjoy alpine roadways and scenic views over high mountain passes like Onyx Summit (elevation of 8,443 feet) and around Big Bear and Baldwin Lakes.
Legendary Aid Stations
The Tour de Big Bear is known for its legendary Aid Stations! Ribs, avocado toast, bacon, just to name a few of the delicious treats you'll enjoy along the way. Plus, the usual hydration and nutrition items to fuel your ride.
Tour De Big Bear Weekend Events
BBCA hosts a two-day cycling expo that includes 40+ cycling vendors, a complimentary bike valet for registered riders, entry into the Beer Garden, participation in BBCA's famous raffle, and live entertainment during Saturday's festivities. In addition to the Tour de Big Bear and cycling expo, during the week prior to the event, there are numerous scheduled altitude acclimation rides as well as a Thursday night Glow Ride and Friday Poker Run. Rounding out the weekend are organized free recovery rides on Sunday, August 4, 2019.
Sponsored By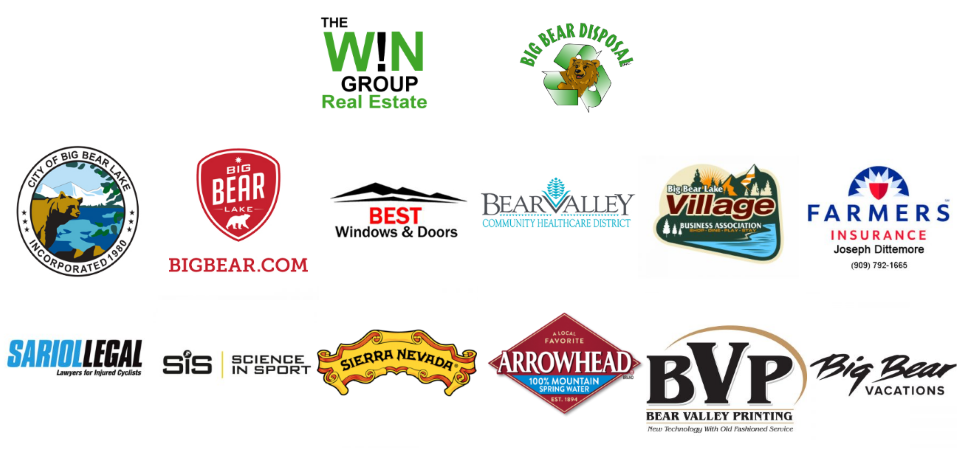 About Big Bear Lake
Big Bear Lake, California is known as the "Cycling Capital of Southern California," and named "#1 Weekend Getaway City" in the United States by Expedia Travel has played host city to many world-class cycling events including four stages of the Amgen Tour of California and Redlands Bicycle Classic and Tour de Big Bear, now in its tenth year, in addition to many world-class mountain bike events
Mammoth Gran Fondo – Saturday, September 7th
The Mammoth Gran Fondo is ready for another year of fantastic riding, amazing scenery, and good vibes. Register now for the best rates of the year at just $129!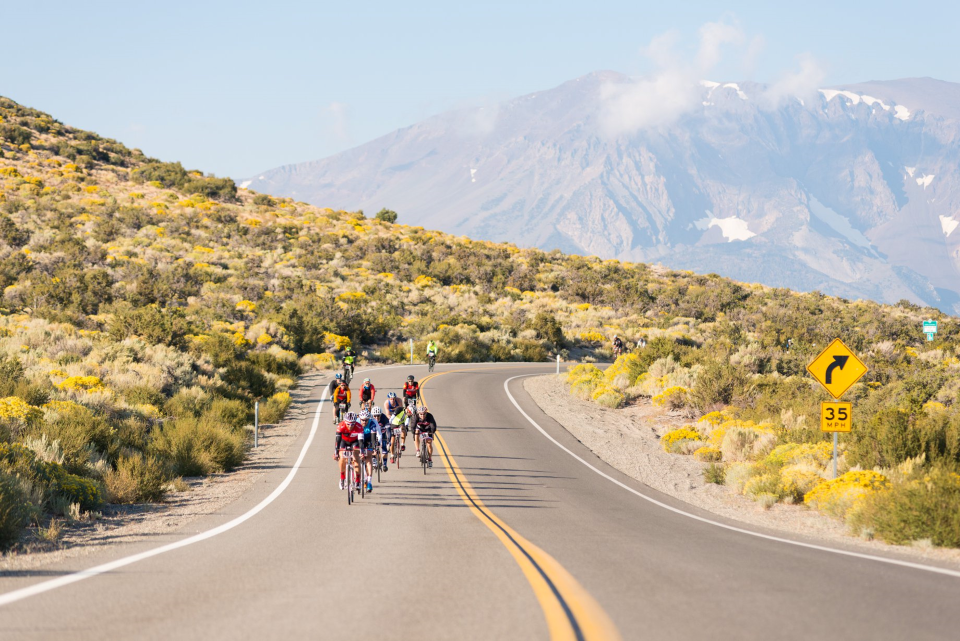 The Mammoth Gran Fondo was chosen as a "top-ten" bike ride by Bicycling Magazine for its "jaw-dropping vistas". The event is September 7th, 2019 in Mammoth Lakes where you can find California's highest four-season resort, Mammoth Mountain, and a cyclist's playground.
For 26 years the Mammoth Gran Fondo has taken riders on one of the most scenic rides in North America with views of high Sierra peaks, past ancient volcanic craters, alongside an ancient alkaline sea and bubbling geothermal hot springs. There's no other ride like it in the USA.
75 miles of the 102 mile Gran Fondo will be on roads closed to thru traffic.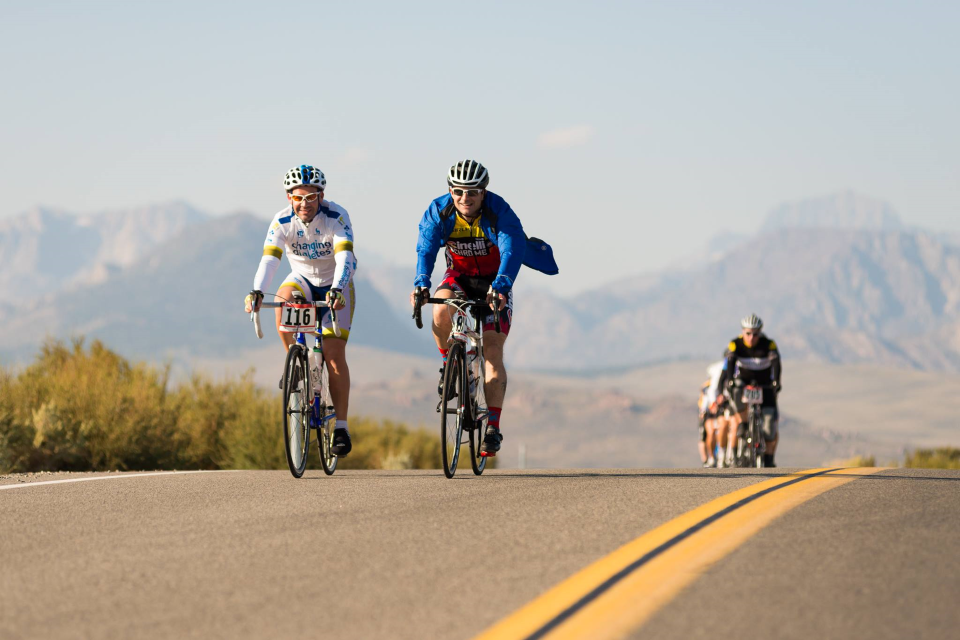 With 300 days of sunshine annually, the Eastern Sierra offers infinite cycling possibilities, with quiet roads and breath-taking scenic beauty all year long.
New Prima Fondo VIP Add-on
For a minimum donation of $200 to Mammoth Mountain Community Foundation, be part of our new Prima Fondo. Prima Fondo includes VIP registration, a Front-Line start pass for Media and Piccolo distances and a VIP seating area at the post-ride event.
All funds benefit the mission of Mammoth Mountain Community Foundation in support children through academics, athletics, and community outreach in the Eastern Sierra. One such program is our bike lending program which gives road and mountain bikes to children to use each summer.
About Mammoth Lakes
Welcome to Mammoth Lakes, where "no way" is never far away. Majestic in scale and awesome in its natural beauty, the year-round adventureland of Mammoth Lakes is one of those rare places that you have to see to still not totally believe. Mammoth Lakes and the Eastern Sierra offer some of the best road biking in the West! Smooth, uncrowded roads that extend for miles and epic scenery await you!
Register For The California Pass
Register for the California Pass (Mammoth Gran Fondo and Tour de Big Bear)