Register NOW for the Mammoth Gran Fondo and SAVE 10%
Ride through the Stunning Sierra Nevada Mountains at one of California's Premier Cycling Events next September. Gran Fondo Guide fans and followers use our exclusive discount code!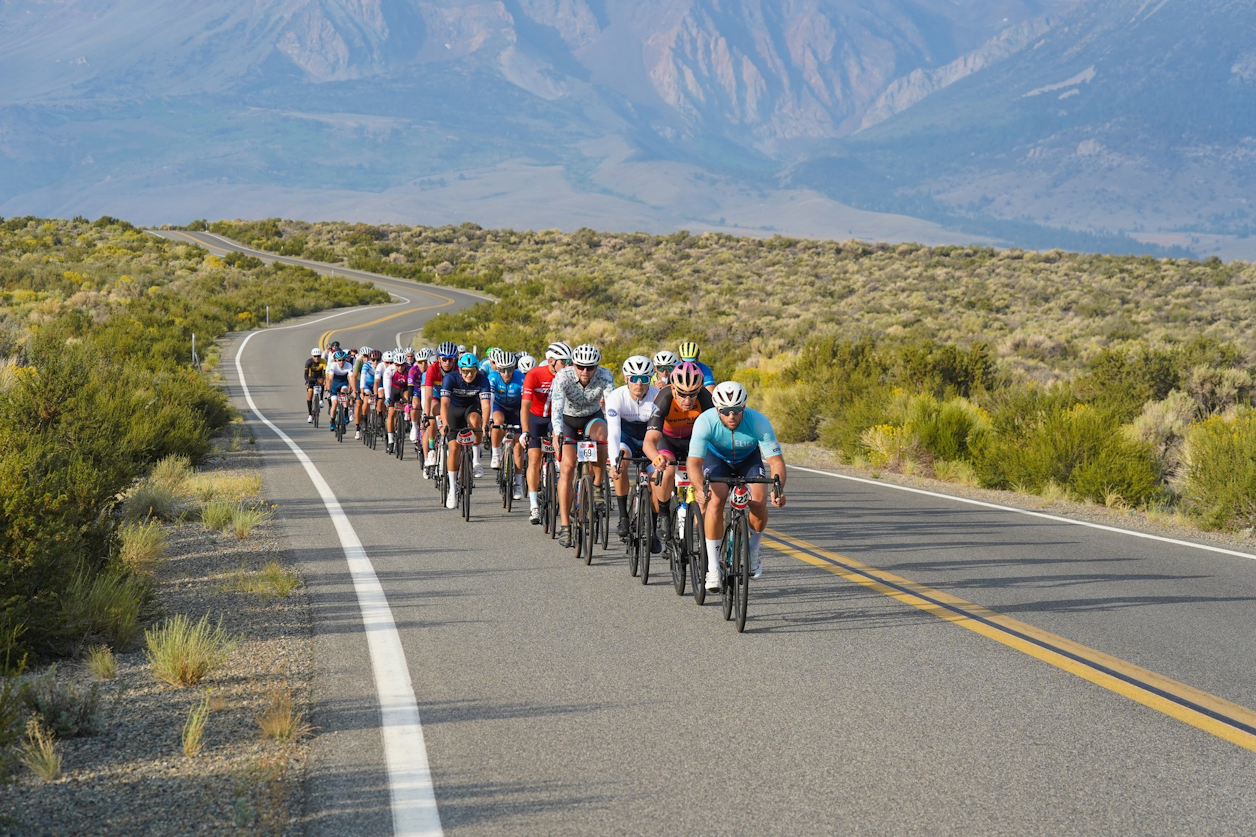 Photo: Experience cycling through the majestic Sierra Nevada Mountains on closed roads
Calling all cycling enthusiasts! Don't miss your chance to be a part of the highly anticipated Mammoth Gran Fondo, a one-of-a-kind cycling experience set against the breath-taking backdrop of the majestic Sierra Nevada Mountains.
What sets the Mammoth Gran Fondo apart from other cycling events is the unique experience it offers. 75 miles of the route will be closed to thru traffic, ensuring a safe and uninterrupted ride for all participants. This allows thousands of cyclists to fully immerse themselves in the scenic beauty the Sierra Nevada has to offer, without the distractions of everyday vehicle traffic.
It's a chance to feel the wind in your face, soak in the panoramic views, ride in any number of the groups out on the road, and push your limits in a supportive and inspiring environment. Guaranteed to deliver an unforgettable adventure for cyclists of all skill levels!
On September 7th 2024, thousands of cyclists from all over North America and beyond will gather in Mammoth Lakes, California, to embark on an extraordinary cycling experience like no other.
Whether you're a seasoned rider or new to the sport, the event offers an opportunity to challenge yourself, connect and ride with fellow cyclists, and bask in the natural wonders of this iconic mountain range.
The Mammoth Gran Fondo is more than just a ride; it's an immersive journey that showcases the unparalleled beauty of the Sierra Nevada region.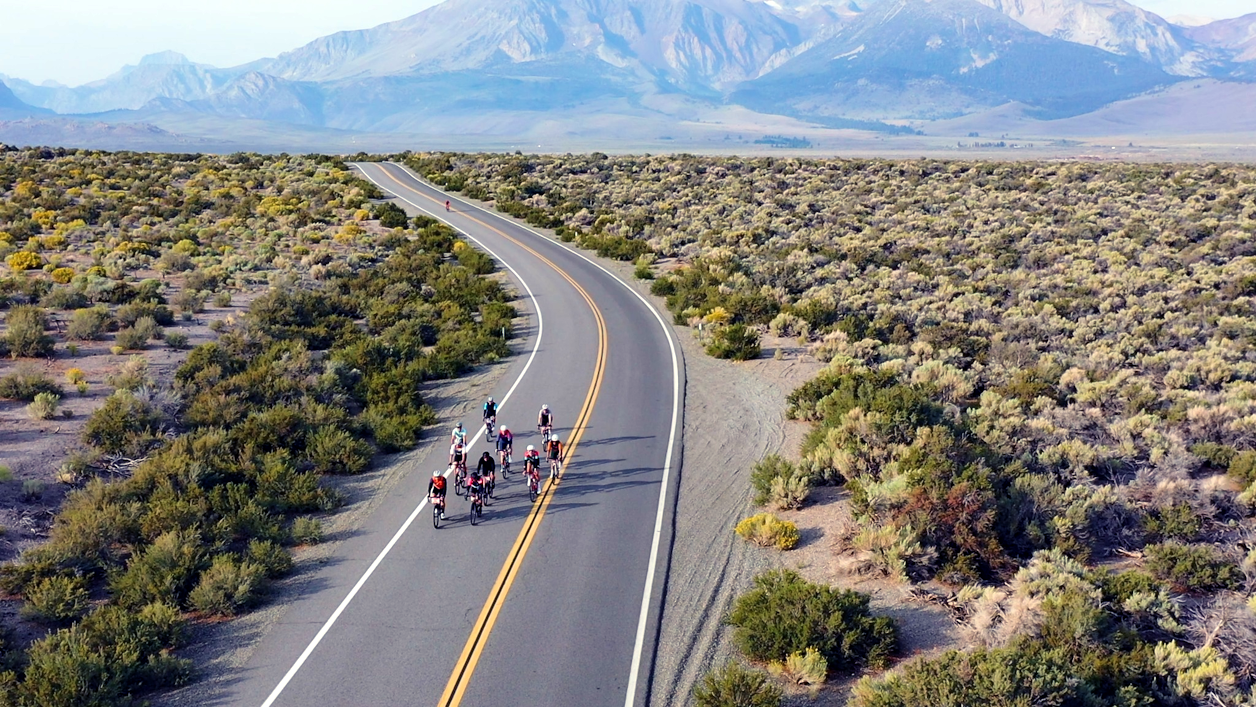 Photo: An immersive journey that showcases the unparalleled beauty of the Sierra Nevada region
There are three distances available to suit all abilities of cyclists, ranging from the do-able 42 mile Piccolo Fondo to the more challenging 70 mile Medio Fondo. The 102 mile Gran Fondo contains 6,643 feet of total climbing at elevation.
e-Bikes, tandems are welcome too. There's also a team competition, the three fastest times from each team will be combined for a final team time.
To ensure that participants have the best experience possible, the Mammoth Gran Fondo provides a world-class experience, which includes; Pro-style mass start, up to 6 fully stocked rest stops, timing, free event photos, clothing drops at the rest stops, Light on-course lunch for Gran Fondo and Medio riders, on-course SAG support, and a finisher prize at the finish line.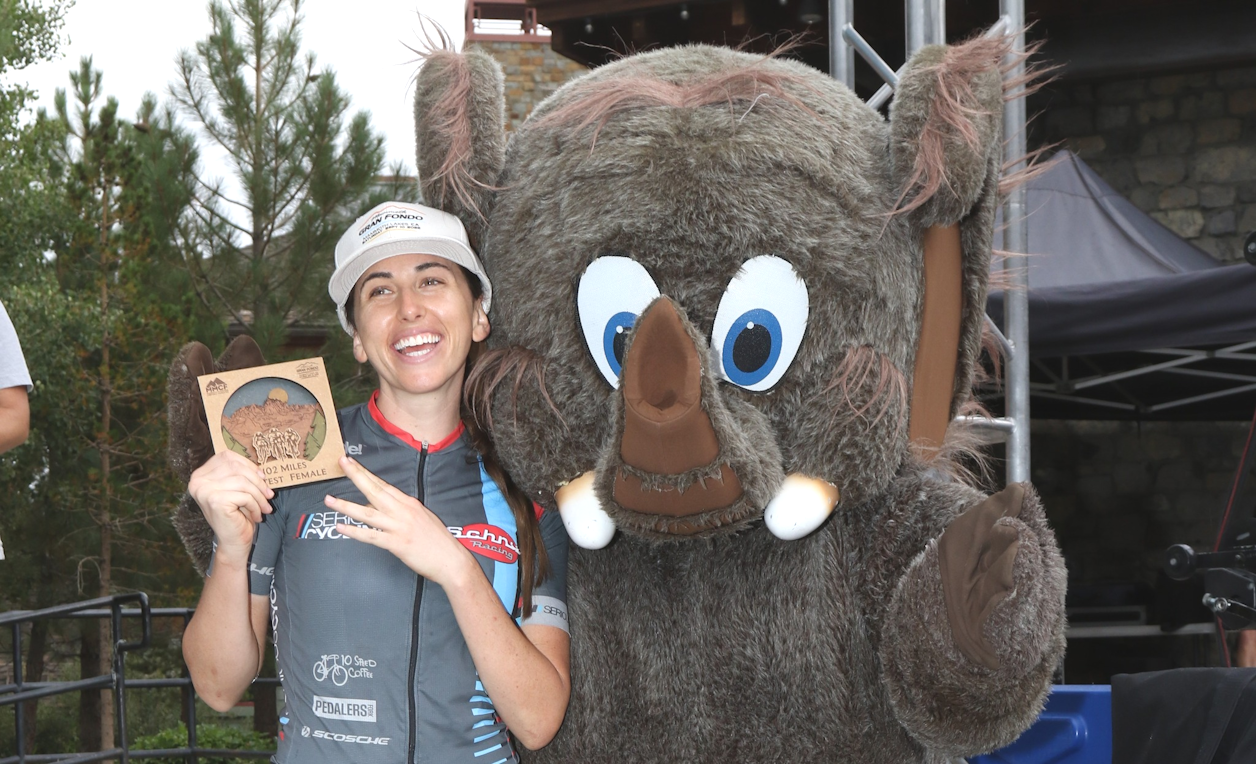 Photo: Paige Handy receives her fastest female award from Mammoth
Afterwards, you can celebrate at the post-ride party in the Village at Mammoth with complementary post-ride meal, a Mammoth Brewing Company beer*, live entertainment and explore the vendor village.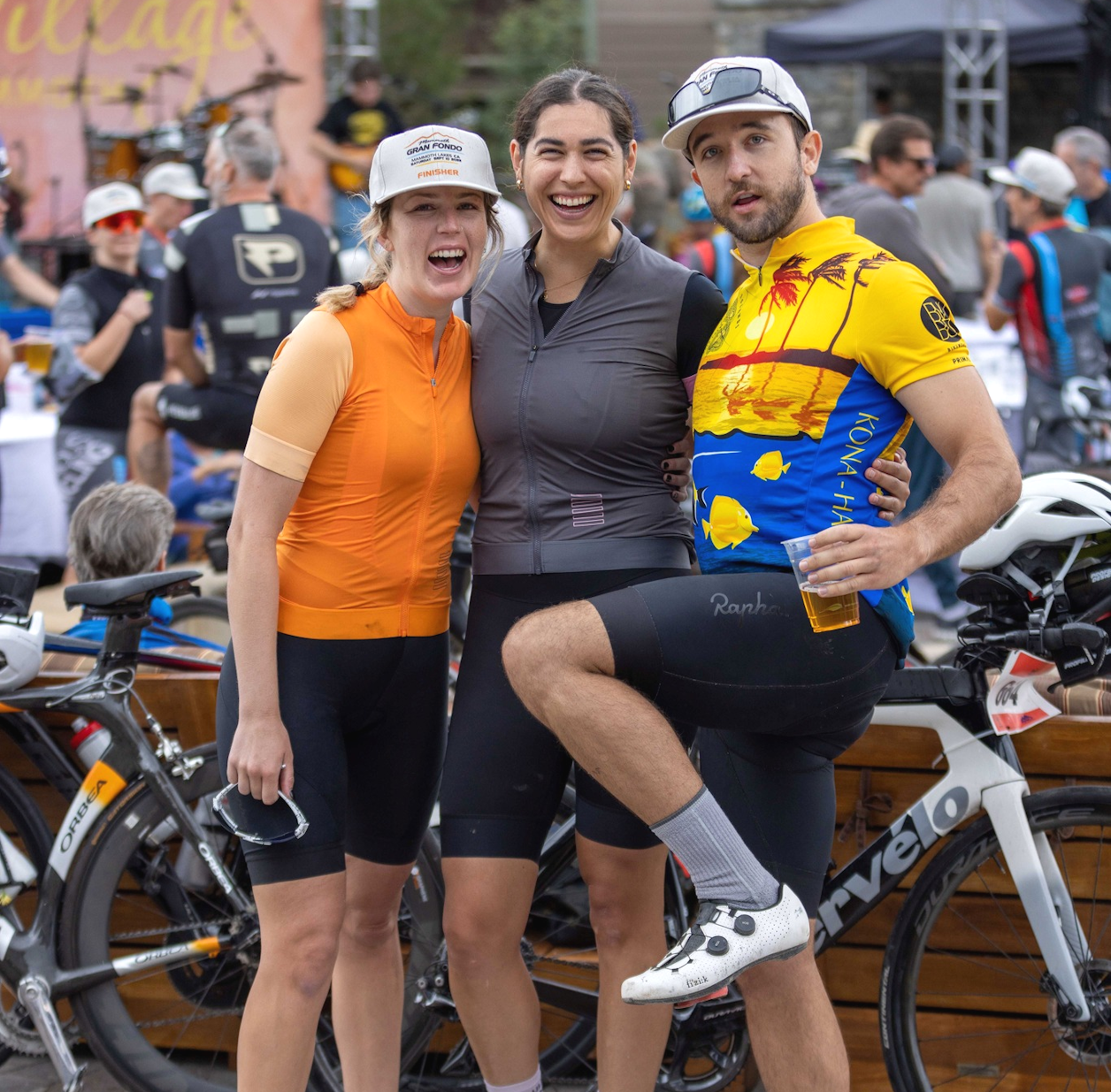 Photo: Celebrate at the post-ride party in the Village at Mammoth with a beer - or two …
Mammoth Mountain is California's highest four-season resort and a cyclist's playground. Located just 300 miles east of San Francisco, with 300 days of sunshine annually, the Eastern Sierra offers infinite possibilities. There's no shortage of family-friendly activities to do in the area, including the Gondola to the top of Mammoth Mountain and a trip to Devil's Postpile to name a few.
There are countless lodging and camping options for you and the family available at Mammoth Lakes - guaranteed to make your stay comfortable.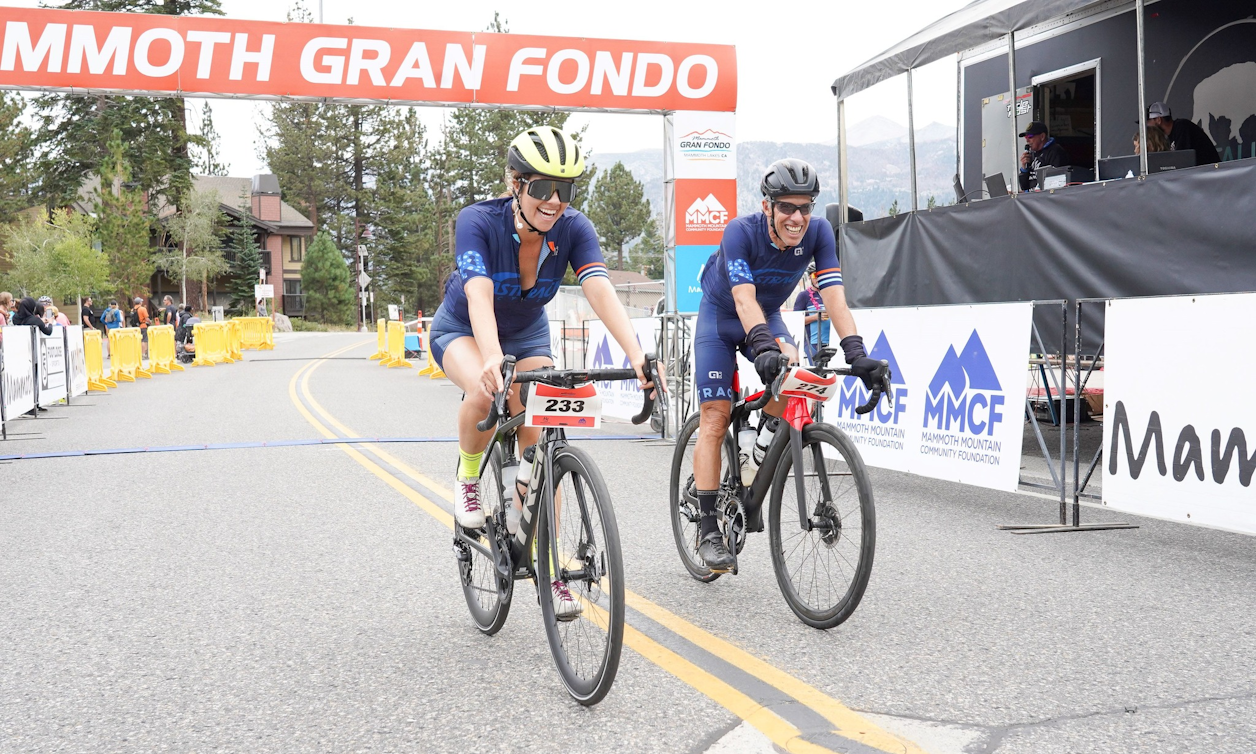 Photo: Smiles for miles; riders cross the finish line ready to celebrate their achievements
The Mammoth Gran Fondo is a fundraising event to support Mammoth Mountain Community Foundation (MMCF). MMCF works to provide inclusive academic and athletic opportunities for children across the Eastern Sierra.
Don't miss out on the opportunity to be a part of one of California's most popular and unique cycling events. Whether you're seeking a personal challenge, a chance to explore the beauty of the Sierra Nevada, or simply want to connect with fellow cyclists, the Mammoth Gran Fondo is the perfect choice for an unforgettable experience.
Make sure you add the Mammoth Gran Fondo to your bucket list next September!
Register NOW and SAVE 10%!
Registration for the Mammoth Gran Fondo is now open, and already spaces are filling up!
Use discount code GRANFONDOGUIDE-24 for 10% OFF the 2024 Mammoth Gran Fondo at check out.
Please Note: The above discount code is only valid for the 2024 Mammoth Gran Fondo. All previous dscount codes are no longer valid.
Early registration is advised to guarantee your participation and to take advantage of lower pricing and discounts!
To secure your spot in this iconic cycling event, please visit https://mammothgranfondo.com or click the button below to register now.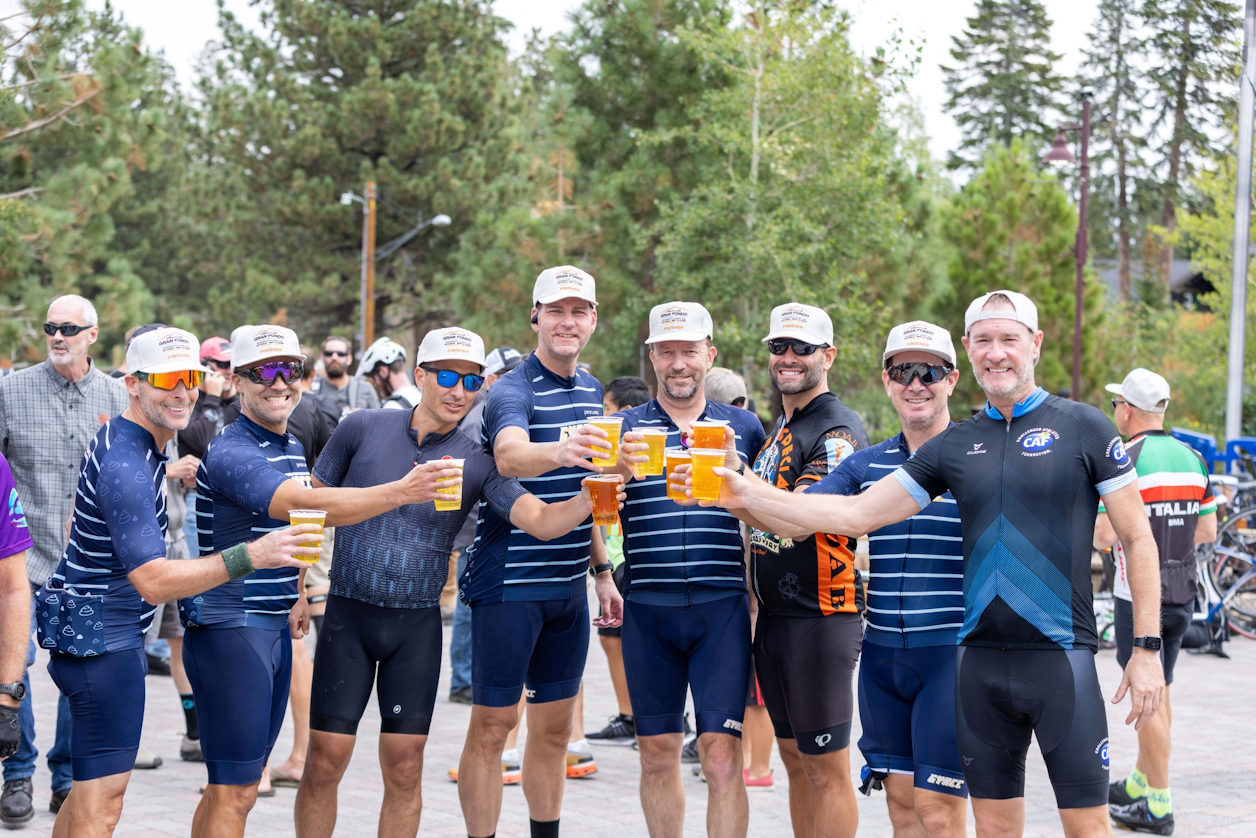 Photo: Great group riding and post-celebrations on tap
California Pass Challenge
Take the challenge this summer and ride two of California's most spectacular bike rides - The Tour de Big Bear & Mammoth Gran Fondo!

The California Pass Challenge is a package deal that includes your registration for the Tour de Big Bear in August and Mammoth Gran Fondo in September. Participants who conquer both rides will receive a signature gift, and unique race plates.