Inaugural RBC GranFondo Silicon Valley a huge hit in the heart of California's Tech Industry
The makers of the top Gran Fondo in North America did not disappoint with their newest edition. Cyclists from all over North America and beyond, rocked up to experience some of the best cycling in the world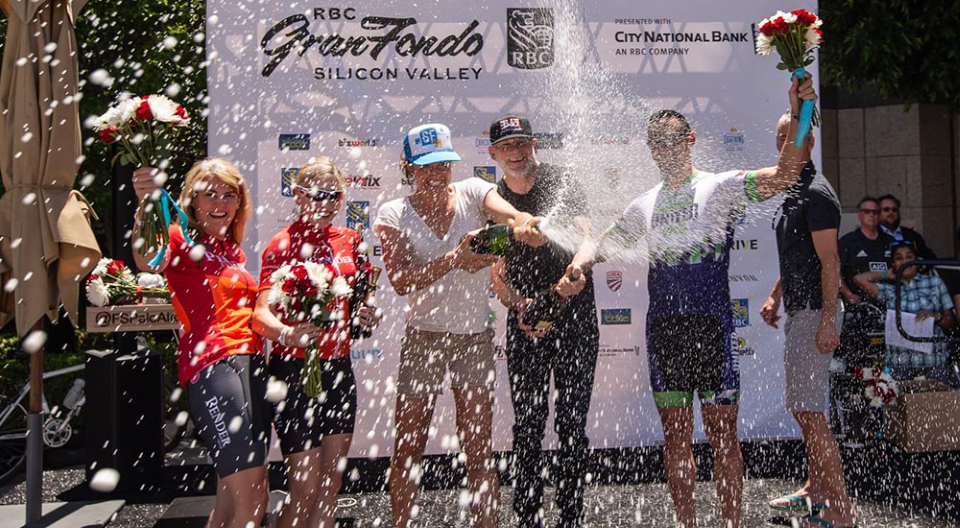 The very first RBC GranFondo Silicon Valley kicked off last weekend leaving riders on a high with the stunning and challenging Northern Californian course, the gourmet finish line food, and the epic party held at the Four Seasons Silicon Valley.
The Four Seasons Silicon Valley East Palo Alto with its bike themed decorated lobby was the host venue for the event.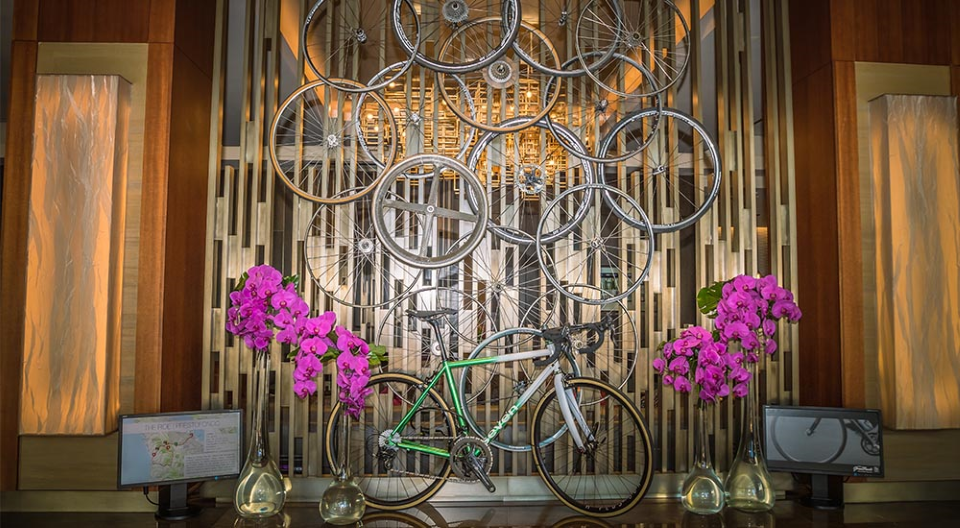 Package pick-up at Four Seasons Silicon Valley featured Canyon bike demos, bike tune ups by velofix and much, much more.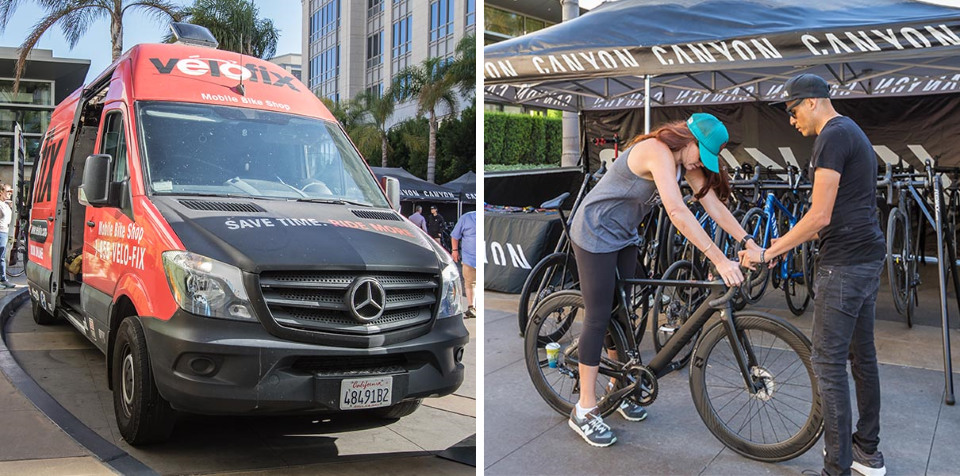 Tesla, a trailblazer in the electric car industry, was the lead vehicle for the neutralized roll-out at RBC GranFondo Silicon Valley. California leads the world in sustainability and the green movement.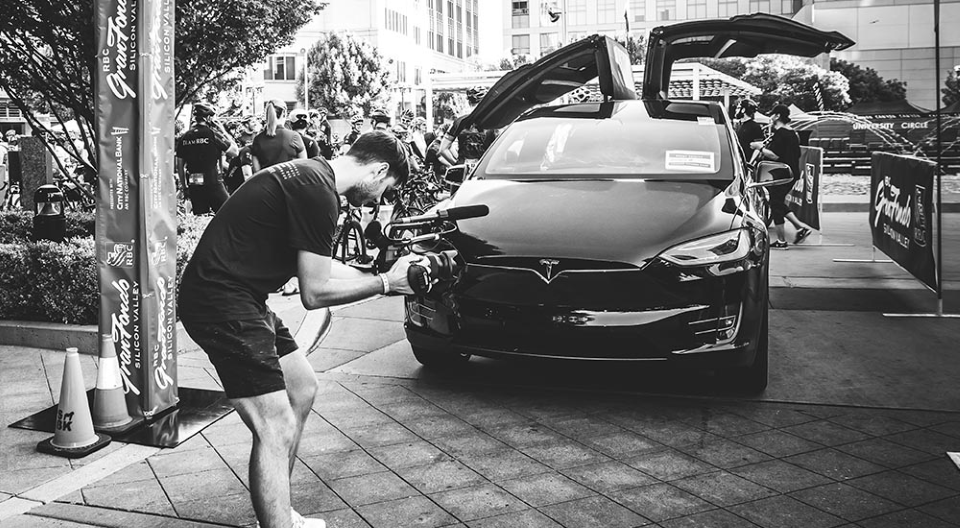 Excited riders the morning of the inaugural event, it was a warm and sunny day in Northern California.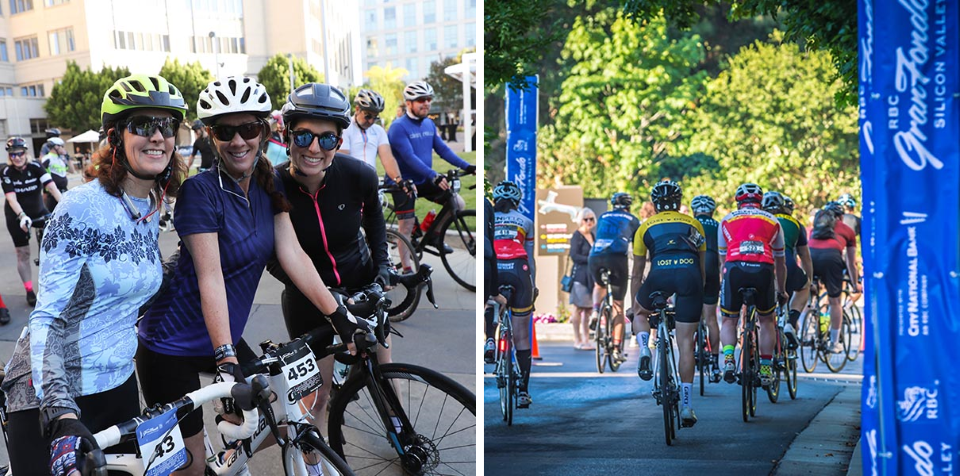 There were big smiles as cyclists rode along the scenic course through towering Redwood Forests to the Californian coastline, passing famous spots such La Honda and Tunitas Creek. The rest stops on-course fueled riders with more than the regular energy bars, one even serving up scrumptious sandwiches and scones complete with nuun energy hydration.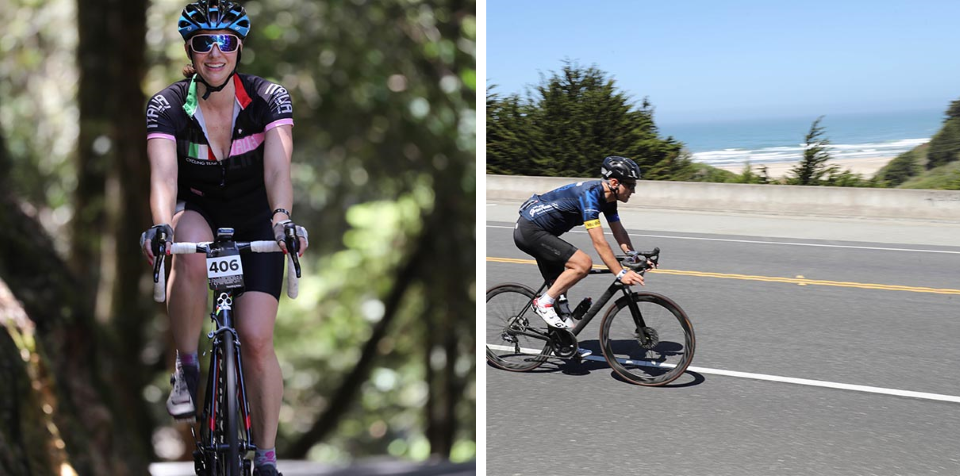 LOOK provided roving on-course mechanical support while velofix provided stationary mechanical support at rest stops.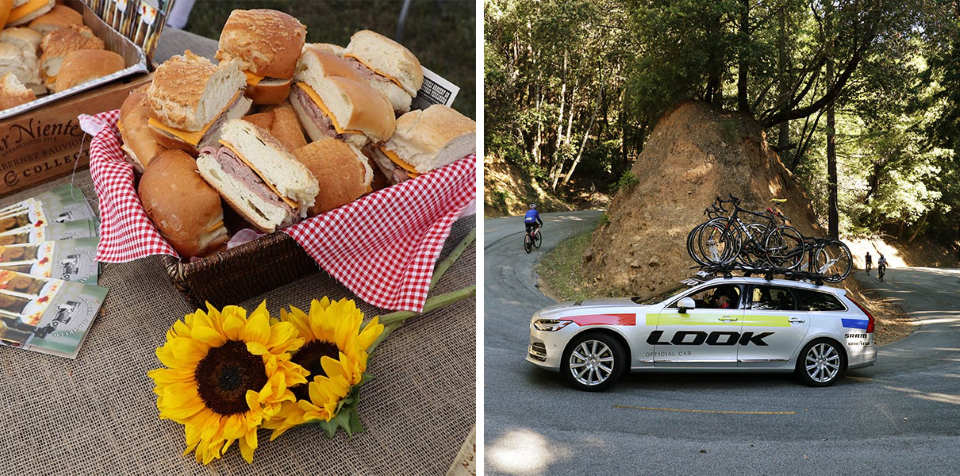 Celebrations were had for all back at Celebration Plaza as riders finished the inaugural course.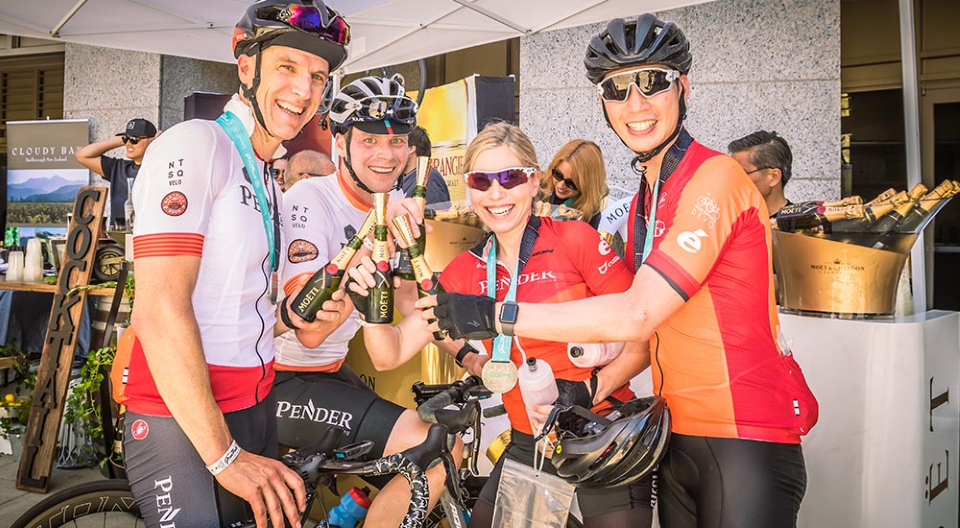 The finish line food festival curated by Four Seasons Silicon Valley Executive Chef Martin Morelli featured gourmet burgers and pasta complete with a drink of choice from the various wine, cocktail, and champagne bars.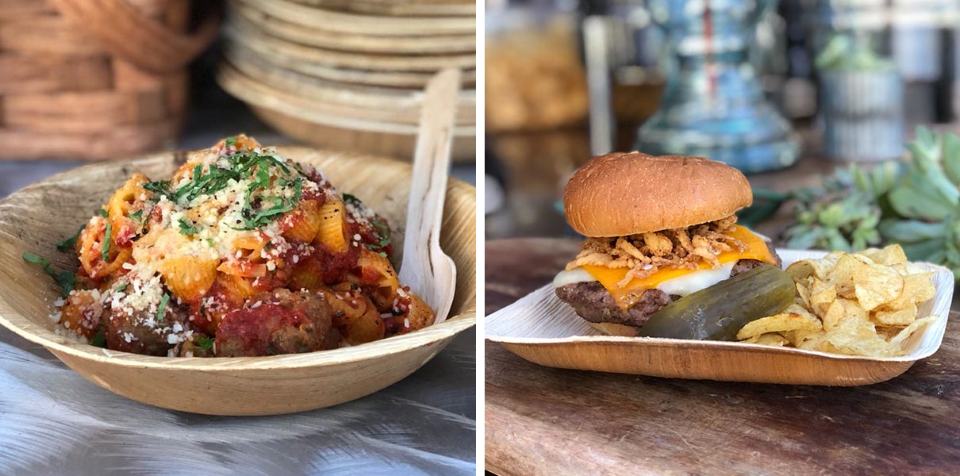 As DJ Daniel Buckman from BELLOSOUND mixed his beats riders rejoiced with family and friends showing off their newly acquired chunk of medal around their necks. The inaugural RBC GranFondo Silicon Valley was definitely one for the books!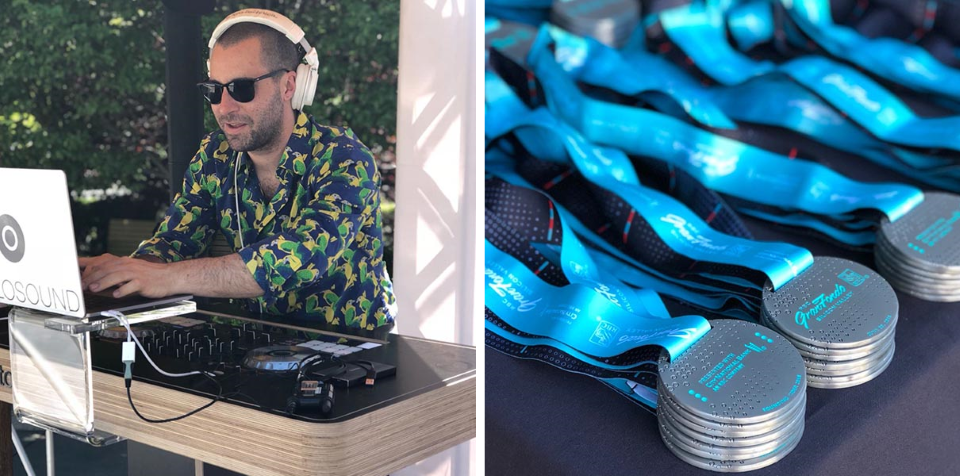 RBC GranFondo Silicon Valley 2018 Champions
Winner of the Four Seasons Cup: Pender Racing powered by Bicicletta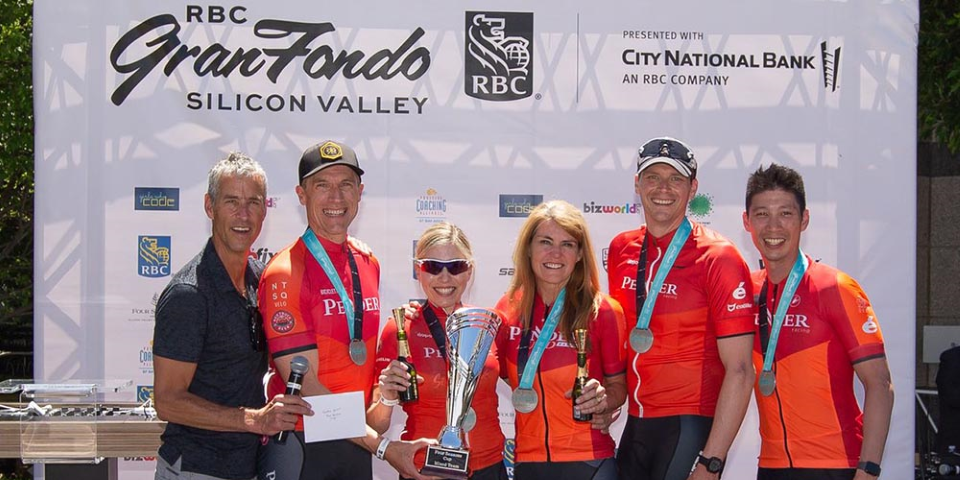 Women's RBC GranFondo Silicon Valley champions:
1st place – Sara Headley (middle)
2nd place – Kristin Hansen (left)
3rd place – Sian Spacey (right)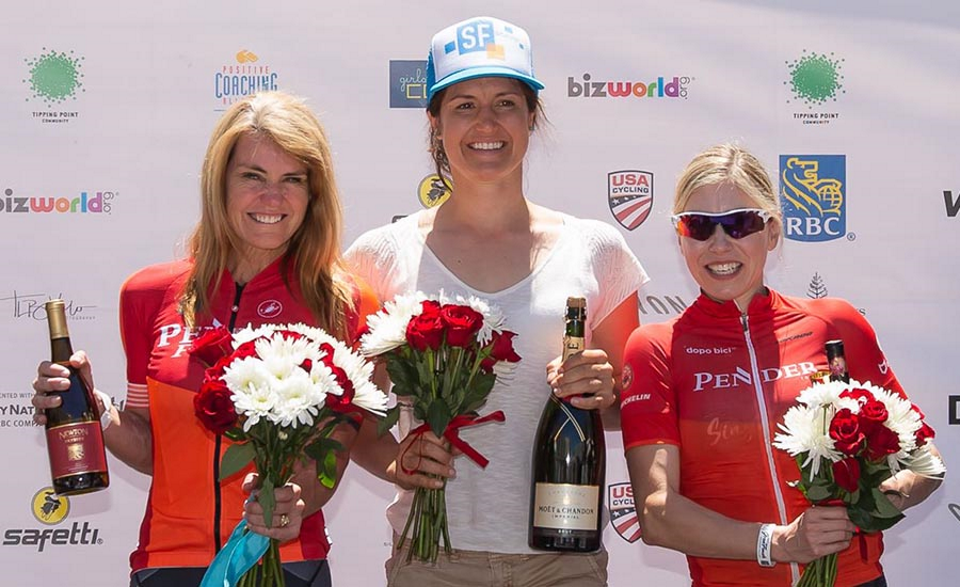 Men's RBC GranFondo Silicon Valley champions:
1st place – Lanier Benkard *
2nd place – Wayne Bradford
3rd place – Bob Roll
*Not pictured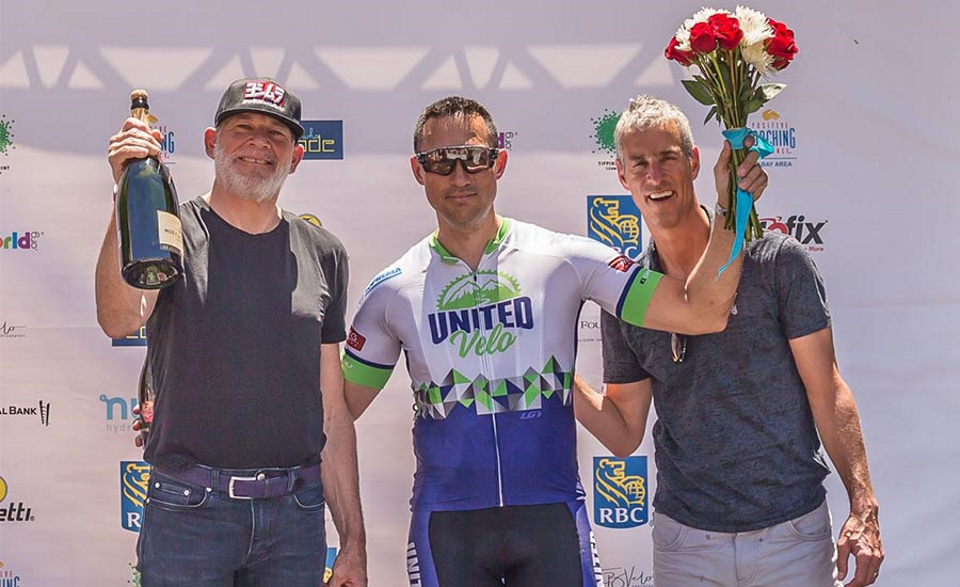 King and Queen of the Mountains:
Queen – Sarah Headley
King - Jarno Rajahalme
Registration for 2019 now open
Be a part of the action next year at RBC GranFondo Silicon Valley on June 22nd, 2019.
Limited again to 1000 riders, spots are expected to fill up fast.
Register now and SAVE with earlybird pricing!