Gran Fondo NJ, serving up wood-fired Pizzas along with SRAM Neutral Support
Don't miss out on one of the top three Gran Fondos in the US for the past 3 years running
The event is filling up fast, so register here.

Serving up artisanal wood-fired pizzas at the last Rest Stop on the Gran, Migrane and Medio Routes
In keeping with its long tradition of providing an interesting selection of over-the-top foods at its 6 Rest Stops, this year Gran Food NJ will be serving up artisanal wood-fired pizzas at the last Rest Stop on its Gran, Migrane and Medio Routes.
Celebrity Chef Elana Iaciofano will be on-site preparing, baking and slinging classic Pizza Margherita as well as Peach Caprese pies for our riders. Other rest stops will continue to provide featured treats (cannolis, sea-salt caramel cookies, boiled new potatoes tossed in a savory dressing, tomato sandwiches, etc.) to our participants, in addition to a wide assortment of Clif Energy products.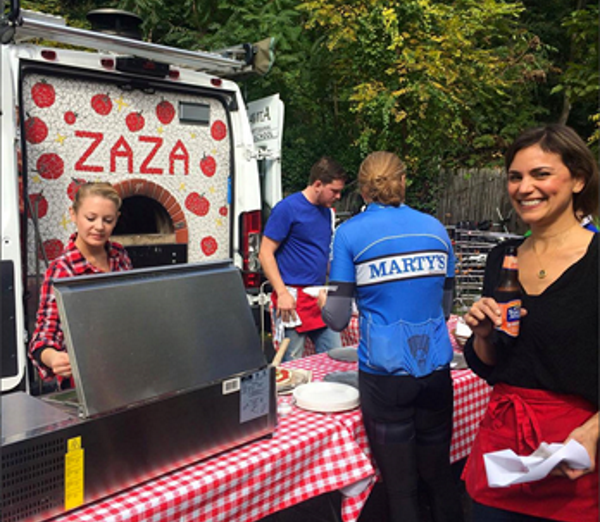 SRAM Neutral Support along the routes
Gran Fondo NJ are also thrilled to welcome back the SRAM Neutral Support team to provide en-route servicing for our riders. The SRAM Neutral Support team will join a fleet of AAA Support vehicles in navigating amongst our riders and help them get back on the road if they run into mechanical difficulties.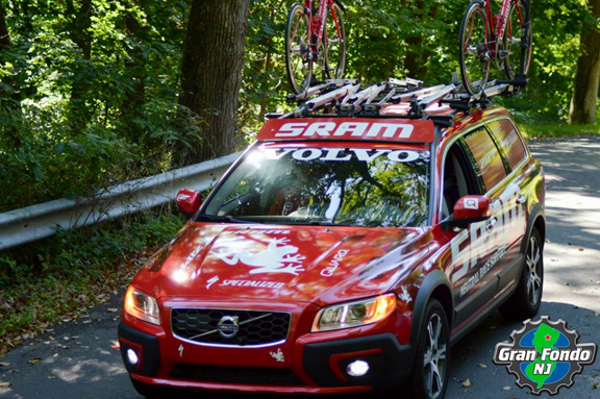 About the Gran Fondo NJ
Consistently one of the best Gran Fondos in the USA (top 3 for the past 3 years running) - Gran Fondo NJ encourages participation from all levels, from Pro Teams to weekend warriors to cyclists just starting out. With our overlapping routes, there will be a mix of cyclists of all abilities along the route - especially in the closing miles. We believe that our "timed climb" format provides plenty of competitive challenge for those seeking it, and an excellent balance of competition and rider safety. Speeds in competitive sections of the course are naturally controlled by the forces of gravity.
With this format Teams and Clubs can ride as a group along the route, and save the competition to the timed hill climbs - there is no "penalty" for the faster riders to wait at the top of the climb for other members in their group. As well, we encourage all participants to relax and refuel our amazing rest stops.
Participants can select from any of 5 distances at the time of registration.
By far our most popular route, the Gran Fondo covers a full century (107 miles) of cycling, four challenging timed hill climbs, with 8,847' of climbing in total and a spectacular ride to the Delaware River and back.
The Migrane (between the Medio and the Gran) 75 miles, 3 timed climbs, 6,000' of climbing and 4 rest stops.
With two timed hill climbs, 62 miles of country roads and over 5,220' of climbing, our Medio route offers spectacular country views and a challenging way to spend a day of cycling. The Medio route was named by the editors of Bicycling Magazine to their list of "The 50 Best Rides in America".
Our 42-mile Piccolo route has 3,412' of total climbing and one timed hill climb, the Mendham "Mile" (actually just a tad over 2 miles in length).
Our 18-mile Breve route offers the perfect challenge to entry-level cyclists wanting to experience the Gran Fondo atmosphere.
Lavish rest stops every 20 miles or so (half way on the Breve Route) with signature foods (Cannolis, Gelatos, Affogatos [Espresso served up over a scoop of vanilla ice cream], wood-fired pizzas, and plenty more) in addition to the expected CLIF Fuels, PBJ, fruits and fluids. Finish-line Expo and BBQ celebration with Beer Garden serving New Belgium beer, KoM, QoM, Him/Her and Men's and Women's Team Awards Ceremonies for the Gran, Migrane, Medio and Piccolo routes.
While participants are not required to fundraise, as part of its focus on Sustainability, Gran Fondo NJ supports local charities and provides a venue that these and charitable organizations can use to fundraise. In its first 7 years of operation the event has raised over $1,000,000 for local and national charities.
An amazing celebration of cycling which features:

An incredible "Mass Start" experience (2,500+ cyclists)


Amazingly marked routes through forests, farmlands and country estates


"Over the top" rest stops


Timed climbs on challenging terrain


The most fun you will have on a bike (except for the hill climbs)