Help Marty Beat Cancer!
Marty Epstein's annual Gran Fondo NJ has raised over $1.25 million to fight homelessness, help the blind and improve cycling infrastructure. Now Marty is battling cancer. Can you join the fight?
In 2014 Marty was diagnosed with metastatic prostate cancer. Marty went public about his condition at last September's Gran Fondo in the presence of Ivan Basso, former winner of the Giro D'Italia and a prostate cancer survivor himself.
Photo: Mayor Tim Dougherty (left), Italian cycling star Ivan 'The Terrible' Basso (middle) and Marty Epstein (right) at last years New Jersey Gran Fondo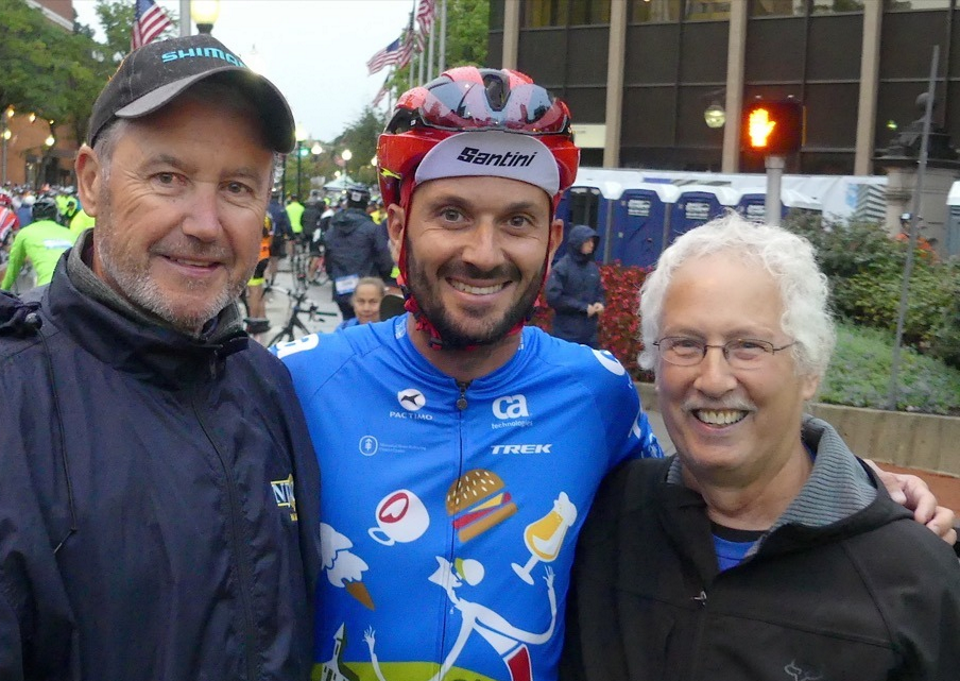 In 2018 Gran Fondo NJ made raising awareness of cancer prevention part of its mission by encouraging riders to participate in the Memorial Sloan Kettering Cancer Center cancer testing program. "I don't want this to happen to anyone else," said Marty, 69. "People need to be vigilant about detection, no matter what their age."
Marty is now raising money to help Memorial Sloan Kettering Cancer Center find cures for rare cancers as part of MSK's Cycle For Survival indoor cycling challenge.
Team Marty has raised over $42,000 so far. You can make a difference and help beat cancer by helping the team reach the goal of fundraising $50,000 for cancer research.
Team Marty will take turns pedaling indoor bikes during Sloan Kettering's Cycle for Survival, on Saturday, Feb. 2, 2019, at the Equinox Gym in Summit, NJ from 1 pm to 5 pm.
Although all the bike slots are full, the public is invited to come cheer for the cyclists, and Team Marty gratefully continues to accept contributions!

All proceeds are earmarked for research into drastically underfunded cancers of the brain, pancreas, ovaries, stomach and pediatric cancers, among other rare forms of the disease, according to Sloan Kettering.
As the owner of Marty's Reliable Cycle, Marty has been the public face of cycling in Greater Morristown for more than four decades. His passion for cycling has won him near-cult status with generations of fans.
Since 2011, thousands of cycling fans from all over North America and the world have discovered northern New Jersey's bucolic countryside thanks to the Gran Fondo.
VIDEO: Marty Goes Public at the 2018 Gran Fondo NJ
Marty Epstein, founder of the Gran Fondo NJ, is battling an advanced stage of prostate cancer. He decided it's time to speak up, and hundreds of cyclists responded with love and support at the 8th annual ride in Morristown, on Sept. 9, 2018.