Gran Fondo means Big Fun in New Jersey
Nearly 2,500 cyclists lined up for the seventh Gran Fondo New Jersey, rated one of the top three Gran Fondos in the US for the past 3 years running
Photo: Jiminey, a The Seeing Eye, Inc. puppy, giving 2-time US National Road Champion, and 2017 Grand Marshal, Matthew Busche a few pointers on the proper handle bar grip for a comfortable day before the peleton rolled out yesterday.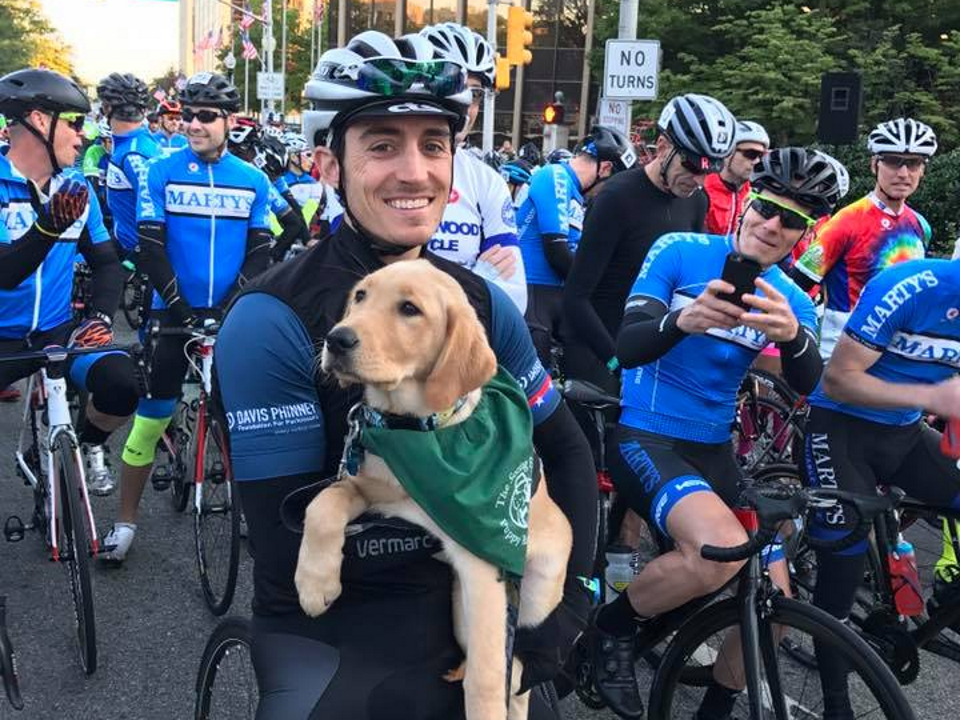 Fantastic Food Stops
Gran Fondo NJ is well known for it's amazing rest stops!
Keeping up its long tradition of providing an interesting selection of over-the-top foods at its 6 Rest Stops, this year Gran Food NJ served up artisanal wood-fired pizzas at the last Rest Stop on its Gran, Migrane and Medio Routes.
Celebrity Chef Elana Iaciofano was on-site preparing, baking and slinging classic Pizza Margherita as well as Peach Caprese pies for riders. Other rest stops continued to provide featured treats (cannolis, sea-salt caramel cookies, boiled new potatoes tossed in a savory dressing, tomato sandwiches, etc.) to riders, in addition to a wide assortment of Clif Energy products.
Sponsors SRAM had their Neutral Support team on hand to help out with any mechancial difficulties on route, they joined a fleet of AAA Support vehicles in navigating amongst the riders, helping them get back on the road if they ran into mechanical difficulties
Sponsors Trek-Segafredo provided the lead out vehicle and were on hand with tons of Segafredo Zanetti expresso coffee for all the participants.
Part of Gran Fondo NJ's focus is Sustainability, Gran Fondo NJ supports local charities. In its first 6 years of operation the event has raised over $1,000,000 for local and national charities.
According to Bill Ruddick, Executive Director, teams traveled from all over the country and the world to take part in the event and raise money, from thirty different countries on five different continents.
New Jersey council members Stefan Armington and Michael Elms took part.
Mayor Timothy Dougherty came along to wish everyone good luck at the start line "We couldn't have asked for better weather to have an event like this," said Dougherty. "I want to thank Marty and his team for all the work they do, putting this event together, it's amazing!"
This year's Gran Fondo benefits multiple charities including The Seeing Eye, Inc., Grow it Green Morristown, Homeless Solutions Inc. and The New Jersey Bike and Walk Coalition.
Official results will be available shortly at: granfondonj.com
Event Sponsors
The 2017 Gran Fondo NJ was sponsored by:
Trek, SRAM, Clif Bar, Pactimo, Marty's Reliable Cycle, New Belgium Brewing, Segafredo Zanetti, AAA, Giro, Ride with GPS, Garmin, Jamis Bikes, Unique Belgique, HOPS Craft Beer Wine Bar and Lakeland Bank.
2018 Gran Fondo NJ Registration Open
Registration is already open for Gran Fondo NJ 2018 on September 9th, the Gran Fondo NJ is one of the USA's "Must Do Bucket List Rides" https://www.eventbrite.com/e/gran-fondo-nj-2018-registration-37128814283