Guide to Weight Loss during Base Training
Losing Weight in the Off Season Part 4
Base endurance is an essential component of getting fit and prepared to ride Gran Fondos, Century Rides, Gravel Grinders and multi-day rides like bicycle tours and charity rides.
In this phase, typically in spring, you lay down the foundation of longer rides that allow your body to adapt to riding for over 5 hours of more. In fact some of the big Gran Fondos in the mountains will take you anywhere from 5 to 10 hours to complete.
Basic Weight Loss Tips
1. Remove all refined sugar from your diet in the form of sugar in tea and coffee, soda and diet soda and candy
2. Remove all junk food from your diet including chips, snacks and fast food.
3. Increase your intake of protein by 20-30% including eggs, fish and protein powders like whey protein
4. Avoid snacking between meals and try to not eat after 8 pm.
5. Get plenty of sleep at least 8 hours
6. Reduce your alcohol intake to say one special night after a hard week's work
7. Introduce healthy snacks to satisfy hunger cravings between meals
8. Don't starve yourself, eat when you feel hungry but healthily. Starving yourself will increase the risk of falling off the band wagon and binge eating
9. Eat smaller meals, if necessary, more often
Carb Depleted Training Session
As spring approaches and the clocks change, add a glycogen-depleted training session. Once or twice per week do a steady 30 to 90-min aerobic training session in heart rate zone 2 or power level 2 in a fasted state first thing in the morning. Refuel with breakfast immediately after. Training in a glycogen depleted state will enhance fat burning and boost your fat loss.
No Training Days
On non-training days cut down your intake of carbohydrates like bread, cereals and cakes to below 100 grams. Replace with vegetables and fruits and a bit more protein like eggs and fish.
Training Days
Once a week plan in a longer base endurance ride.
For beginners and novices looking to complete a Piccolo Fondo of around 30 miles. Your first target distance is 10-15 miles.
For intermediate cyclists looking to complete their first Medio Fondo of around 60 miles, your first target endurance ride is 20-30 miles.
For advance and experienced cyclists looking to compete a Gran Fondo of over 100 miles, your first target endurance ride is 50-60 miles.
Increase this distance every week by 5 miles for beginners and 10 miles for intermediate and advanced cyclists until you reach your chosen distance of either 30, 60 or 100 miles. Remember it's not a race it's time on the bike and proper refueling that is important. You can add hills by try to ride the overall distance in zone 2.
Properly Fuel Longer Rides
Carb Load over 36-48hr with the correct amount: 8-9g of carbs per kg / 3-4g of carbs per pound of bodyweight per day.
For example for a 165 lb / 75kg endurance athlete you need to start to carb load the day before the base endurance training ride. Aim for 630 grams of carbohydrate over a 36-48 hour period. Porridge, pasta, breads, cereals, fruit juices are a good source of carbohydrate. Don't eat huge meals but introduce extra carb loading meals. Don't over eat and don't under fuel.
90min plus ride will require on-bike fueling. Specialist sports drinks that provide additional carbs is once choice as well as energy bars etc. Drink every 15 minutes and eat every hour after the first hour into the ride. The plan is to finish the endurance ride but not feeling hungry or thirsty and not hitting the dreaded bonk, the state when you haven't fueled properly and are carb depleted. This isn't good for you, especially if you are miles from home without any food on board. It's better to take more food with you than you can probably ingest, just in case.
There is no doubt getting down to your ideal race weight is challenging and requires sacrifice.
Embrace the hard work and earn your rewards,
It will put you in the position to have the best rides of your life!
Guide to Ideal Weight for riding top Gran Fondo's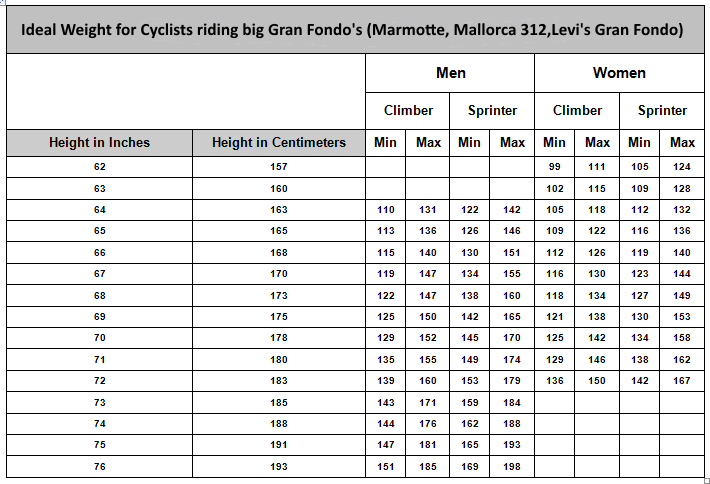 Losing Weight in the Off Season Series
Part 1 - Lose Weight in the Off Season
Part 2 - Two weeks adapting to a "low-carb" diet
Part 3 - Xmas and trying the "Super Juice Me" diet
Part 4 - Guide to Weight Loss during Base Training