Katerina Nash and Peter Stetina fastest at the 2021 Belgian Waffle Ride
Peter Stetina overcame cramps, 90-degree temperatures, and a surprise long-range attack from mountain biker Sandy Floren to win Sunday's Belgian Waffle Ride San Diego, defending his title from 2019, while Katerina Nash (Clif Pro Team) won the womens race.
Don't miss one of the Belgian Waffle Ride Survival Camps in 2021 in Kansas August 5-8, 2021, North Carolina August 16-21 and Utah September 21-25, 2021
Katerina Nash (Clif Pro Team) won the womens race, the retired professional multi-discipline racer soloed to victory by 2m 12s ahead of runner-up Hannah Finchamp (Orange Seal off Road Team) and 7m 55s ahead of third placed Moriah Wilson (Huck Racing).
"I'm beyond excited to take the win at Belgian Waffle Ride. The intimidating distance of 132 miles, the heat and the competition kept me focused. I put it all together and saved enough energy for final climb attack," Katerina Nash said, "I cross the finish line with that amazing feeling of a big accomplishment and went straight to double-fisting my beers. It was a good day. Thank you for cheering everyone!"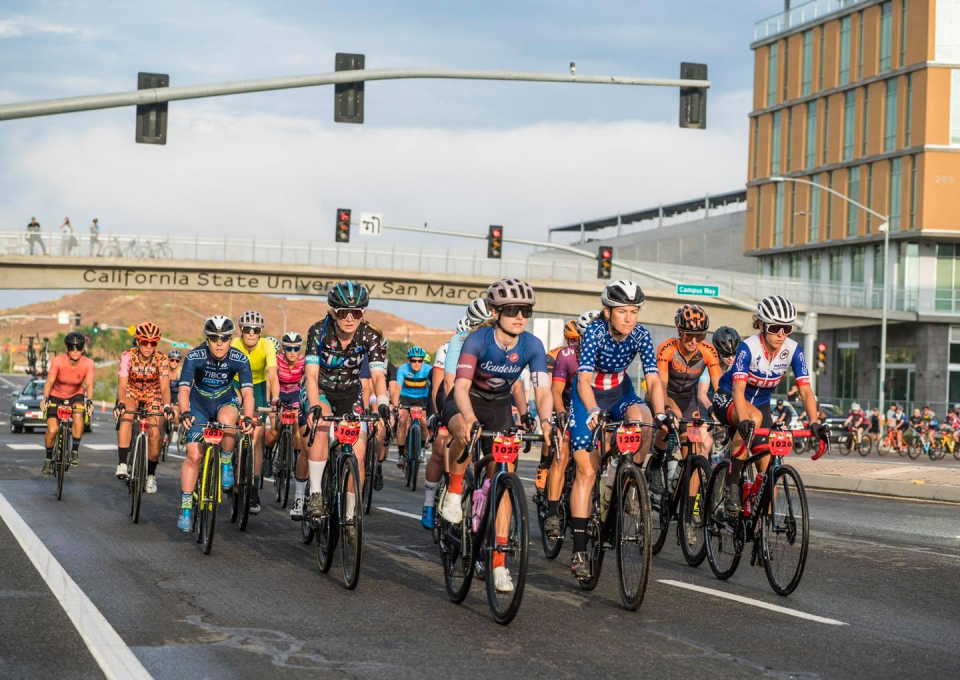 Photo: The talent-laden field included 2021 Unbound Gravel champ Lauren De Crescenzo, Amity Rockwell, Lauren Stephens, Hannah Finchamp, and Katerina Nash. © Belgian Waffle Ride
Peter Stetina attacked out of the main group of chasers in the race's final 50 miles alongside Russell Finsterwald and John Borstelmann, and then worked with his breakaway companions to chase down the surging Floren, who spent more than 70 miles off the front.
The Belgian Waffle Ride is a 200km+ gravel ride that takes course over several mountain passes, off-road sectors, and water crossings — with over 3,000 m of elevation gain. His final finish time? Six hours 10 minutes and 20 seconds — a personal best for this ride.
On the final climb of the day, the ascent of Double Peak, Stetina dropped his companions and then caught and dropped Floren, eventually descending to the finish in San Marcos to take the win.
"It's so much relief — when you have to deal with the media and the expectation, and I want to show sponsors that this career move made sense," Stetina said at the finish. "It's validation and it's relief."
Stetina said he battled through mechanical problems and leg cramps throughout the day, and that he did not expect to come away with the victory. As the race hit its midpoint at mile 70 Stetina rode in the major chase group, which was more than five minutes down on Floren and his breakaway companion Stephen Vogel.
But in the race's second half the field appeared to wilt in the heat and Stetina made his move.
"I wrote myself off about 10 times today. I did not have a clean run by any means," Stetina said. "There were a few odd mechanicals, no major issues, but something would go wrong due to the bumps. My derailleur worked its way loose and I had to stop and screw it back in. I was crashed on an uphill in soft sand. There were a few things like that."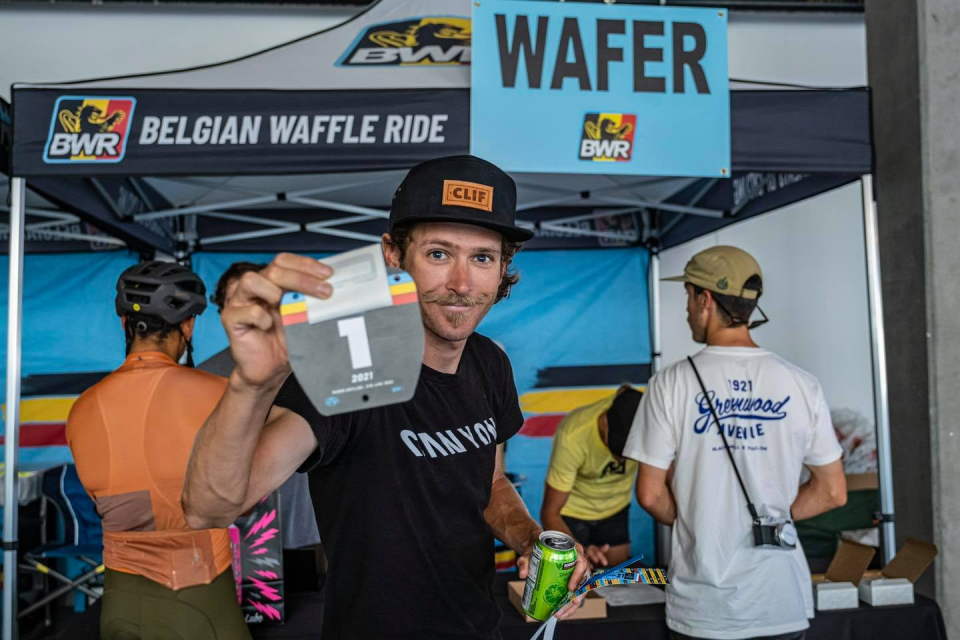 Photo: The pressure was on for Pete Stetina who successfully defended his title. © Belgian Waffle Ride
Stetina came into the race having won Utah's Crusher in the Tushar, and having finished third at Unbound Gravel. He said the brutal conditions and fast racing at Belgian Waffle Ride was another sign that the U.S. gravel field is increasing every year in strength and difficulty.
"These are my A races now. This is it's own legitimate discipline," Stetina said. "We are creating our own discipline and I'm so proud to be a part of it. This is fun — now I get to have beers with 4,000 of my friends."
Stetina took gold at the 2019 Belgian Waffle Ride (with a time of 6 hours 20 minutes 37 seconds), which was canceled in 2020. This means that his 2021 wins make him a two-time consecutive champ at this race.
Stetina also took gold in Utah's Crusher in the Tushar two weeks ago, and won bronze at the Unbound Gravel 200 race. Wherever he's racing next, fellow gravel riders had better watch out!
2021 Belgian Waffle Ride Calendar
San Diego, California - July 18th
Asheville, North Carolina - August 21st
Cedar City, Utah - September 25th
Lawrence Kansas - October 31st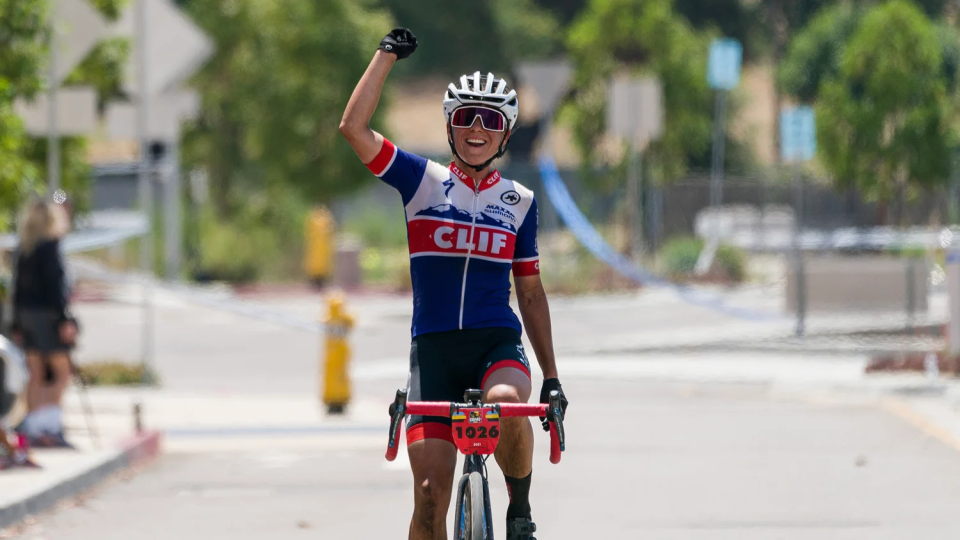 Photo: Katerina Nash (Clif Pro Team) won the women's race © Belgian Waffle Ride
2021 Belgian Waffle Ride Results
Elite Men (professional) Top 10
1 Peter Stetina (Let's Privateer) 6:12:15
2 Sandy Floren (Dirt Camp Devo) 0:03:13
3 Russell Finsterwald (CLIF Pro Team) 0:03:35
4 John Borstelmann (Panaracer/Factor p/b Bicycle X-Change) 0:04:27
5 Stephen Vogel (Project Echelon) 0:09:17
6 Payson Mcelveen (Orange Seal Off-road Team) 0:09:57
7 Satoru Rokuta (Big Orange) 0:10:51
8 Bryan Lewis (Cutaway USA)
9 Nicholas Vilter (Team Viltronix) 0:15:24
10 Tristan Uhl (Giant Factory Off Road Team) 0:20:02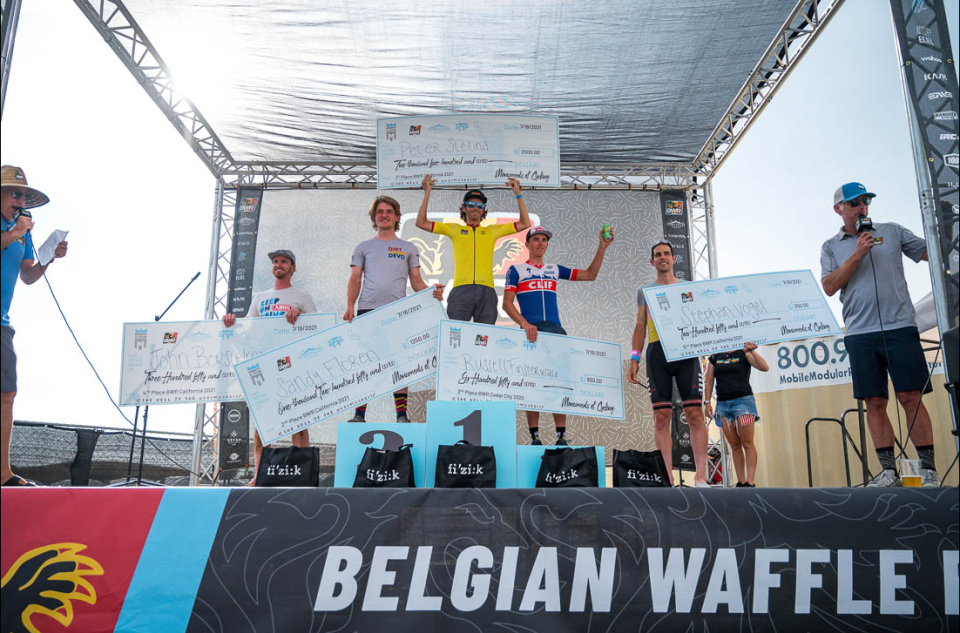 Photo: Elite Men's Podium © Belgian Waffle Ride
Elite Women (professional) Top 10
1 Katerina Nash (Clif pro Team) 7:15:09
2 Hannah Finchamp (Orange Seal off Road Team) 0:02:12
3 Moriah Wilson (Huck Racing) 0:07:55
4 Isabel King (Canyon) 0:08:31
5 Savilia Blunk (Orange Seal) 0:10:08
6 Crystal Anthony (Liv Racing Collective) 0:13:39
7 Raylyn Nuss (Steve Tilford Foundation Racing) 0:23:59
8 Kaysee Armstrong (Liv Factory) 0:38:23
9 Jessica Cerra (Groot Coureur) 0:41:12
10 Helena Gilbert-snyder (English Endurance) 0:41:30
Full detailed results are currently being compiled, please visit: https://belgianwaffleride.bike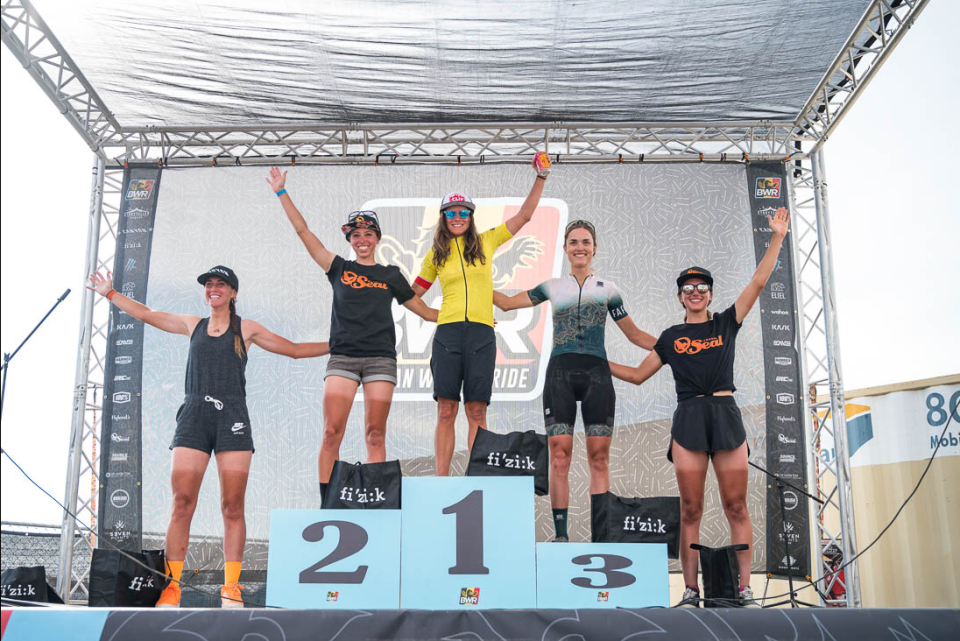 Photo: Elite Women's Podium © Belgian Waffle Ride
Belgian Waffle Ride Survival Camps Return with Three New Locations for 2021
Source Endurance and the Belgian Waffle Ride (BWR) have teamed up to bring two new locations to their iconic Belgian Waffle Ride Survival Camps in 2021 in Kansas August 5-8, 2021, North Carolina August 16-21 and Utah September 21-25, 2021. The growing popularity of the main event and the overwhelmingly positive experience of the camp have resulted in a sold out camp with a waitlist each year. Due to the pandemic, the original Survival Camp in San Diego is on pause in 2021, with a potential beginner one-day clinic in the works.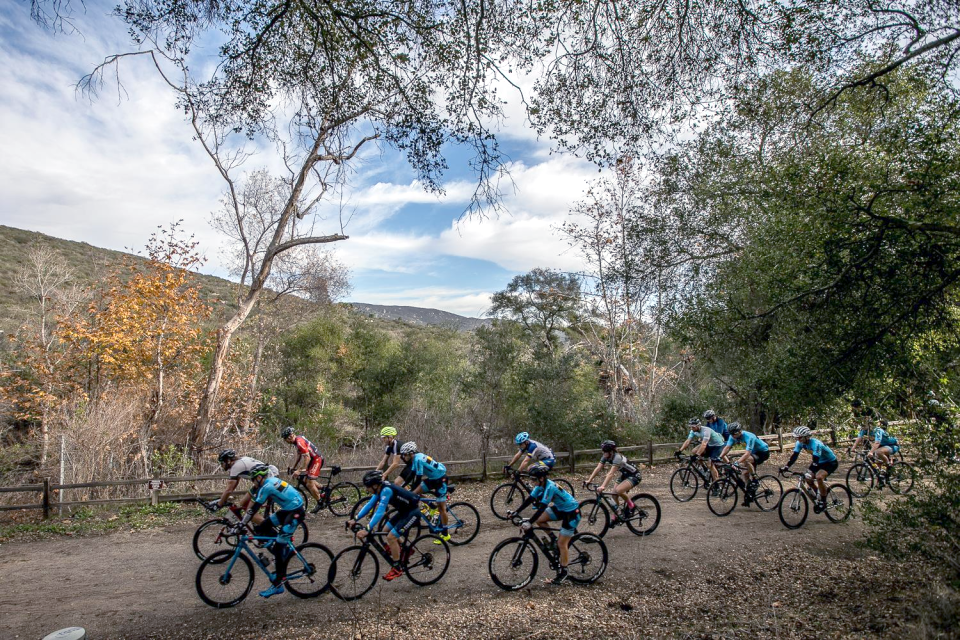 The focus of both the Kansas, North Carolina and Utah BWR Survival Camps will be to allow the riders to preview and beta test the official 2021 route over four days of course reconnaissance. Each BWR course is unique and they are all brutal in their own way. The extended, multi-day preview allows adequate processing of each portion of the course.
For example, campers will learn why the BWR Kansas course is not "flat" nor is it to be trifled with and will leave the camp with a true sense of the area. This sort of preview, training, and experience is what gives riders a "home court" advantage come game day.
The August Kansas camp in particular, also providers riders with a chance to address their fitness needs if they find themselves out of form. In contrast, after an early arrival to Cedar City, the BWR Utah Survival Camp lets riders acclimate to the altitude while previewing the course over the days leading into event day, taking advantage of a single extended trip to Cedar City.
The Survival Camps serve up an incredible array of gravel and mixed terrain experience in the disguise of a superb fitness camp. This camp is designed to elicit respect for an event the caliber of BWR. The BWR typically sees over 40% attrition according to event founder, Michael Marckx. The BWR Survival Camp boasts OVER 95% success completing the Waffle and Wafer Rides. Survivalists are not limited to BWR participants, although each participant does receive an entry to the event.
To adapt to Covid-times, the 2021 Survival Camps will be more intimate, capped at 25 riders and will utilize the latest recommendations for rider safety, such as masks while in a public setting and not actively riding. The instructors are arguably an assembly of some of the best in the U.S. regarding riding, racing, and coaching gravel events, including BWR Founders, Source Endurance owner Adam Mills, and multiple previous BWR winners. Riders will be divided into groups based on ability, while maintaining a 1:4 ratio to instructors as they are guided through the 2021 BWR course while absorbing professional insight on training, nutrition, strategy and skills development.
Off the bike, riders experience a luxurious, pro-style camp without the performance pressure. Survivalists' bikes are tuned daily as they enjoy gourmet meals, stories with new friends, and additional instruction through presentations on training, nutrition, strategy and more. Survivalists also receive over $1000 in-value from our partners as well as a BWR entry and preferred start position, and discounted coaching options through Source Endurance.
The camp is priced at $1699 and registration is now open. Interested athletes should head to the BWR Survival Camp page for more details and to sign up.
Source Endurance is one of the top cycling coaching consulting firms in the United States and coaches numerous professional riders, national champions, and Belgian Waffle Ride Survivors.