What is a Gran Fondo?
Gran Fondo is an Italian term which loosely translates to "Big Ride". Gran Fondo's are mass participation cycling events that have enjoyed incredible popularity in Europe for decades and have become popular in North America, Asia, Australia and increasingly, worldwide.
Take a scenic, mountainous course and add several thousand cyclists ranging from pros to beginners. Mix in roving and fixed mechanical and medical support, feed zones manned by cheerful volunteers serving up healthy snacks, fruit, and drinks, and traffic halted at intersections to let you pass. Garnish with enthusiastic and supportive spectators lining the course. Top it off with coverage by major cycling magazines. Energy, excitement and atmosphere - this is Gran Fondo, a phenomenon that took Italy by storm!
Riders, ranging from professional to recreational cyclists, are encouraged to participate in this event for camaraderie, scenic views, personal acheivement and the chance to win prizes. Think of a Gran Fondo as a combination of a group ride, race, and tour, all in one. Mechanical support, SAG support, with pre, during, and post ride food & refreshments are available to all those who participate. Think of the ride as a big rolling party! In Italy, Gran Fondo events include; challenging routes, electronic timing, fantastic giveaways, a consumer expo, well-stocked aid stations, mobile tech support and a fun post-race party.
Gran Fondo riders want to improve upon their personal best, challenge themselves, their friends and their teammates. Many even ride to win!
Gran Fondo's are designed for everyone. Whether you are an experienced cyclist wanting to push your own limits, race, or you are someone new to riding and want to ride at your own pace, a Gran Fondo typically has a perfect ride and group for you!
Italian Heritage
The first Gran Fondo ever held was the Nove Colli (Nine Hills) on July 12, 1970 in Cesenatico, Italy. Today, Nove Colli is arguably Italy's biggest cycling party with a large 2-day expo and a 12,000 rider field tackling three distances of 80km, 120km and 200km.
With chip timing becoming more popular in the 1990s, the number of Gran Fondo events grew rapidly in Italy. Today, over 100 Gran Fondos are held in Italy between February and October. Most of them have 500-1,000 participants while a few of the bigger ones go beyond that.
The Italian Cycling Federation defines Gran Fondo as
• at least 120km long (75 miles)
• chip timed from start to finish
• with prizes for the fastest riders in each category (typically age)
In short, in Italy, Gran Fondos are races for everyone.
North America
Gran Fondo's started to be organized in the U.S. in 2009. Most U.S. Gran Fondo's aren't what they call "True Italian" Gran Fondo's - mainly because the roads aren't fully closed. Italy's cycling heritage allows cities, towns and villages to work together to provide courses on roads with no cars for the duration of the event, such is the popularity and love for cycling!
In 2010 there were a handful of events, now in 2017 there are expected to be around 200+ events in North America alone and the scene is growing very quickly. We aim to make you aware of all the events and news for North America, Australia, Asia, Europe and worldwide.
More and more U.S. Gran Fondo's are adding full electronic timing or timed sections, so you can race against the clock, your friends or go for the win! many have age category awards, medals and prizes. If you've never done one, believe us, you won't be disapponted.
Standards vary, so we aim to give a clear and concise guide for each event, so riders know what to expect or in some cases, demand! This doesn't detract from the smaller events, it's all about knowing what you're getting for your money and making the right choices, for you.
You never know - one day you might find yourself in the Italian Dolomites riding a Gran Fondo with 13,000 feet of climbing with thousands of cyclists from all over the world, or travelling to the west coast to try out the Californian climbs, or the east coast Appalachian mountains?
One thing is for sure - cycling is part of our future, in a big way, on a global scale!
About Gran Fondo Guide
Connecting cyclists with cycling events worldwide. Gran Fondo Guide is the original English speaking Gran Fondo site. Since we started in January 2013, we have had over 3.8 million visitors and 10.2 million impressions globally.
The growing scene is evolving organically - especially in North America, Asia and Australia.
We aim to give our rapidly growing community immediate and full access to all that is happening in the Gran Fondo scene - whether rider or organizer. We do not organize any events ourselves, we work with ALL event organizers, sponsors to support and promote their events in the best way we can.
Our mission is to bring you the most comprehensive, up to date news, results and reviews on Gran Fondo cycling events in North America and beyond, in English. To promote health, well-being, sustainability, Italian cycling culture, international and domestic travel.
We're on facebook, twitter, instagram and you can contact us here if you have any queries or want any events added.
We have diversfied to list all types of cycling events and news, not just Gran Fondo's, Century Rides and Gravel Grinders, but Leisure rides and bike Tours too.
We also provide the latest Pro Cycling news and training articles, so you can keep up with all the latest cycling developments too.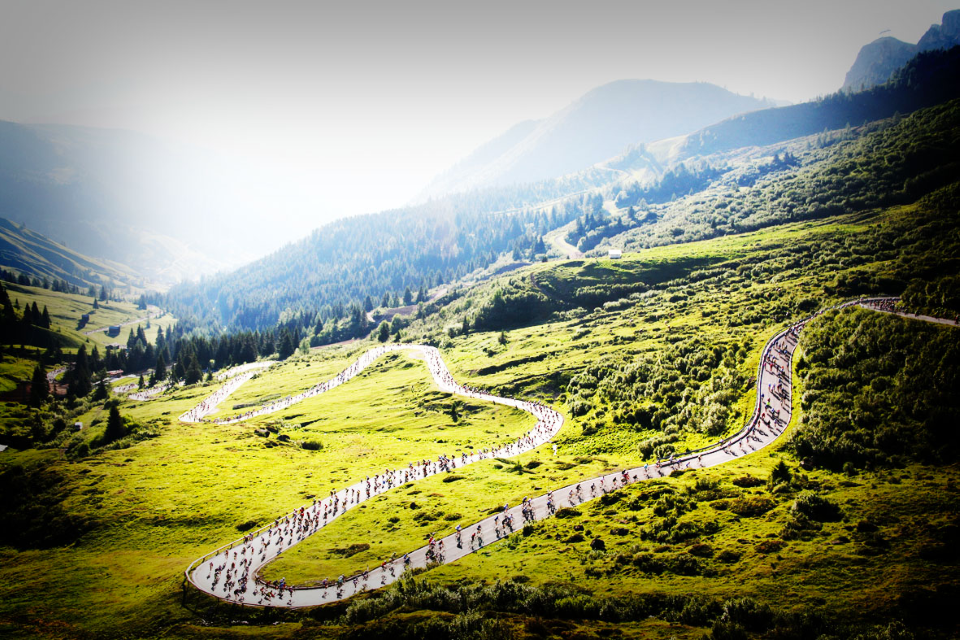 Difficulty
In order to guide cyclists of all abilities, we have graded the difficulty of events as below:
A - EASY, BEGINNERS/FAMILY, up to 20 miles, flat terrain
B - EASY MODERATE, LEISURE cyclists, up to 40 miles, rolling terrain
C - MODERATE, PROFICIENT cyclists, up to 60 miles, some climbing
D - CHALLENGING, SEASONED cyclists, up to 100 miles OR moderate sustained climbs
E - DIFFICULT, EXPERIENCED, over 100 miles OR longer sustained climbs
F - EX. DIFFICULT, EXPERT ENDURANCE, over 120 miles OR very long sustained climbs
2023 Gran Fondo Calendars
Gran Fondo is an Italian term which loosely translates to "Big Ride". Gran Fondo's are mass participation cycling events that have enjoyed incredible popularity in Europe for decades and have become popular in North America, Asia, Australia and increasingly, worldwide.
2023 North American Gran Fondo Calendar
2023 USA Gran Fondo Calendar
2023 Canada Gran Fondo Calendar
2023 European Gran Fondo Calendar
2023 UK Gran Fondo and Sportive Calendar
2023 Oceania Gran Fondo Calendar
2023 Asia Gran Fondo Calendar
2023 South America Gran Fondo Calendar
2023 Africa Gran Fondo Calendar
2023 Middle East Gran Fondo Calendar