Peter Sagan enjoyed his new Dirt Fondo before heading to the Tour of California
Last weekend over 600 cyclists joined World Champion Peter Sagan and Levi Leipheimer in Truckee, CA for a Dirt Fondo. Over $91,000 raised for charity
Organized by Bike Monkey (who put on some of the best organized cycling events in Northern California), the inaugural Gravel Grinder was a tough day out! However participants couldn't have asked for better weather and course conditions.
The Gala dinner held on the Thursday night before the ride raised funds for the official non-profit partner Adventure Risk Challenge and the Specialized Foundation to help underprivileged children. Adventure Risk Challenge (ARC) is a youth development nonprofit that integrates academic and outdoor programming for low-income and at-risk high school youth in the Central Valley and the Sierra Nevada, bolstering their skills in literacy, leadership, and life.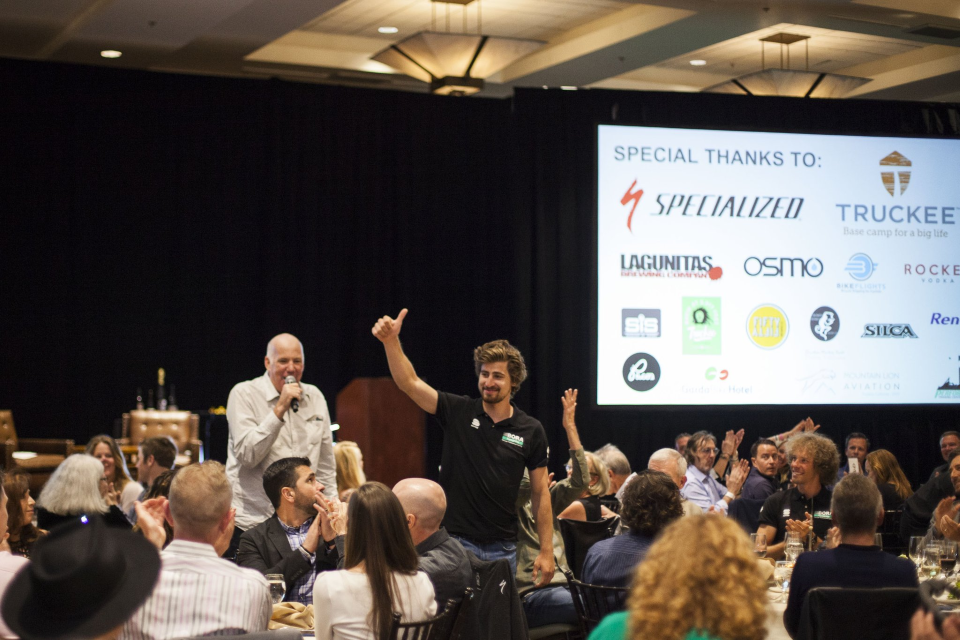 Truckee, CA is located in the northeast part of the state near Reno and the courses headed out onto dirt roads and into the hills north of the city. Truckee is also home to cycling legend Katerina Nash, and the Clif Pro Team rider who joined in the race/ride.
The Sagan Fondo had three courses for all abilities including the 68-mile Boneyard, 54-mile Grinder and 23-mile Rollout. The courses were around 60% dirt, 40% pavement and one of the big highlights was the 1,500 feet climb on the Boneyard route which included some single track and creek crossings.
On the ride, Peter was joined by Bora-Hansgrohe teammates Daniel Oss, Michael Kolar, Maciej Bodnar, and brother Juraj Sagan.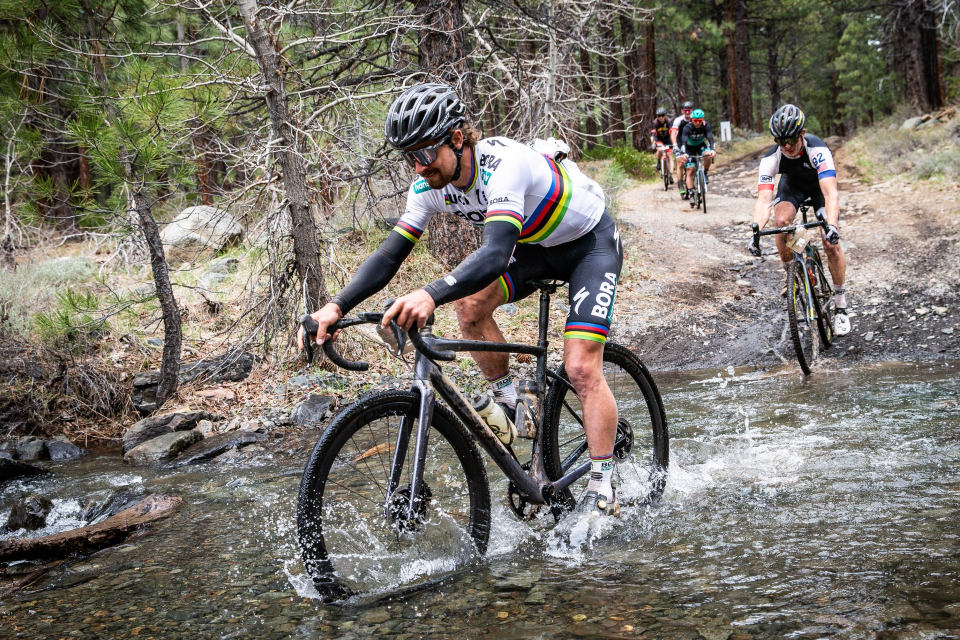 On the competitive side of the Dirt Fondo, Geoff Kabush won the event overall in the mens category ahead of Jonathan Baker and Victor Sheldon. Geoff said afterwards "Now up 1-0 vs. the world champ! Put over 45min into him and pretty sure he was giving it 100%. Seriously though it was good too see Peter looking so relaxed and enjoying himself in town".
In the women's category it was Olivia Dillon who took the overall Women's victory ahead of Katerina Nash and Jennifer Schwarz.
Sagan fresh from his Paris-Roubaix win, finished in a comfortable 48th place, and in true style did a huge wheelie over the finish line!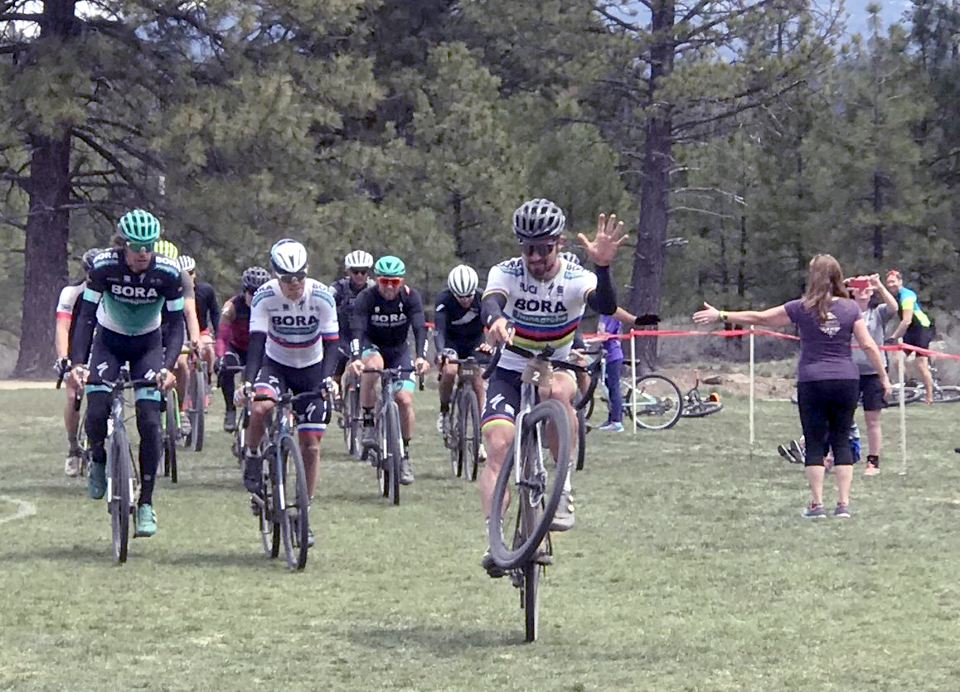 Peter stated "I'd like to express my gratitude to all the guests at the Gala Dinner in Truckee. Thanks to their tremendous generosity, we raised $91,000 for the Adventure Risk Challenge and the Specialized Foundation to help underprivileged children."
In addition to Sagan's Dirt Fondo, last November 2017, Peter Sagan joined the King Ridge Foundation for the campaign to restore the community it lives in through the Sonoma Pride fundraiser #RideForSonomaPride and contributed more than $40,000. To-date, King Ridge Foundation has raised more than $3,000,000 for at-risk youth.
Giva Joey commented afterwards "100% Legend, 100% true loyal fan supporter. Ruby the event was awesome with over 600 riders. And the course was beautiful at the same time challenging. Looking forward the Sagan Fondo Road edition in November 3. Great job out there in your charity"
The event was sponsored by Specialized, the City of Truckee, 100%, Sportful, Lagunitas Brewing Company, Tropical Edge and Osmo Nutrition amongst others.
Women's Age Group Winners

Women's 20-29: Eileen Saller


Women's 30-39: Jennifer Schwarz


Women's 40-49: Olivia Dillon


Women's 50-59: Chrissy Gove
Men's Age Group Winners

Men's U20: Anthony Pritchett


Men's 20-29: Jordan Fields


Men's 30-39: Erik Nelson


Men's 40-49: Geoff Kabush


Men's 50-59: Victor Sheldon


Men's 60+: Rob Jorgenson
Link to official results - http://rhes.us/live/index.html?filter=sagan
Sagan confirmed for AMGEN Tour of California
The AMGEN Tour of California starts in the Golden State in Long Beach on May 13, 2918 and Sagan is confirmed to be riding with his Bora-Hansgrohe team.
The Amgen Tour of California has always been a highlight in Sagan's season, he's competed for eight consecutive years since turning professional and he won the overall in 2015.
He holds the record for the most stage wins - 16. His annual pre-race altitude camp in Truckee inspired last weekend's event.
Look out for full details of Sagan's Fondo Road Edition on November 3, 2018 here on Gran Fondo Guide, courtesy of Bike Monkey.